Defiant Liz Cheney Invokes Reagan As Trump Loyalists Close in for the Kill
Rep. Liz Cheney (R-Wyo.) warned that the GOP "is at a turning point" and invoked former President Ronald Reagan on Wednesday while top Republicans loyal to former President Donald Trump moved in to oust her as House Republican Conference chair.
Cheney urged the party to "steer away from the dangerous and anti-democratic Trump cult of personality" in an opinion article published by The Washington Post. She said that Trump's continued refusal to admit that he legitimately lost the 2020 presidential election to President Joe Biden was aimed at "seeking to unravel critical elements of our constitutional structure that make democracy work" and undermining confidence in election results. Cheney was one of 10 House Republicans who voted to impeach Trump for allegedly inciting the deadly breach of the U.S. Capitol on January 6.
Continued criticism of Trump from Cheney, a daughter of former Republican Vice President Dick Cheney, has made her increasingly unpopular in a Republican Party that seems unwilling or unable to detach itself from the influence of Trump. The former president and House Minority Whip Steve Scalise (R-La.) on Wednesday endorsed Rep. Elise Stefanik (R-N.Y.), a Trump loyalist, to replace her as the third-most powerful House Republican, while House Minority Leader Kevin McCarthy (R-Calif) now also appears to be in favor of removing her.
"The Republican Party is at a turning point, and Republicans must decide whether we are going to choose truth and fidelity to the Constitution," Cheney wrote in The Post. "America is exceptional because our constitutional system guards against that. At the heart of our republic is a commitment to the peaceful transfer of power among political rivals in accordance with law. President Ronald Reagan described this as our American 'miracle.'"
"Reagan formed a broad coalition from across the political spectrum to return America to sanity, and we need to do the same now," she continued. "We know how. But this will not happen if Republicans choose to abandon the rule of law and join Trump's crusade to undermine the foundation of our democracy and reverse the legal outcome of the last election."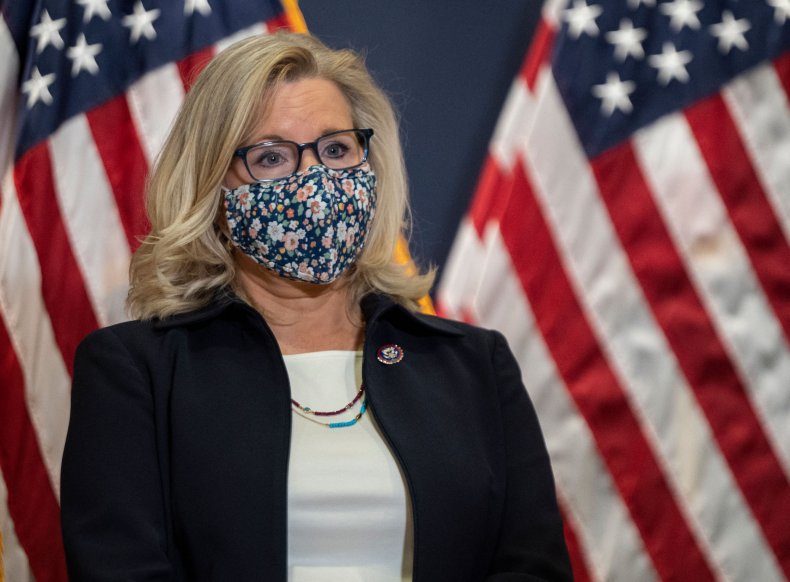 An effort to remove Cheney as House GOP Conference chair failed by a vote of 145-61 in February. However, the current push comes with renewed enthusiasm, with recent opinion polls showing that Republican voters largely back both Trump and his false claims of massive election fraud. In addition to removing her from party leadership, Republicans loyal to Trump are also working to mount a primary challenge for her House seat in 2022.
Harvard University Professor of Government Ryan D. Enos told Newsweek that he believes it is "possible" the effort to remove Cheney from leadership will be successful this time, while suggesting that many of her colleagues probably "secretly agree with" her stance on Trump.
"Remember they failed last time on a secret ballot, which demonstrated that most of her colleagues probably secretly agree with her," Enos said in a statement. "Public fealty to a lie that you don't really believe is despicable."
McCarthy, who initially said that Trump "bears responsibility" for the January 6 attack, backed Cheney amid backlash to her impeachment vote and did not support the first effort the remove her from party leadership. However, he now appears to have reversed his stance. In a hot mic moment captured during the taping of a Fox News appearance on Tuesday, McCarthy said that he expects a motion to remove Cheney will be made, while remarking that he had "lost confidence" and "had it with" Cheney.
Trump issued a statement calling Cheney a "warmongering fool who has no business in Republican Party Leadership" while offering Stefanik his "COMPLETE and TOTAL Endorsement for GOP Conference Chair." Scalise framed his support for ousting Cheney as part of an effort gain control of the House by defeat Biden's alleged "radical socialist agenda" during next year's midterm elections.
"House Republicans need to be solely focused on taking back the House in 2022 and fighting against Speaker Pelosi and President Biden's radical socialist agenda, and Elise Stefanik is strongly committed to doing that, which is why Whip Scalise has pledged to support her for Conference Chair," Scalise's spokeswoman Lauren Fine said in a statement.
Update 5/5, 8:34 p.m.: This article has been updated to include a statement from Harvard University Professor of Government Ryan D. Enos.