Goodell Sacked Again! Deflategate Yet Another Win for Tom Brady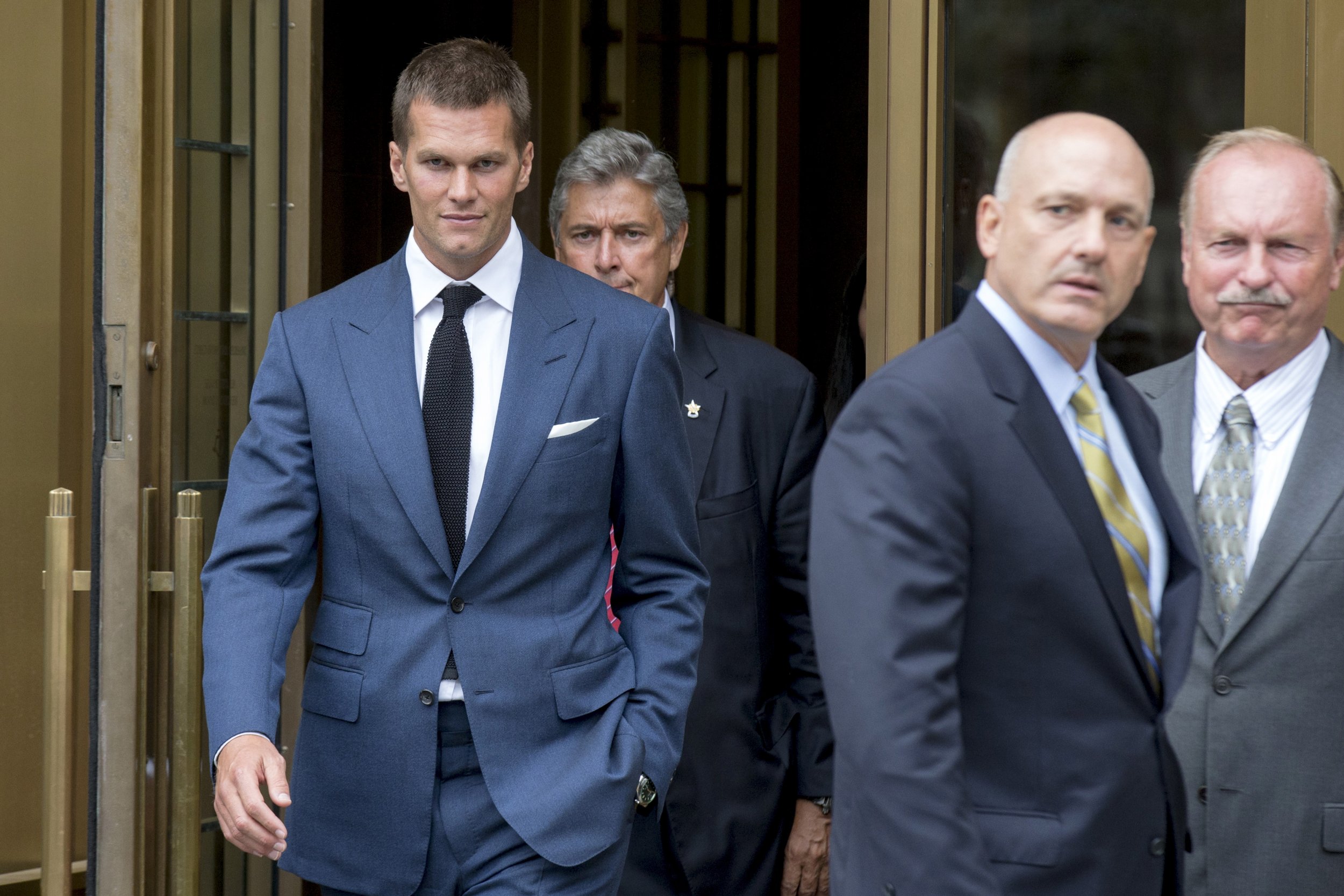 Eli Manning remains the only man who can defeat Tom Brady. And the NFL is now a league in which "overturn" is as vital a statistic as "turnover."
On Thursday morning, federal Judge Richard Berman ruled in favor of the New England Patriots quarterback and the NFL Players Association, in effect vacating the four-game suspension NFL commissioner Roger Goodell laid on the four-time Super Bowl champion earlier this summer.
Berman's ruling in a U.S. District Court in the Southern District of New York (i.e., New York City) cited three "significant legal deficiencies" in the league's case against Brady per the Deflategate imbroglio: "1) inadequate notice to Brady of both his potential discipline (four-game suspension) and his alleged misconduct; 2) denial of the opportunity for Brady to examine one of two lead investigators, namely NFL Executive Vice President and General Counsel Jeff Pash; and 3) denial of equal access to investigative files, including witness interview notes." Other than that, good work, guys!
In his 40-page ruling, Berman even trolled the Shield, placing quotation marks around the word "independent" when referring to the league's independent counsel, Ted Wells. It was the latest comic salvo in this farce, which has always been a lot of hot air about a little hot air. From the moment the story broke on the morning after New England routed the Indianapolis Colts 45-7 in the AFC Championship Game to Wednesday night, when a Boston TV host Kirk Minihane suggested that the region's solution to its Roger Goodell problem was "hire someone to murder him," Deflategate has been this year's leading example of making a Denali (or, if you prefer, a McKinley) out of a molehill.
Remember the hyper-inflated pre-Super Bowl press conferences featuring first Patriots coach Bill Belichick and then Brady? (NBC reporter: "[People around the country] are asking themselves, What's up with our hero? Can you answer right now, is Tom Brady a cheater?") The Super Bowl pregame show, in which analyst Cris Collinsworth recalled a conversation from four days earlier when he said to Brady, "Tom, look me in the eye. Look me in the eye and tell me you did not say anything...that could have been remotely interpreted as, 'I want you to go deflate the balls.'" (Brady: "Absolutely not.")
It got weirder. The Wells Report, which numbered 243 pages and appeared to implicate locker room attendant Jim McNally and equipment assistant John Jastremski, was released on May 6. Two days later, ESPN announced it was not renewing the contract of Bill Simmons after its most valuable (and voluble) employee, an avowed Boston sports nut, publicly excoriated Goodell once again. Three days after that, the NFL announced its suspension of disbelief, a four-game sanction for the reigning Super Bowl MVP, compelling every pro football writer in this great land to learn how to spell "Garoppolo."
In June came Brady's appeal, which was to be heard by the same man who imposed the suspension, Goodell. The news that Brady had destroyed his cellphone, followed by the news that NFL investigators had never insisted upon seeing it. That was followed by the ghoul-like, impressionist courtroom sketch of the NFL star, the news that the NFL leaked inaccurate information to certain media types, and finally, the rumors that Brady's wife, Gisele Bündchen, was considering filing for divorce (you gain one ring, you lose another).
The NFL has already announced it will appeal Berman's ruling, but Brady is free to play in his team's season-opener at Pittsburgh one week from Thursday.
In the end, once again and perhaps because the opponent was not Manning and the New York Giants in a Super Bowl, Brady has won.
To air is human. To be Tom Brady is divine.