Meet the American Couple Who Saved Refugees From Nazis During WWII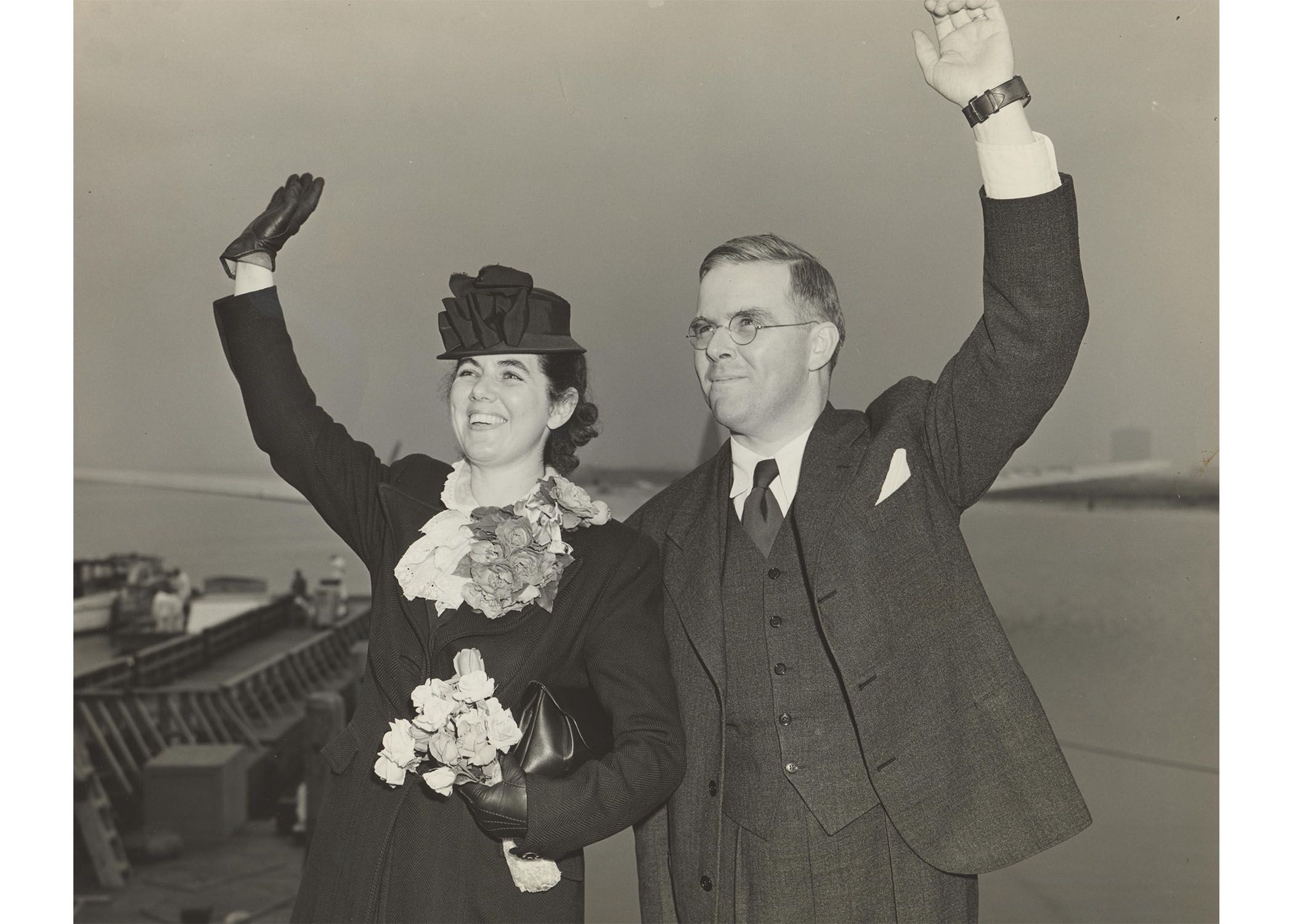 Artemis Joukowsky was a 14-year-old high school student when he learned about the extraordinary work his grandparents did during World War II.
Joukowsky, now a filmmaker, was working on a ninth-grade class assignment that required him to learn about history through an interview. Joukowsky spoke to his mother, who said, "Talk to your grandmother. She did some cool things during the Second World War." What were those cool things? His grandmother, Martha Sharp, along with his grandfather, Waitstill Sharp, rescued 130 Jewish refugees and political dissidents from Europe during the Nazi occupation.
"It changed my life meeting [Martha Sharp]. I started to connect very early on that love is the greatest legacy, that love of others is the greatest joy in life, whether it be your own family, your children or the world," says Joukowsky. "She loved the world."
On September 20, Defying the Nazis: The Sharps' War, a new documentary about the couple and their rescue missions, will air on PBS. Joukowsky co-directed the film with Ken Burns, the filmmaker behind documentaries on such subjects as Jackie Robinson, the Dust Bowl and the Civil War.
Over a two-year period beginning in 1939, Waitstill, a Unitarian reverend, and Martha, a social worker, smuggled dozens of people fleeing persecution out of Nazi-occupied Europe, including Czechoslovakia, which came under Nazi control on March 15, 1939. In some cases, they traveled with political dissidents, journalists, doctors and anti-Nazis through the heart of Nazi Germany. Sometimes they'd be disguised as domestic workers. The risk was high: The couple would have been imprisoned, and possibly tortured and killed, by the Gestapo for helping refugees leave.
The role of the Sharps in that mass exodus from Europe draws undeniable comparisons to the refugee crisis today. More than 65 million people are forcibly displaced around the world, the highest numbers since after World War II. In one incident, Waitstill (voiced by actor Tom Hanks in the film) and a group of refugees were trailed by Vichy French agents on their train out of France and ended up walking over mountains between France and Spain to escape them. From there, the group went to Lisbon and sailed to freedom in New York. It's reminiscent of the hundreds of refugees and migrants who walked from Hungary to Austria and Germany after arriving in Europe last summer.
"I kind of got obsessed, just drawn into how you tell this story with all its undertones and complications," Burns tells Newsweek, adding that he was "so fascinated by this diamond in the rough of a story."
The timing of the documentary on PBS links it closely with today's refugee crisis—two refugee summits will be held during the U.N. General Assembly in the days before it airs—but Burns says none of his films are meant to make a contemporary statement.
"There's always going to be Waitstill and Martha Sharps, but that means there's also going to be Hitlers," he says.
Rather, says Burns, the film forces its audience to ask "the ultimate human questions": "Could we do this? Could I do this? Could I sacrifice for another life?"
"These are all the wonderful questions that, when human beings are helpless, as they are in numbers second only to the time of the Second World War, it ought to be brought home to us," he says.
For Joukowsky, the film is not just about telling the story of his grandparents. It's also about re-interpreting the American history of the Holocaust. After Martha Waitstill died in 1990, he was tasked with dealing with her papers, and while going through boxes of documents, he found lists of names, those who were saved and those who weren't. The number of people saved by the Sharps is likely much greater than 130, but the couple had to burn documents in Europe to cover up their missions from the authorities.
Joukowsky contacted the Holocaust Memorial Museum with his findings and continues to hear from people who, in some cases, have the Sharps to thank for their very existence. "One of the most fun parts of this project is having people call you and say, 'Hey, I just discovered that your family helped my family'," says Artemis. "That happens all the time now."
Both Sharps posthumously received the Righteous Among the Nations award from Israel in 2006, given to those who risked their lives trying to save Jews from the Holocaust. Part of the reason why the Sharps' story has been relatively unknown until now is that "their generation didn't publish their own work," says Joukowsky. His grandparents also "suffered a lot about all the lives they couldn't help," he says. "It was a lot of post-traumatic stress for them both."
Joukowsky "absolutely" thinks the film can change American minds about refugees and wants to screen the film for both Republican presidential nominee Donald Trump—who has espoused particularly harsh rhetoric about Syrian refugees—and Hillary Clinton, the Democratic presidential nominee.
"All of us are immigrants, every one of us comes from someplace," says Joukowsky. "That's what unites Americans, someone had the courage to leave and be an American. That's what we need to celebrate."
Defying the Nazis: The Sharps' War will air on PBS on September 20 at 9 p.m. ET (8 p.m. CT).