Things just got personal for Deion Sanders and the Colorado football team.
Colorado State coach Jay Norvell appeared to criticize "Coach Prime" ahead of Saturday's Colorado-CSU college football matchup. Norvell said on his weekly radio show Wednesday that his mother taught him to take off his hat and glasses when talking to "grown-ups," an apparent dig at the attire usually worn by the Pro Football Hall of Famer.
Not only is Sanders aware of Norvell's comments, but he addressed them during Colorado's practice Thursday. Well Off Media, a brand run by Deion Sanders Jr., posted a video to YouTube titled "Coach Prime & The CU Buffs Responds to Lil Bro," referencing CSU.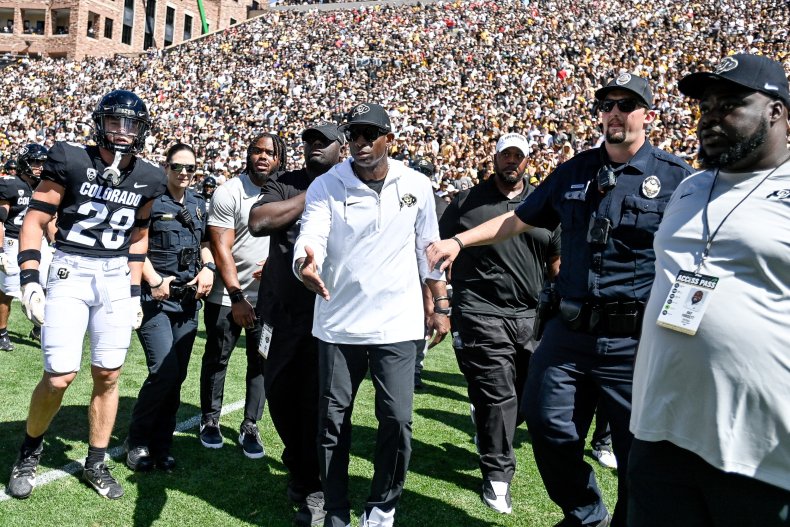 "I'm minding my own business, watching some film, trying to get ready," Sanders said in the video. "Trying to get out here and be the best coach I can be. And I look up and I read some bulljunk that they done say about us. Once again, why would you want to talk about us when we don't talk about nobody? All we do is go out here, work our butts off, and do our job on Saturdays. But when they give us ammunition, they messed around and made it what?"
"Personal," his players responded.
"It was just gonna be a good game. They done made around and made it..."
"Personal," his players said.
"It was gonna be a great test, battle of Colorado," Sanders said. "But they done messed around and made it..."
"Personal," his players said.
Message received.
Later in the practice video, Sanders is shown on a golf cart, saying, "Now he's messing with my mama."
That's a reference to Norvell's comments about how he was raised. Norvell initially said during his radio show appearance that he didn't want to talk about Sanders. But eventually, Norvell admitted that he and his team grew tired of all the questions about "Coach Prime" and the Buffaloes, particularly when they did interviews for ESPN's College GameDay.
"Our kids came out of those [interviews] really with a chip on their shoulder," Norvell said. "They're tired of all that stuff. They really are tired of it."
Through two weeks this season, Sanders and his team have a history of winning in games that are "personal" to them. Sanders said after a Week 1 win over TCU that he kept "the receipts," alluding to some sort of drama between the schools. And last week after beating Nebraska, Sanders' son and Colorado quarterback Shedeur Sanders said that he didn't respect Cornhuskers coach Matt Rhule because, "[Rhule] said a lot of things about my pops, about the program."
No. 18 Colorado hosts Colorado State at 10 p.m. ET on Saturday. And even before this game became "personal" for Colorado, it was going to garner a lot of attention.
The Buffaloes are off to a 2-0 start to the "Coach Prime" era. Colorado, who went 1-11 last year, has its highest ranking in the Associated Press poll since 2016. Boulder, Colorado, is practically at the center of the college football world this season. Not only is the game going to air on ESPN, but there will be several "guests" in attendance.
ESPN's College GameDay, FOX's Big Noon Kickoff, the Pat McAfee Show, and ESPN's First Take are among the shows that will be on location for Saturday's game.
Colorado is a 23-point favorite over Colorado State as of Thursday afternoon, according to Caesars Sportsbook.
Uncommon Knowledge
Newsweek is committed to challenging conventional wisdom and finding connections in the search for common ground.
Newsweek is committed to challenging conventional wisdom and finding connections in the search for common ground.
About the writer
Robert Read is a Newsweek writer and reporter based in Florida. His focus is reporting on trending sports stories. Robert joined Newsweek in 2023. He is a graduate of the University of Iowa. You can get in touch with Robert by emailing r.read@newsweek.com. Languages: English.