Deion Sanders Gets First Coaching Win, Has Belongings Stolen in Bizarre Story
The 2020 college football season began Sunday afternoon for Jackson State University and its new coach, Deion "Prime Time" Sanders. The Tigers walloped NAIA's Edward Waters, 53-0, but that wasn't the main story out of Jackson, Mississippi, during Sanders' college coaching debut.
During the post-game press conference, Sanders said his personal belongings had been stolen from the locker room while the game was being played.
"For one, the kids played really well," Sanders said. "But while the game was going on, someone came in and stole every darn thing I have in the coaches' office. Credit cards, wallet, watches. Thank god I had on my necklaces."
However, his stolen items were found and replaced, according to ESPN.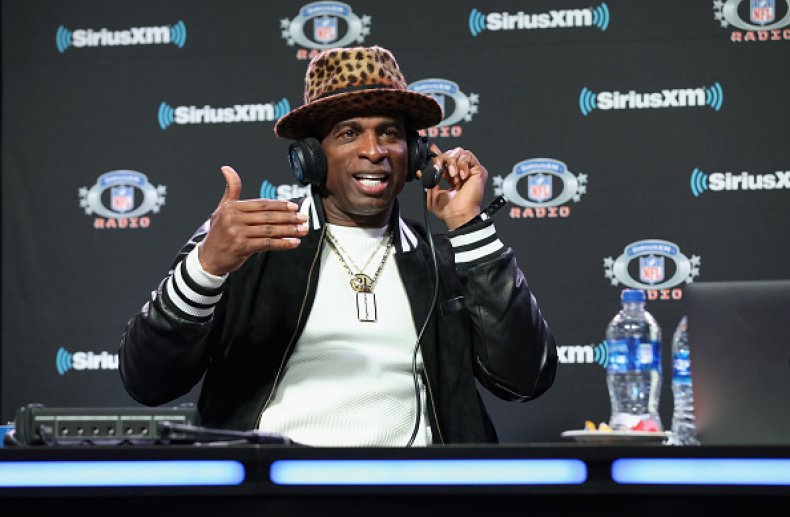 When asked how his personal items were "misplaced" and then later found, Sanders tweeted that they were, indeed, "stolen."
"Naw it was stolen but they got it back. It was stolen out my personal bag in my office and My assistant caught the gentleman in the process of stealing it but she was alone. No Miscommunication my man at all," Sanders said in response to a tweet.
"Whomever putting out the lie that my belongings wasn't stolen is LYING. My belongings were taken out of a zipped bag in my office and more items were taken as well from my office. We have retrieved them since being reported. My Staff member witnessed the crime."
JSU athletics director Ashley Robinson issued a statement Sunday evening that said the university is reviewing its stadium protocols.
"Immediately following our win today, several items belonging to Coach Prime were taken from the locker room. Those items were quickly recovered and returned. While we consider this an isolated incident, we are thoroughly reviewing security protocols to ensure this does not happen again. However, we refuse to let this dampen the victory for our JSU Tigers, who have worked hard for this moment."
Sanders was most recently the offensive coordinator for Cedar Hill (Texas) Trinity Christian, a private school on the outskirts of south Dallas. He coached in games last fall before taking over as the head coach at Jackson State,
Jackson State, an historically Black university, plays in the SWAC, and has notoriously been popular in sending players to the NFL—most notably running back Walter Payton.
The Tigers had the their fall season from 2020 moved to the spring of 2021 because of ongoing COVID-19 issues.
Jackson State hosts Mississippi Valley State this Saturday to kick off conference play.