Two of Deion Sanders' sons—Shilo and Shedeur—will take the field for No. 18 Colorado on Saturday for an in-state rivalry game against Colorado State (CSU). But not too long ago, both players were wearing CSU uniforms on a recruiting visit with the Rams.
"Coach Prime" recalled during a press conference Tuesday that former Colorado State coach Mike Bobo hosted Shilo in Fort Collins in December 2018. Shedeur accompanied his brother.
"[Bobo] recruited my son," Deion Sanders said Tuesday. "I know they had a good time. They really did. They enjoyed the trip tremendously, but I think they enjoy it here much better."
At the time, Deion Sanders was the coach at Shilo and Shedeur's high school in Texas. The Pro Football Hall of Famer posted a picture from the visit on X, then known as Twitter, and added that Colorado State had an "awesome coaching staff and the facilities are unbelievable." On Instagram, "Coach Prime" also shared a photo of his sons donning CSU uniforms in 2018.
Shilo, a high school senior during his official visit, was a three-star safety recruit, according to 247Sports, and eventually signed with South Carolina. Shedeur was a high school sophomore when he went on the visit with his brother. When "Coach Prime" took the head coaching job at Jackson State in 2020, Shilo and Shedeur followed him there.
Deion Sanders is now heading into this third game as Colorado's head coach. Shilo and Shedeur followed their father there this offseason. And now the Sanders family has transformed a program that went 1-11 last season into one of the biggest stories in sports. The Buffaloes upset defending national runner-up TCU in the season-opener, then followed with a win over rival Nebraska in Week 2.
Shedeur has thrown for 903 yards and six touchdowns through two weeks. Shilo is Colorado's leading tackler.
"Coach Prime" is hoping his third game as Colorado's head coach is his team's most complete yet.
"We're winning, but we're not playing our best football," Deion Sanders said. "That's a tremendous sign and we can't wait to build off that. We want to show you a game that we put it together offensively, defensively, as well as on special teams. We want to show our fanbase that game. And that's what we're chasing."
Deion Sanders had plenty more to say on the upcoming Colorado-Colorado State game. Here's a look at what the rivalry will mean to him, plus the hype ahead of this weekend.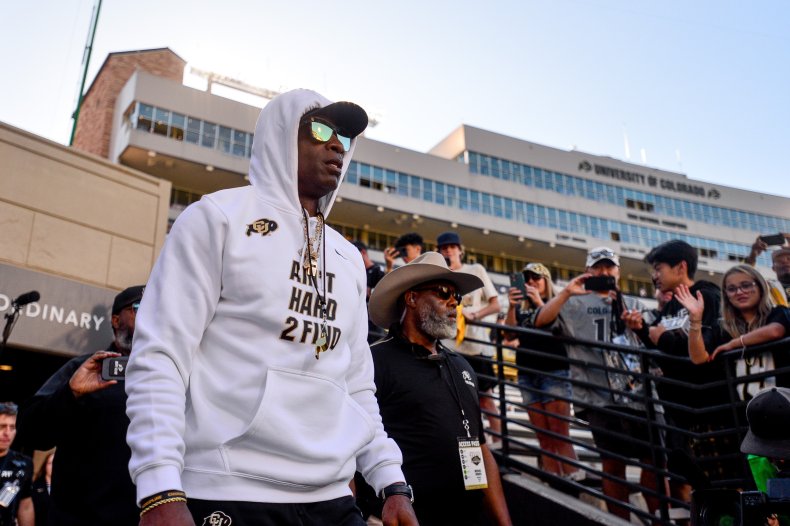 Deion Sanders on Joining Colorado-CSU Rivalry
Rivalries are nothing new to Deion Sanders.
After playing college football for Florida State, 14 NFL seasons with five franchises and even 641 Major League Baseball games, "Prime Time" has been in his fair share of them. Leading Colorado against Colorado State on Saturday will be a new experience, though. But not one he is unprepared for.
Sanders was asked Tuesday what he knows about the meaning of the rivalry to people in the state of Colorado. And he answered the question as one might expect.
"Trust me. This isn't my first rodeo when it comes to that," Sanders said when asked about joining the rivalry. "I think the Falcons and the Saints were quite the showdown. As well as the Cowboys-49ers. I could keep going. Cowboys-Philly, Cowboys [against whoever]. It was always a showdown. Baseball as well. So it's always some type of adversity that you have against someone in close proximity of you.
"I had two divorces, which were heck of a showdowns too. So don't tell me about a showdown."
Hype Keeps Building for Colorado
Boulder, Colorado, will be the center of the college football landscape again on Saturday.
The Colorado-CSU game kicks off at 10 p.m. ET on ESPN. But even before the game kicks off, the spotlight will be on Colorado. ESPN's College GameDay and FOX's Big Noon Kickoff pregame shows will be on-site that morning previewing the game. It will mark the second straight week that FOX's pregame show is in Boulder.
Colorado State coach Jay Norvell recognizes that Saturday won't just bring a lot of visibility to Colorado but to the rivalry itself.
"We're playing on ESPN," Norvell said this week. "We've got GameDay? Let's go...Stevie Wonder could see it's a great opportunity."
Only two games into the "Coach Prime" era, No. 18 Colorado has its highest ranking in the Associated Press poll since 2016. Caesars Sportsbook lists Colorado as a 23-point favorite against 0-1 CSU. So 3-0 might be in Colorado's not-too-distant future. But Sanders hasn't had time to soak in the success. He's too busy for that.
"I don't have time to enjoy the moment," Sanders said. "Santa don't have time. He got to deliver the gifts. He ain't got time to enjoy his cookies."
Uncommon Knowledge
Newsweek is committed to challenging conventional wisdom and finding connections in the search for common ground.
Newsweek is committed to challenging conventional wisdom and finding connections in the search for common ground.
About the writer
Robert Read is a Newsweek writer and reporter based in Florida. His focus is reporting on trending sports stories. Robert joined Newsweek in 2023. He is a graduate of the University of Iowa. You can get in touch with Robert by emailing r.read@newsweek.com. Languages: English.