'Stop Resisting': Delaware Police Officer Caught on Camera Repeatedly Punching Teenage Boy in the Head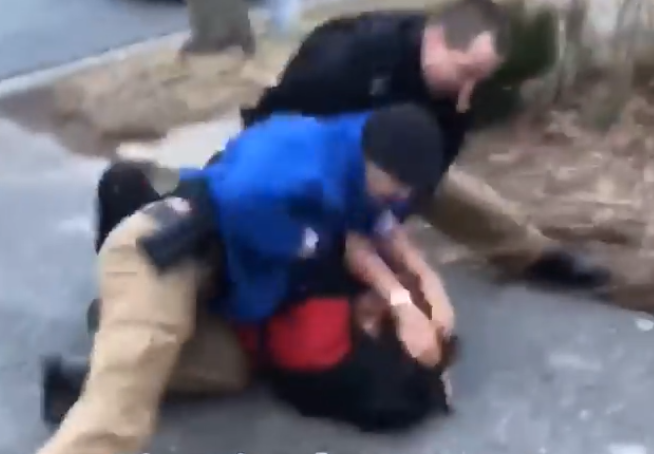 An internal police investigation has been launched in Delaware after officers were recorded repeatedly punching a 16-year-old in the head, officials confirmed.
Footage showing a portion of the violent arrest, which occurred last Friday, quickly spread across social media platforms including Facebook, Twitter and Instagram.
The teen's family say the incident was sparked by a noise complaint. But in a statement released online yesterday, the New Castle police captain said he was a suspected drug dealer.
The cell phone recording of the arrest showed an officer striking the 16-year-old boy in the head around half a dozen times. The teen was seen struggling after being pinned to the ground. "Stop resisting," police officers can be heard shouting numerous times in the short clip.
Law enforcement said the department received a complaint from a concerned citizen Friday, who said there were "ongoing drug transactions" in the E. Bellamy Drive. The caller provided a "detailed description of the suspected drug dealer," which led to the officers' identification.
Captain Michel Eckerd said on Sunday: "Arriving officers located the suspect on a dirt bike in front of his residence and immediately smelled the odor of marijuana.
"When they attempted to take the suspect into custody a struggle ensued. After the subject was taken into custody a search of his person revealed, numerous individual bags of marijuana, a digital scale, prescription pills and over $1,000 in suspected drug proceeds." The top official confirmed that the footage uploaded to social media contained "portions of this arrest."
The 16-year-old was left facing several criminal charges, including resisting arrest, offensive touching of a law enforcement officer, possession of a controlled substance and more. The teen was taken into custody at the New Castle County Detention Center in lieu of $6,500 bail.
New Castle police colonel Vaughn Bond, Jr. said in a statement: "Our officers are held to the highest standards of police conduct and the fact that an arrest was made does not negate the need for a complete and comprehensive review of this incident which is currently underway."
Family members told The News Journal, a Delaware-based newspaper, that they believed it was the noise from the dirt bike which led to the teenager's violent arrest last week.
Mary Fleming, his mother, told The News Journal from outside her home: "I guess someone had called the cops because his friend rode here on a dirt bike. They didn't like the noise."
Family attorney Chris Johnson called for a probe from the state's attorney general. He said "excessive force" was used to apprehend the suspect. The clip was uploaded to Facebook on Saturday by Jaiden Palmer, a friend of the teen, WPVI-TV reported.