Delaware Whipping Post Removed but Corporal Punishment Still Exists in U.S.
Excavation crews in Georgetown, Delaware removed what is thought to be the last whipping post on public display in the U.S. on Wednesday.
Donated to the state in 1992, the eight-foot-tall whipping post was previously used at the Sussex Correctional Institute. Residents of the community called for the post's removal, citing its affiliation with racial discrimination and violence. Delaware removed whipping as a punishment for crimes in 1972, making it the last state in the U.S. to abolish the penalty.
"Such relics of the past should be placed in museums to be preserved and protected for those who want to remember the cruel, inhuman, barbarous acts perpetrated on our citizens," said Delaware Heritage Commission Vice Chairwoman Reba Hollingsworth in a Wednesday statement.
Delaware's Director of the Division of Historical and Cultural Affairs Tim Slavin said in a Wednesday press release that the whipping post would be preserved in a state collection where its place in history would receive the proper context. Slavin said the whipping post's old position, displayed publicly outside the Sussex County Courthouse, did not "adequately account for the traumatic legacy it represents, and that still reverberates among communities of color in our state."
Newsweek attempted to reach out to the office of Georgetown Mayor Bill West, but a representative was unavailable for comment at the time. Delaware Governor John Carney's office directed Newsweek to Carney's comments about the post's removal during a Tuesday news conference.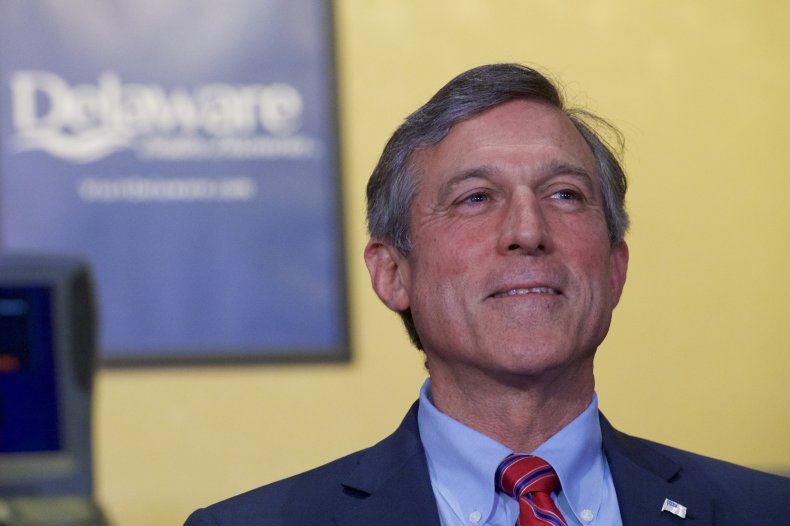 "I think it was the right thing to do," Carney said. "I think that for Delawareans of African descent, descendants of slaves, I think it's a terrible reminder of that history and so I think it appropriate to put it in a museum or a place out of the public square."
Historically, Delaware's whipping post was known as Red Hannah. When prisoners were tied to the whipping post before being flogged, it was known as "hugging Red Hannah." The last instance of an individual being publicly whipped in Delaware occurred in 1952.
According to the Delaware Historical and Cultural Affairs Division, whipping was "disproportionately applied to persons of color" as a punitive measure, with up to 40 lashes given for a single offense.
Corporal punishment is still allowed in parts of the U.S. although it is mostly used in a public school setting. There is no federal law prohibiting the practice. As of 2019, corporal punishment was still allowed in 19 states.
Nationwide protests over the death of George Floyd have placed displays such as the whipping post under the public microscope. In Southern states, demonstrators viewed Confederate monuments as symbols of hate. Some statues have been toppled or defaced while some local governments have made the decision to relocate the monuments to places of safekeeping. Symbols of law enforcement have also been besmirched.
In June, protesters attacked a law enforcement memorial in Dover, Delaware with an axe. Blade marks could be visible on the neck of the bronze statue of a police officer.
"This kind of vandalism is unacceptable," Governor Carney said at the time. "Let's try to treat one another with respect. Ignore the voices who want to divide us up. Working together, in good faith, is the only way to make meaningful progress."