For the second day in a row, President Donald Trump decided to express unkind sentiments about the late Senator John McCain on Twitter. And for the second day in a row, Meghan McCain responded harshly to the president's words.
Among the president's many Sunday morning tweets was one message referring to the late senator from Arizona as "last in his class" at the U.S. Naval Academy. Trump also once again blamed McCain for his alleged role in bringing to public light an opposition research document that includes allegations of Trump connections to Russia.
"So it was indeed (just proven in court papers) 'last in his class' (Annapolis) John McCain that sent the Fake Dossier to the FBI and Media hoping to have it printed BEFORE the Election," tweeted the president. "He & the Dems, working together, failed (as usual). Even the Fake News refused this garbage!"
In a tweet that has since been deleted, but preserved by The Hill, McCain's daughter, TV personality Meghan McCain, had a terse take on the presiden't latest remarks.
"My father lives rent free in your head," wrote Meghan McCain, who then removed the post from her timeline shortly after.
She did, however, follow up with a tweet from Bulwark editor-in-chief Charlie Sykes, where he wrote that "John McCain haunts the Trump White House, not because of his votes or policy disagreements, but because he represents the man that Donald Trump cannot ever be."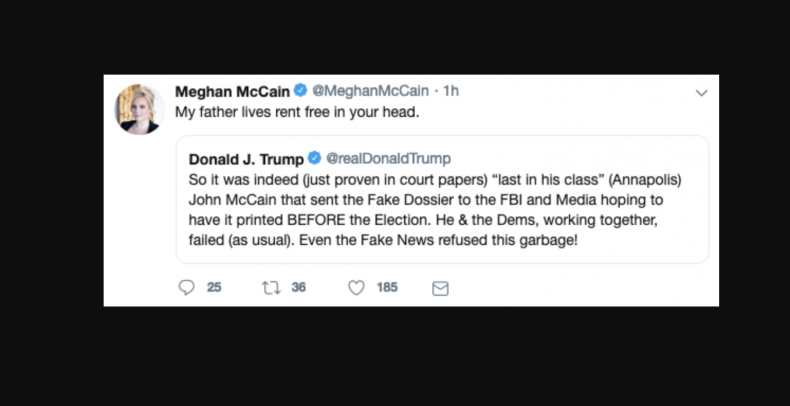 This was the second day in a row that Meghan McCain attempted to defend her father's memory against President Trump's atagonistic tweets.
On Saturday, the View co-host replied to a tweet in which the president not only mentioned the controversial dossier, but also the senator's 2017 deciding vote against the Republican plan to repeal and replace most of the Affordable Care Act.
"No one will ever love you the way they loved my father," wrote Meghan McCain. "I wish I had been given more Saturday's with him. Maybe spend yours with your family instead of on twitter obsessing over mine?"