Delaware University Removes Student's Artwork Depicting Trump Being Beheaded From Online Competition
A university in Delaware has removed a student's submission for an online art competition depicting President Donald Trump being decapitated.
Joe Aviola, Wilmington University's senior director of administrative and legal affairs, told Delaware Online that Jennie Williams' work was "more violent than it is expression of speech," adding it was removed because it did not match the university's values.
The piece that Williams submitted was a parody of the second version of the Judith Beheading Holofernes by the Italian artist Caravaggio.
In Williams' work, Syrian general Holofernes—who is seen having his head cut off in the original piece—is replaced by Trump, while the face of the Statue of Liberty is imposed on Judith's body as she performs the beheading with a sword.
In a statement to Newsweek confirming the artwork was removed from the online contest, Aviola said: "Our students are encouraged to be creative and even to push boundaries, but, in doing that, the University has a responsibility to exercise our own good judgment.
"Therefore, the University viewed this artwork as not meeting our values in the sense that it depicts violence."
Williams submitted the work online for the Online Students Art Show, for which voting ends on February 14.
According to Delaware Online, Williams' piece passed through an initial staff review before the university reviewed it again after concerns about the work were raised.
"In hindsight, we maybe should've had some other people review it," Aviola added.
The university reportedly then took the entire online competition offline by accident as they did not know how to delete a single entry. The contest page then went live again, now with Williams' work removed.
John Flaherty, president of the Delaware Coalition for Open Government, disagreed with the decision.
"Even violent inappropriate art pieces should be judged for what they are," Flaherty said. "You ought to have controversial pieces submitted. That's part of being an artist."
Williams could not be contacted for comment.
Last year, a satirical artwork of Trump was pulled from a New Jersey exhibit after just 30 minutes following a negative response.
Gwenn Seemel's work Hello S****y, Available in a White House Near You! (Grab Him by His P***y) featured the president wearing a red cap with the slogan "Make America White Again" while holding a syringe.
The words "hello s*****y" are also repeated all over the work.
The piece was displayed at a Studio Montclair exhibit called "Love and Fear" at Montclair Public Library last April but was removed over concern about curse words.
Susanna Baker, Studio Montclair's executive director, said in a statement that she had "always been told that the policy of the library is to not display curse words or nudes."
But Peter Coyl, director of Montclair Public Library, said the library has no policy restricting the artwork hung there. "We support free speech and abhor censorship," Coyl told Montclair Local at the time.
The artwork was eventually rehung.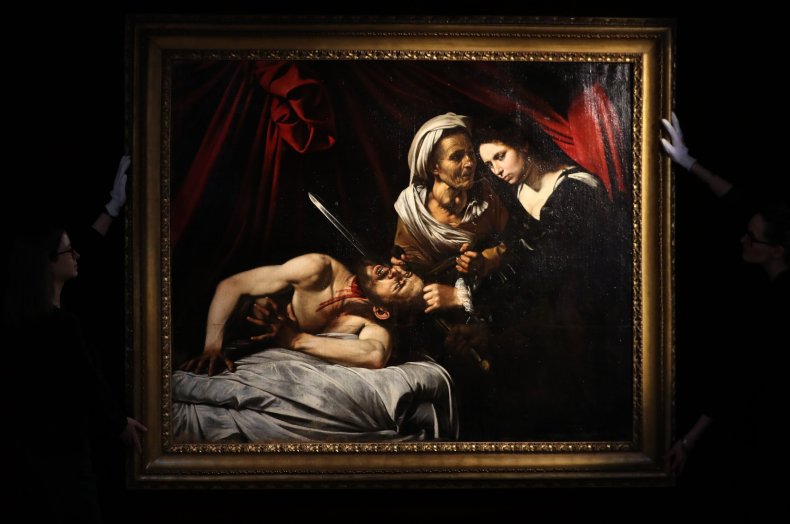 This article was updated with comments by Peter Coyl.