Levels of air pollution—and levels of fine particulate matter (PM 2.5), in particular—peaked in Delhi last week, reaching not only the highest levels of the season but the highest levels in three years. Toxic air in Indian cities is so extreme, studies have shown, it contributes to hundreds of thousands of premature deaths each year.
Schools had to be closed and flights canceled, while residents were told to avoid outdoor physical activities and advised to wear anti-pollution masks last week. Some ministers proffered their own solutions, from eating more carrots to listening to music.
"You can feel the heaviness and the higher levels of pollution in the winter months," Professor Lalit Dandona, director of the India State-Level Disease Burden Initiative, told Newsweek.
Pollution measured on the Air Quality Index (AQI) has decreased since the start of the month when levels in some parts of the city approached 1,000—anything above 100 is considered unhealthy, and 300 is considered hazardous for human health. But levels still hover around the 200 mark.
"In most of October, PM 2.5 was actually somewhat lower than the previous couple of years," said Dandona. "But then, in the last couple of days in October and the first few days in November, it shot up to levels that we have rarely seen before."
Delhi's chief minister Arvind Kejriwal called the levels of pollution that were engulfing the city earlier this month "unbearable," comparing India's capital to "a gas chamber."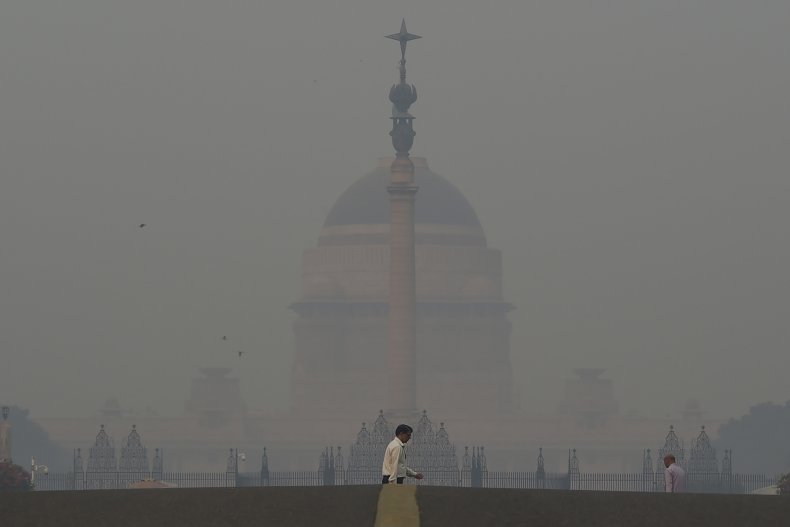 India's pollution is exacerbated by a number of circumstances that coalesce at this time of year, from agricultural crop burning to certain atmospheric conditions.
"Air pollution levels fluctuate due to swings in a combination of factors that cause air pollution in Delhi National Capital Region," said Dandona. These factors include road vehicle emissions, construction activity, thermal power and industry emissions, diesel generator emissions, agricultural and other waste burning, road dust sweeping, use of polluting cooking fuels by roadside eateries, and wind patterns. As for the latter, cooler temperatures and stagnant air trap air pollutants lower in the atmosphere.
Further stress is placed on air quality by the stubble burning—the setting alight of agricultural leftovers after the harvest—that takes place in October and November in the surrounding states of Punjab and Haryana, which adds to the amount of PM 2.5 and other pollutants in the air.
In a visit to South Asia last week, UNICEF executive director Henrietta Fore described the situation as a "crisis." "You could smell the toxic fog even from behind an air filtration mask," she said in a statement.
"Around 620 million children in the region breathe polluted, toxic air. Because they have smaller lungs, breathe twice as fast as adults, and lack the immunities that come with age, children endure its damaging health and neurological effects the most," added Fore.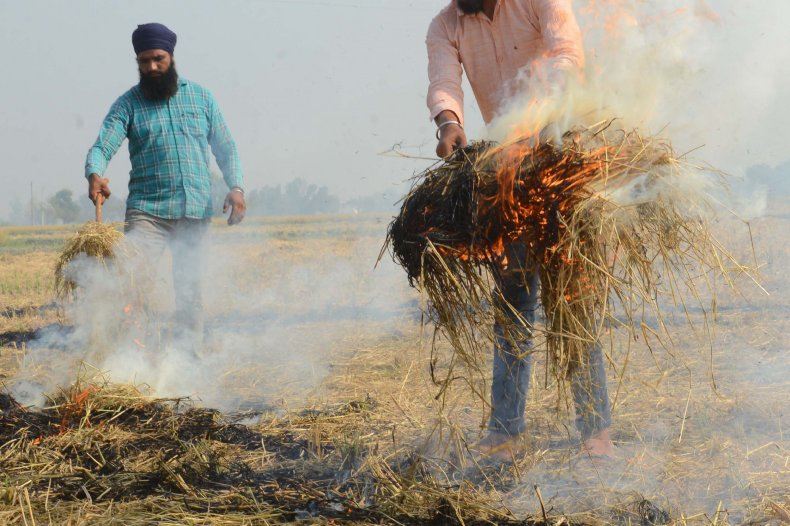 While the young might be especially at risk, Delhi's air pollution affects people of all ages, shaving 1.7 years of the average life expectancy, according to one 2017 study published in The Lancet. This, the study found, increases to two years in the north Indian states Rajasthan, Uttar Pradesh and Haryana. (Other studies have posited different figures—some as high as 10 years off life expectancy.) The paper's authors worked out that as many as 1.24 million deaths (12.5 percent of the total) in 2017 could be attributed to air pollution.
Ambient particulate matter pollution was responsible for 670,000 deaths. Household air pollution was responsible for a further 480,000.
"Acute health problems such as breathing difficulties and lung infections are important, but the bigger impact from air pollution on health is long term in the form of heart attacks, stroke, and lung cancer," said Dandona, who led the study. "Air pollution particles are similar to smoke particles—they keep up clogging our arteries and our lungs."
When the study first came out in 2017, there was denial, Dandona explained. "But a year ago, when we reported our findings on the health impact of air pollution in India, there was a lot more reception and now, there is even more," he added. "We are gradually moving towards a more rigorous approach to fixing the problem with increasing interest in the government and civil society in tackling this problem."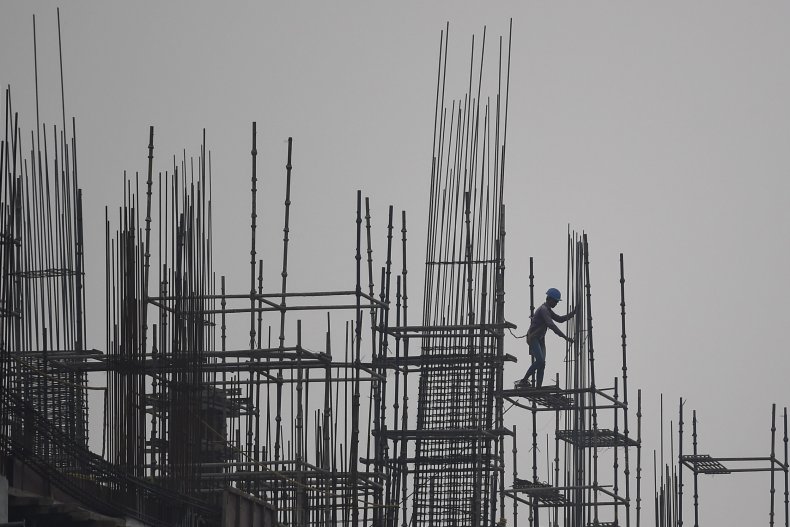 Recently, the Indian government has embarked on a series of headline-grabbing measures to tackle the season's air pollution, from banning conventional firecrackers over Diwali to implementing a temporary car-rationing scheme, limiting vehicles with odd number plates to odd dates and vehicles with even number plates to even dates despite no scientific evidence that this method works.
The Supreme Court of India has also intervened, making a decision requiring northern states to help farmers dispose of stubble without burning, ordering financial incentives and free machines. According to some reports, farmers are continuing to burn their crops as an act of rebellion.
Dandona says governments need more long-term strategies, however.. "There is a lot of discussion at this time of year but what we need to force ourselves to do is to have a more long-term systematic plan that is executed throughout the year as the relatively lower levels of pollution in summer months in Delhi are also much higher than the safe limit."
Dandona thinks there are reasons to be hopeful. The government, the media and civil society have seized the problem, said Dandona. "So one can expect more effective implementation of the regulations needed to control air pollution."
Overall, he is optimistic that more effective action may happen.