Delicious Places: A Feast for All Your Senses
From extraordinary locations to hyper-local cuisine, a new wave of bars and restaurants are heating up the culinary scene
From extraordinary locations to hyper-local cuisine, a new wave of bars and restaurants are taking global gastronomy to increasingly exciting heights. "Where should we eat tonight?" It's an age-old question and one that seems to be getting harder to answer—in a good way.
Thankfully, contemporary cuisine is much more than avocado toast, as restaurants around the world continue to push the boundaries of flavor. As a consequence, global gastronomy has never felt more exciting, nor have dining options been more interesting. The reasons are abundantly clear: they include a burgeoning interest in food cultures and cuisines; the rise of "destination dining," as restaurants seek to stand out from the crowd through dazzling design and architecture; and the explosion of the sustainable food movement, with more and more chefs choosing to use local and seasonal ingredients, serving food that's good for both people and the planet.
Delicious Places celebrates numerous bars, cafés, and restaurants around the world that typify this exciting new trend in food culture. As the title suggests, they are all places that double down on deliciousness. This means going beyond what's on the plate and showing respect not just for one's ingredients, but also for one's local community and heritage. In other words, they are places that are exploring the past in order to shape the future.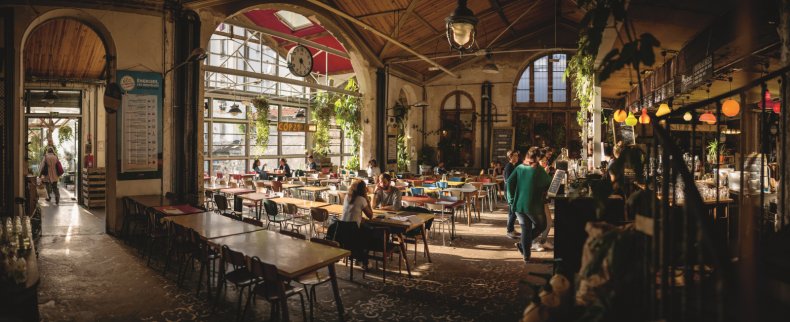 The "RE" of Parisian La REcyclerie represents the restaurant's ethos to "reduce, reuse, and recycle." A stone's throw from the Porte de Saint-Ouen flea market at the city's northernmost limit, La REcyclerie is a collective effort that combines a restaurant, bar, café, farm, and vegetable garden in one location. This eco haven has a relaxed hippie vibe that sets the place apart from the sophisticated bistros more readily associated with the French capital.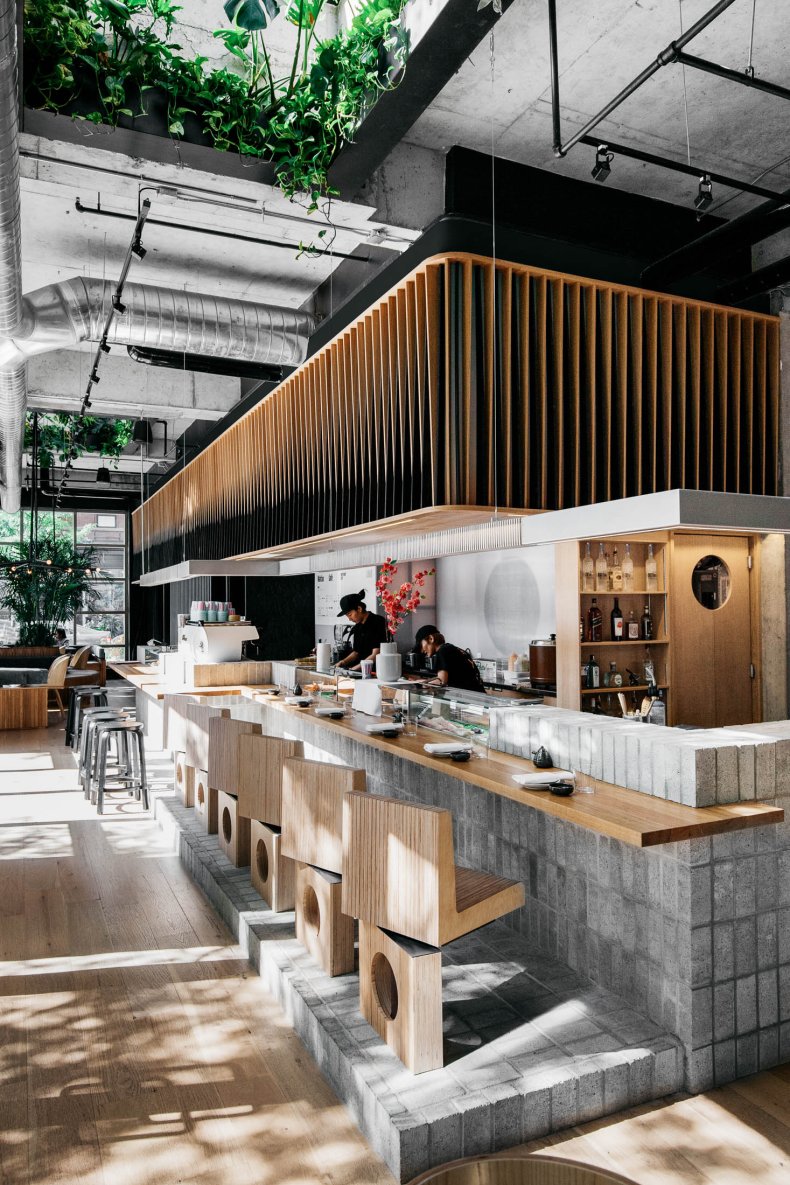 The ancient Japanese tradition of wabi sabi plays a central role at restaurant Ry. in the Westmount neighborhood of Montreal.
There is a minimalist geometry at play here, reminiscent of traditional Japanese design, which is most evident in the light and dark wood slats above and the predominantly gray, black, and brown color scheme. It's a theme that is carried through to the presentation of the food—beautifully crafted sushi dishes served on black and white plates on bamboo mats.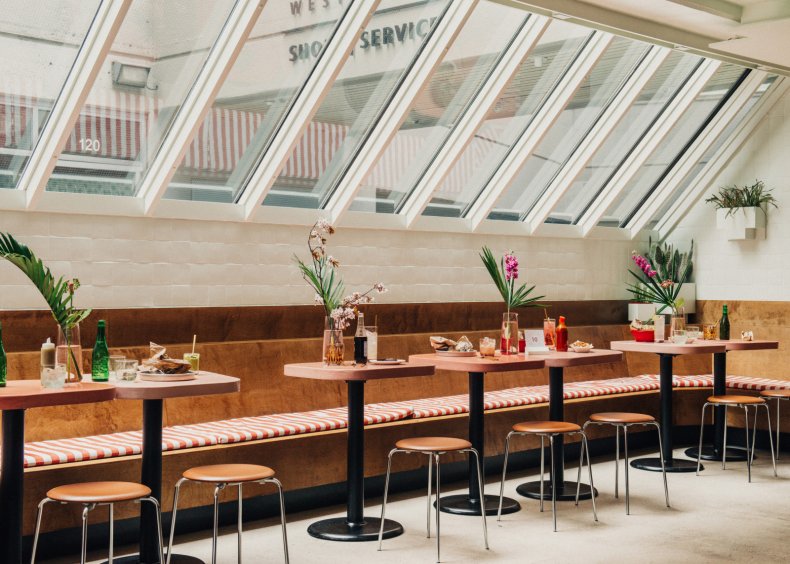 Vancouver, Canada
With a nod to the mid-century "Acapulco look," the latest incarnation of the Tacofino brand lightens the mood in Vancouver's financial district.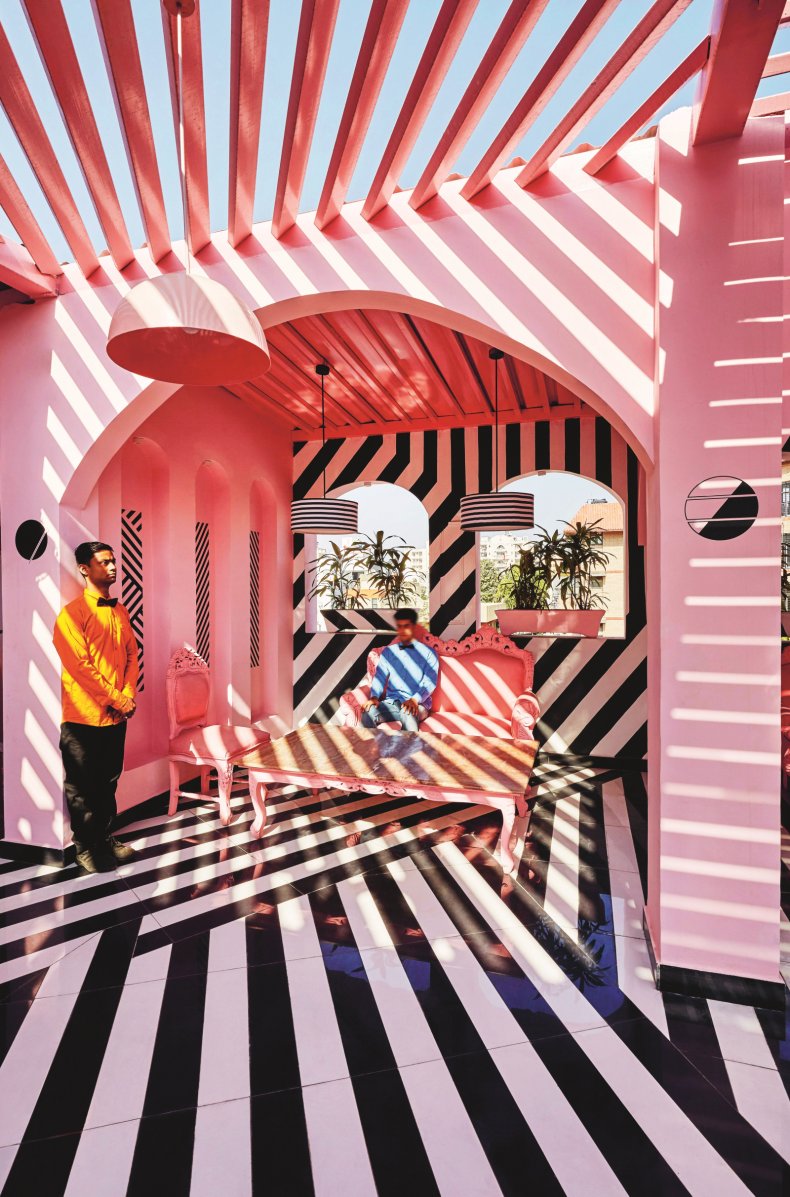 Pink Zebra by Renesa Studio
Kanpur, India
In the words of the creative minds behind this project, "How about we dip a zebra into a deep pink sea?" With its bizarre design, the Pink Zebra, aka the Feast India Co., is at once glamorous, surreal, and mesmerizing. Occupying two stories of a colonial building in the Indian city of Kanpur, the establishment features a dining area downstairs, a lounge / bar upstairs, and a covered terrace.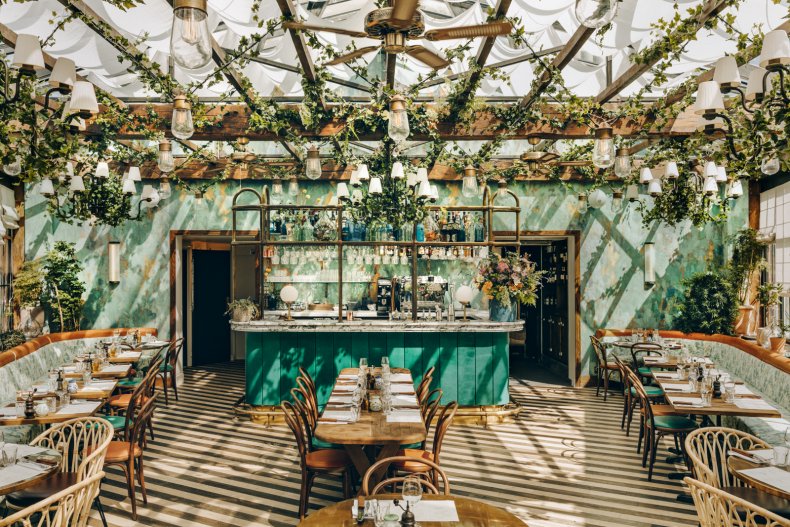 Paris, France
Focusing on the simple things in life, Big Mamma serves up generous helpings of top-quality Italian cuisine. The Big Mamma enterprise has taken Paris by storm in recent years with its range of Italian cocktail bars and restaurants, which includes Popolare, East Mamma, Pink Mamma, and Mamma Primi.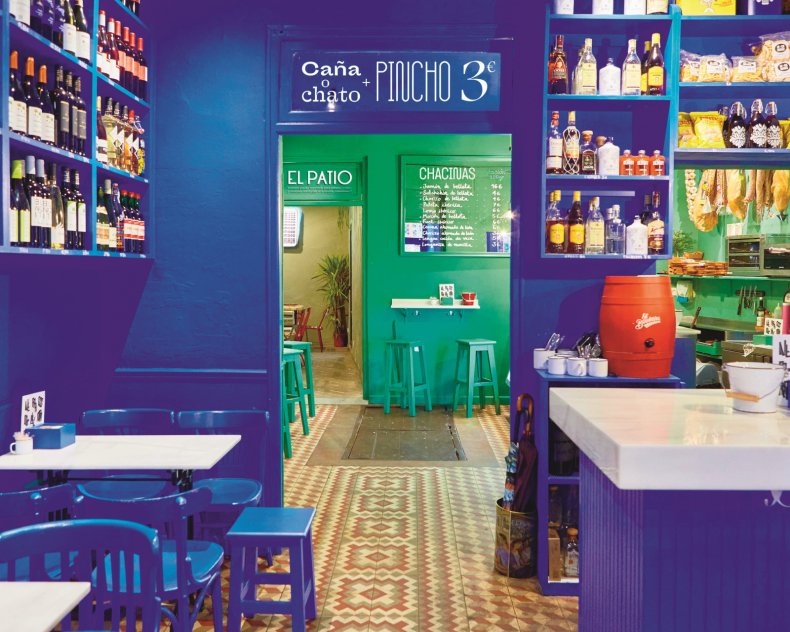 Malasaña, Spain
Uniting people of all persuasions, La Colmada heralds a new lease on life for the Spanish ultramarinos.
Combining the ultramarinos with another long-standing Spanish tradition—the taberna—this is the kind of place where you drop by to stock up on manchego cheese and olives, and end up staying for lunch. Cozy, intimate, and informal, the success of this diner lies in its simple yet distinctive branding—bold typography and geometric forms.
This article is excerpted from Delicious Places: New Food Culture, Restaurants and Interiors by Anna Southgate. Anna Southgate began her writing career over 20 years ago with an award-winning BBC Radio 4 satirical impressionist show that later went to TV. As a film Screenwriter Anna has written comedies and dramas for casts that include Academy, BAFTA, Emmy, and Golden Globe nominees and winners. She also writes for live events, including material for stand-up comedians at the Edinburgh Fringe Festival and for national tours.