Members of a popular internet forum were quick to call one furniture delivery crew for antagonizing an unsuspecting customer.
In a viral Reddit post published on r/AmITheA**hole, Redditor u/FeelingElegant9514 (otherwise referred to as the original poster, or OP) said she was expecting a seamless sofa swap until two crew members decided to pull a prank at her expense.
Titled, "Delivery gone wrong," the post has received nearly 9,000 upvotes and 600 comments in the last 10 hours.
"Last week delivery men were at my house to deliver a long awaited sofa," OP began. "Two men came into my house and seemed friendly enough."
Continuing to explain that she was replacing a sectional couch with a new sofa and oversized chair, the original poster said that part way through the delivery, she was alerted that an animal had made its way into her home.
"A man hollered: 'Ma'am, did you want your cat to come in?'" OP wrote. "I yelled, 'I don't have cat!"
"I am also allergic to them," OP added.
While looking for the supposed cat, the original poster said she heard multiple "meows" and was running frantically trying to locate it. But after 30 minutes of searching, it became apparent that the intruding cat was never actually there.
"As the men were leaving and I was signing the paperwork, the two men finally [confessed] that they were the ones making the cat noises," OP wrote. "There was no cat at all."
"I became distressed buy they laughed after telling me that they played this joke on other women as well," OP continued. "They thought they were really funny."
Put simply, furniture is expensive.
With low-end sofas and armchairs priced around $500 and other luxury pieces selling for thousands of dollars, buying furniture can take a toll on the bank account.
And when it comes to moving new furniture in, or old furniture out, homeowners and renters are forced to choose between hiring experienced movers and risking damage to walls, floors, couches, chairs, tables and even worse—themselves.
For those electing for hired help, Home Advisor reports that transporting furniture costs $180 on average, but can quickly become more expensive based on furniture quality and difficulty of delivery.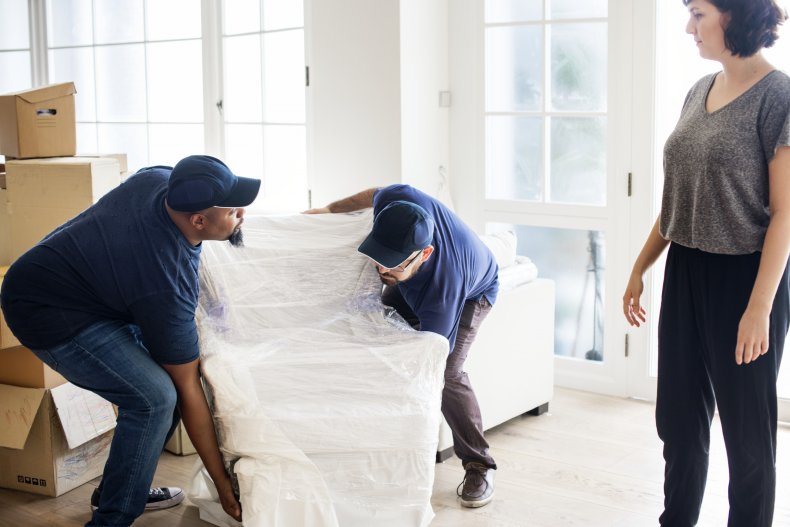 Because of high delivery costs—and the reasonable expectation for professionalism from hired professionals—many Redditors responding to the viral Reddit post sided with the original poster, calling out the delivery crew for their brazen behavior and speculating about the potential for ulterior motives.
"[Not the a**hole]," Redditor u/profmoxie wrote in the post's top comment, which has received nearly 15,000 upvotes. "Totally unprofessionals and immature!"
"Are you sure these guys didn't have a reason to distract you for 30 minutes?" they questioned. "Very suspicious, as it's not even remotely a funny 'joke.'"
Redditor u/Que_sax23, whose comment has received more than 3,500 upvotes, echoed that sentiment.
"That is a very bizarre 'prank,'" they wrote. "Kind of makes me uncomfortable. Do your job and get out of the house."
"So weird," they added.
"Please follow up and get them in trouble at work," Redditor u/BlackHeartIgnition chimed in, receiving more than 2,300 upvotes. "This is grossly unprofessional and after seeing how frantic you were about it they should have realized they went too far."
Newsweek reached out to u/FeelingElegant9514 for comment.