Delivery Man Defaces Diwali Decoration After Mistaking It for a Swastika
A delivery man was caught on camera defacing a Diwali decoration after apparently mistaking the Hindu symbol on it for a Nazi swastika.
The incident was captured on CCTV outside the home of a Hindu couple who live in Adelaide, Australia, 7News reported.
The security footage shows the delivery man knocking on the door and looking down at the Rangoli on the porch.
He is then seen shuffling his foot across the artwork, which is made from colored sand, until the swastika is no longer visible.
The couple who own the home returned on Sunday night to find the artwork that took hours to create was destroyed.
The husband, who did not want to be named, told the Adelaide Advertiser that his wife was "devastated" to see the Rangoli that took her hours to create had been destroyed.
He said it was made to mark the festival of Diwali which took place over the weekend.
He told the newspaper that it was clear to him that the delivery man had assumed the Hindu symbol, which means prosperity and wealth, was a Nazi swastika.
"I got the message about what he was trying to do because he only tried to [deface] the swastika area, he didn't touch anywhere else," he told the Advertiser.
"I think it was pretty clear that he didn't know the meaning of the swastika to us and that he was just trying to wipe it away."
He added to 7News: "I think it's very important to distinguish between red swastika symbol of the Hindu religion and the symbol of neo-Nazis."
He said the symbol is found in most Hindu households, but most people don't know "the real roots of the swastika."
He chose not to report the incident to police, adding to 7News that the best path forward is to raise awareness about the meaning of the symbol.
While the swastika has become synonymous with 20th century Nazism in the Western world, the symbol has ancient origins.
The swastika has been a spiritual and religious symbol for Hindus, Buddhists and Jains for thousands of years and is derived from a word meaning "well-being" or "auspicious" in the ancient Indian language of Sanskrit.
In the early 20th century, before it was appropriated by the Nazis, the swastika was used as a good luck symbol and was adopted in the West as an architectural motif and in advertising by brands including Coca-Cola and Carlsberg, the BBC reported. That came to a stop with the rise of Nazi Germany in the 1930s.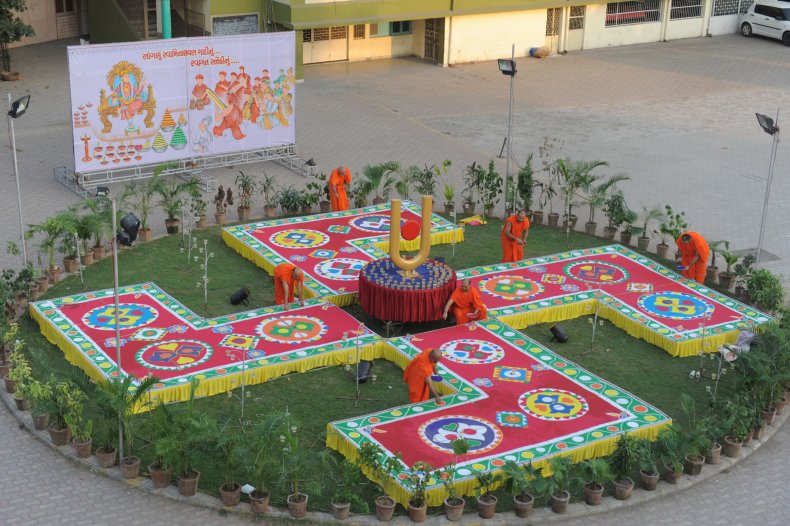 Delivery Man Defaces Diwali Decoration After Mistaking It for a Swastika | World