Dell UltraSharp 34 Curved USB-C Monitor Is a Stellar Work-From-Home Upgrade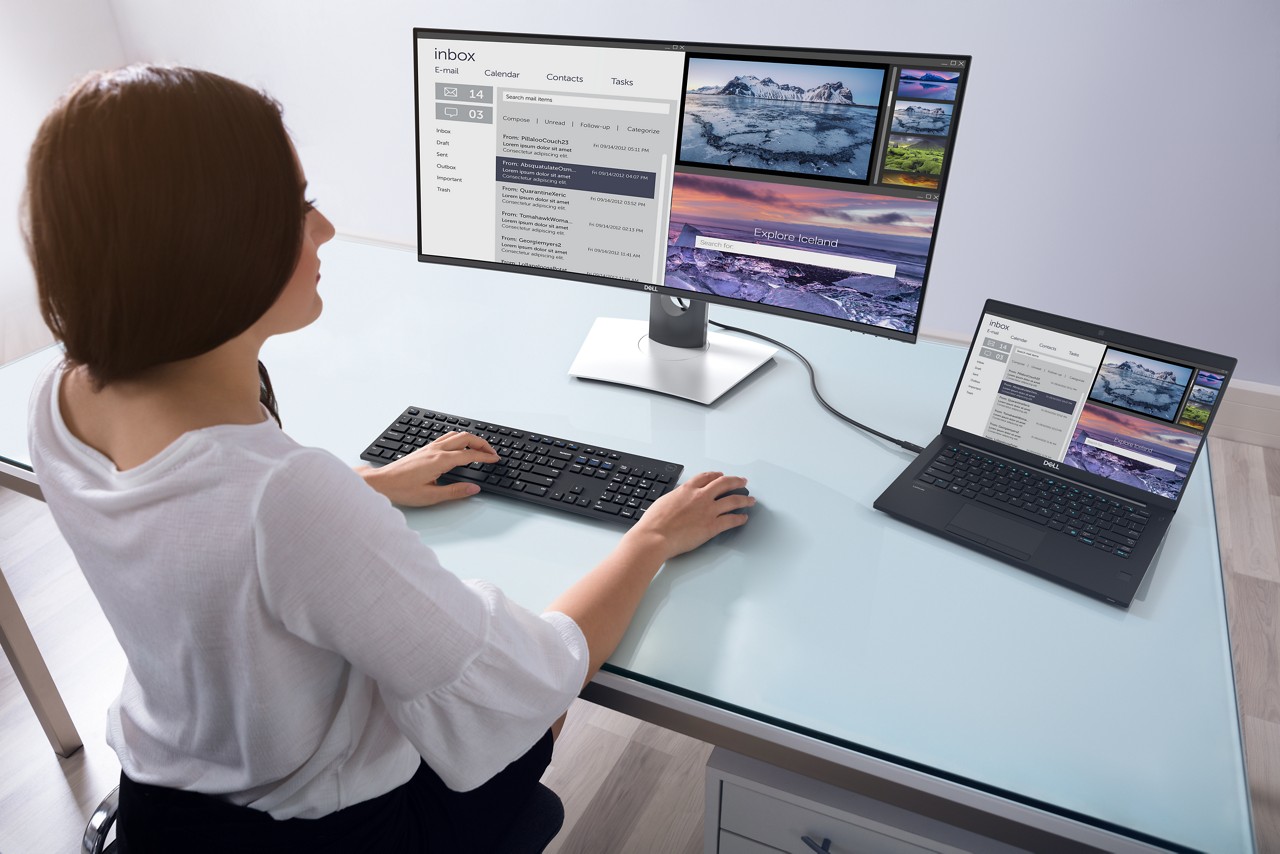 Upgrading your work-from-home setup with a widescreen monitor is a simple and cost-effective way to boost your productivity. The Dell UltraSharp 34 Curved USB-C Monitor (U3419W) is an excellent option with all the important features and a few extras that you'll love if you need to work across multiple computers.
While curved TVs never really caught on, curved monitors are at the top of our wish list at home or in the office. The Dell U3419W is a 34-inch widescreen monitor that is slightly curved for easier viewing and it includes technology that lets you split it between two computers. Unlike a two-monitor setup, you aren't looking at two monitor edges in the center of your view.
With a USB-C connection, you can charge your laptop, display your computer on the screen and connect to the ports on the back, allowing you to use a single connection when you're at your desk for a clutter-free setup.
This isn't optimized for gaming, with no special refresh rate features or high dynamic range (HDR) support, but business users will love the color accuracy, multitude of productivity features, and the eye-friendly screen tech that prevents fatigue when looking at the monitor all day.
The Dell U3419W retail price is $959.99, but it is $731.49 direct from Dell and available on Amazon.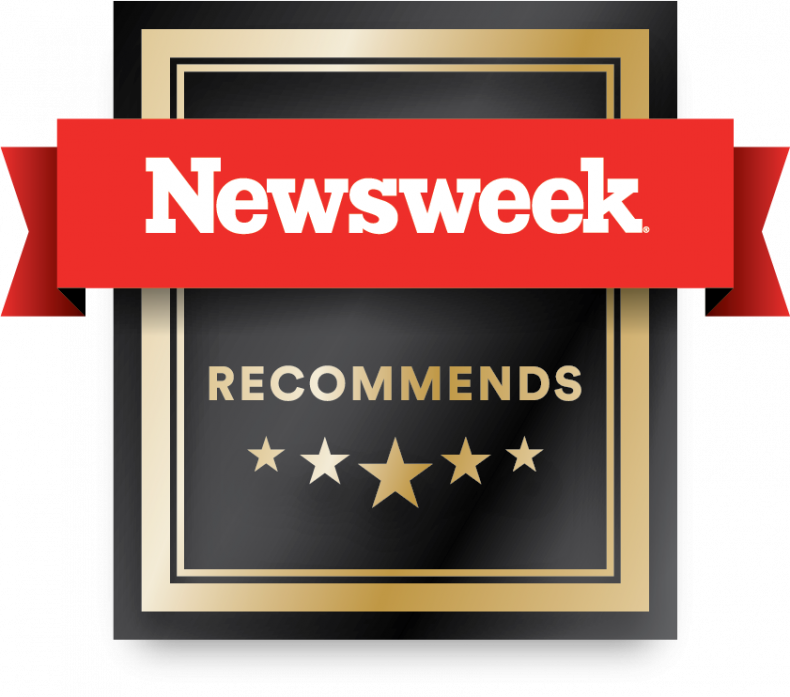 Dell U3419W Design & Features
The Dell U3419W is a curved widescreen monitor with a sturdy stand that keeps the monitor very stable and allows a wide range of adjustments. The wide base includes cable management and looks professional. At the full height, the top of the monitor is in line with my eyes, which is the recommended ergonomic placement. The monitor swivels and tilts up and down. If you need more range, you can connect to a desk mount.
The bezels are thin enough that when we mounted a Logitech webcam to the top of the display it took a few minutes of adjustment to keep the lip of the webcam away from the screen's edge.
We like that the USB-C connection supports charging laptops at up to 90W, which means that it is powerful enough to charge a high-end MacBook Pro with a 15-inch or 16-inch display as well as powerful laptops that creators and business users rely on. Dell includes the USB-C cable, and this same connection adds access to the monitor's ports as well as sends the video and audio signals.
One of the reasons we love the U3419W for a work-from-home setup is the ability to connect two different computers to the display, use both side by side on the screen at the same time and control both computers with the same keyboard and mouse. With this, you can use two work computers at the same time, like a powerful desktop and an ultramobile laptop. While working from home you can use this feature to keep your work computer on one side and a personal computer on the other so that you can easily toggle between tasks throughout the day without swapping cables or keyboards. This feature includes a picture in picture mode, with just a small window from one computer or a picture by picture mode that lets you split the monitor in half between two computers.
Making use of the widescreen is easy with the right software. On Windows-based machines, you can use the Dell Display Manager to completely control your window layout. There is a Mac version of this software coming in 2021, but we found that the Magnet app for Mac worked nicely for snapping windows to the right location. Either of the tools simplifies putting windows on sections of your screen, allowing you to see all of your important applications at once. This makes referencing documents, communicating on team channels, and getting actual work done much easier than on a standard monitor.
While the speakers are clear, they are not great. You're better off connecting headphones or powered speakers to the back of the monitor. If you need better speakers for phone calls and work calls, the Dell Mobile Adapter Speakerphone is a nice option that also acts as a small USB-C hub.
Controls are on the lower right edge of the screen with four buttons control buttons and a power button. The buttons are easier to find and use than the joystick mounted on the back of many other monitors.
Dell U3419W Display Quality
The Dell UltraSharp 34 Curved USB-C Monitor uses a 34-inch widescreen IPS display with a 3,440 x 1,440 resolution and includes a ComfortView mode.
If you haven't upgraded to a widescreen display, it can quite literally change the way you work. While testing the U3419W we placed two or three windows on the screen to reference and multitask easily. The IPS, in-plane switching, display technology used in this monitor is a type of LED panel that delivers better color accuracy and better viewing angles. This is especially important in a widescreen display since you'll see parts of the screen at an angle while working.
The resolution is high enough that you can easily read text, work on spreadsheets, watch videos, or edit photos without squinting or straining your eyes. The monitor is color calibrated to 99 percent sRGB. sRGB refers to the color space that the monitor uses, and this rating means that you can be confident that colors you see on your screen are the colors that other users will see on their devices. The display is bright enough to use in a very bright room and it uses a 60Hz refresh rate.
There is no HDR support, which is fine for business use, but gamers will likely miss it. HDR stands for High Dynamic Range, which delivers more vibrant colors. This is typically found on gaming monitors and 4K TVs.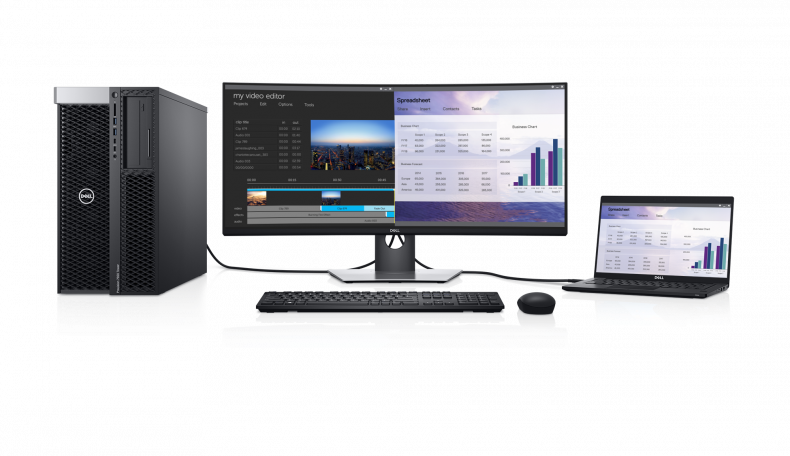 Dell includes multiple picture modes including ComfortView, which reduces the blue light on the screen. If you stare at a screen all day, or if you work on one late at night, the blue light can cause eye fatigue or prevent you from falling asleep easily. ComfortView removes a significant portion of this light with a simple toggle that is easier than buying special blue light glasses.
The Dell U3419W is a great alternative to using two displays for more productivity, and it checks every box that business users need.
Dell U3419W Ports
The Dell U3419W offers a lot of connectivity options and if you choose to use the USB-C connection, you can use the monitor as a docking station of sorts. We tested the monitor with the built-in ports as well as the Dell Thunderbolt Dock and found that both worked well in charging and adding ports to a MacBook Pro 16-inch, Dell XPS 13, and MSI Prestige 15 A10SC-010 laptop.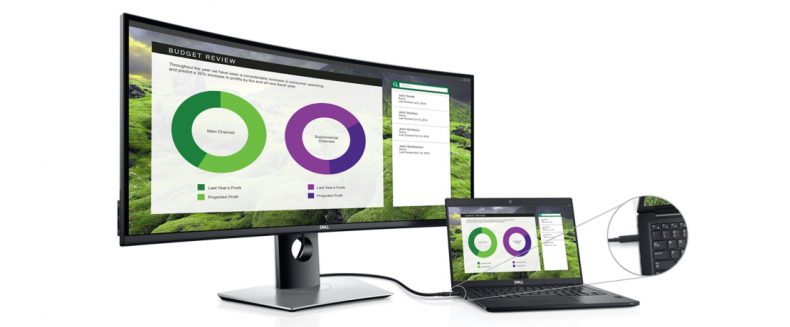 The monitor includes:
2 HDMI ports
DisplayPort
USB-C Port (Up to 90-Watt Charging)
Audio Line Out
2 USB Upstream Ports
3 USB Downstream ports with Power Charging
USB Downstream port
With a 90-Watt capable USB-C port, the monitor can charge power-hungry laptops. The USB upstream ports are what allow you to connect two computers to the display and share USB accessories, while the downstream ports allow you to connect accessories. Two of these USB ports for accessories are located on the left edge of the monitor for easier access.
Is the Dell UltraSharp 34 Curved USB-C Monitor Worth Buying?
The Dell UltraShartp 34 Curved USB-C Monitor is the perfect productivity upgrade for business users. The multitude of productivity features, color accuracy, and connectivity options shine in a home office.
The standout features that make this monitor worth buying include the USB connection that can charge a laptop, loads of ports so you may not need a separate dock, support to connect two computers and control them with one mouse and keyboard, and the easy access to ComfortView mode to reduce eye fatigue during long days.
While gamers will want to look elsewhere, small business owners, employees with a budget to outfit a home office and self-employed users will see many benefits to buying the Dell U3419W.