Delta Air Lines announced on Wednesday it would begin fining employees $200 a month if they decide to remain unvaccinated.
Beginning in November, unvaccinated employees enrolled in Delta's health care plan will face a $200 monthly surcharge, which the airline says is "necessary to address the financial risk the decision to not vaccinate is creating for our company."
Unlike other companies, including United Airlines, Delta has chosen not to mandate vaccines for employees.
Delta said the $200 fine was calculated based on the average hospital stay for COVID-19 patients, which has cost the company $40,000 per employee.
The airline also noted that all Delta employees who have been hospitalized with COVID-19 were not fully vaccinated.
The fine that unvaccinated employees face is among one of several new policies Delta rolled out on Wednesday in response to both the rapid spread of the coronavirus's Delta variant, also known as B.1.617.2, and the Food and Drug Administration's (FDA) recent full approval of the Pfizer vaccine.
"With this week's announcement that the FDA has granted full approval for the Pfizer vaccine, the time for you to get vaccinated is now," CEO Ed Bastian said in a statement. "We can be confident that the Pfizer vaccine is safe and effective, and has undergone the same rigorous review for other approved medications to treat cancer and heart disease, as well as other vaccines."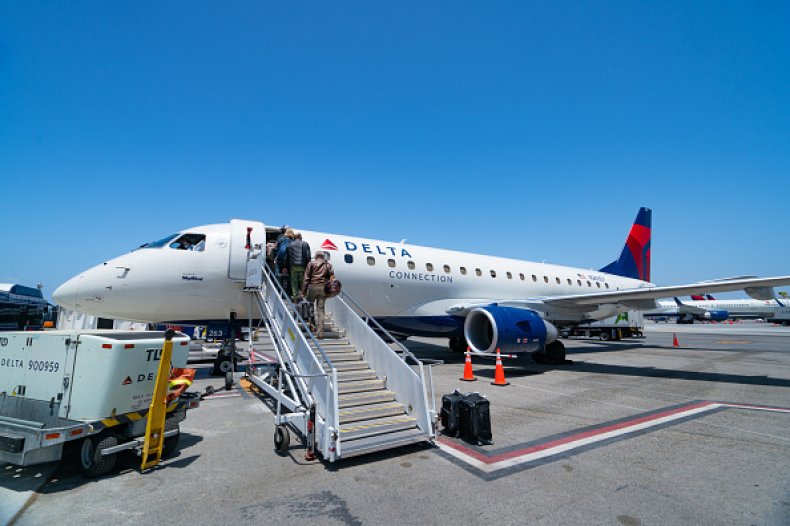 Currently, 75 percent of Delta's employees have been vaccinated, which is slightly higher than the national average.
In the U.S., 71.2 percent of Americans aged 12 and up have received at least one dose of a COVID-19 vaccine, according to the Centers for Disease Control and Prevention.
While Bastian says he is proud of the company's vaccination rate, "the aggressiveness of the variant means we need to get many more of our people vaccinated, and as close to 100% as possible."
Beginning September 12, Delta employees who are not fully vaccinated will be required to take a weekly coronavirus test. Those who test positive will not be allowed in the workplace and will be ordered to self-isolate.
The company will also stop COVID-19 pay protection, or paid sick leave, for unvaccinated employees beginning September 30. It will be provided only to fully vaccinated individuals who have a breakthrough infection from the virus.
"Protecting yourself, your colleagues, your loved ones and your community is fundamental to the shared values that have driven our success for nearly a century," Bastian said. "Vaccinations are the safest, most effective, and most powerful tool we have to achieve our goals, live up to our values and move forward."
Newsweek reached out to Delta's flight attendant union for comment but did not hear back before publication.