Passenger in Plane Brawl Angered When Man Put Item in Seatback Pocket: Police
A Delta Airlines passenger was arrested after he got into a fight before take-off with a man who was sitting behind him.
As Curtis Maurice Clayton, 30, took his seat on the flight from Atlanta's Hartsfield-Jackson International Airport, he also took exception to his fellow passenger putting something in the pocket of his seatback.
The dispute between Clayton and German Montez, 43, escalated into a fight with video showing the two men scuffling in the aisle as other passengers tried to stop the brawl.
"Montez was placing something in the seat pocket and Clayton protested," the Atlanta Police Department (APD) said in a statement, "the dispute escalated until Clayton punched Montez after which Clayton was then restrained by a passenger."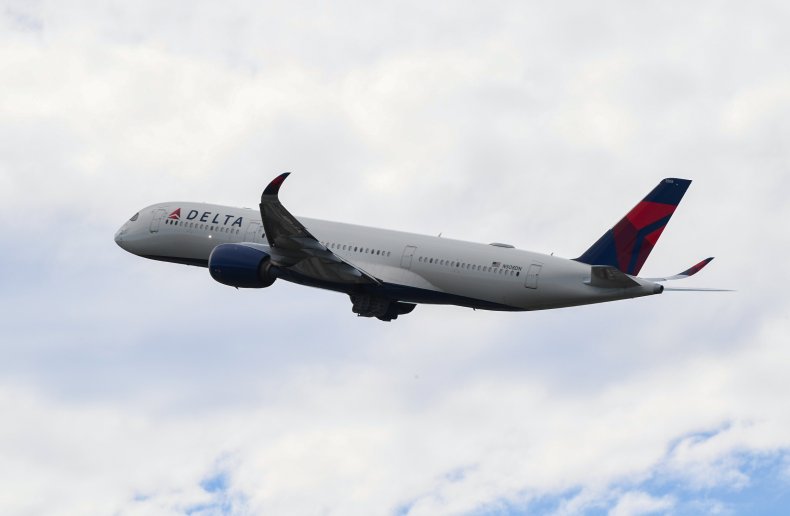 Video verified by NBC News showed the men tussling in the aisle, while other passengers tried to restrain them. One of the men appeared to be bleeding.
One passenger in the video is heard saying, "Seriously? I already missed one flight!"
The statement by Atlanta police said that Clayton had been "uncooperative with police and damaged a police vehicle during the investigation."
He was arrested and charged with battery and interference with government property and taken to the Clayton County Jail. The Atlanta Journal-Constitution reported that Clayton was from South Carolina.
Delta Flight 412 which was bound for Los Angeles took off roughly 30 minutes after its scheduled time of 7.15 a.m.
A Delta spokesperson said in a statement that that law enforcement "responded to an unruly customer during the boarding process" of the flight.
"Civility at our airports and on our flights is paramount and something our people and customers deserve without exception," the statement added, "Delta will always put safety and security above all else."
Newsweek has contacted Atlanta Police for comment.
It is the latest violent incident on an airplane. On Wednesday, an American Airlines flight attendant was hospitalized with broken bones in her face after a passenger allegedly attacked her on a flight from New York to Orange County, California.
The flight attendant apologized to a passenger she had apparently bumped into while moving through the first-class cabin.
But the passenger then left his seat and confronted her in the galley and punched her in the face, according to Julie Hedrick, president of the Association of Professional Flight Attendants. Pilots diverted the plane to Denver where the passenger was arrested.
American Airlines Chief Executive Doug Parker said the carrier wants the passenger "prosecuted to the fullest extent possible" and that the incident was "one of the worst displays of unruly behavior we've ever witnessed," The Washington Post reported.
Data from the Federal Aviation Authority (FAA) released this week said there had been 4,941 reports of unruly passengers so far in 2021.
Nearly three-quarters of them or 3,580, were related to disputes over the wearing of masks. The agency has initiated 216 cases and the FAA can propose up to $37,000 per violation for unruly passenger cases.
UPDATE 10/30/21 11:10 a.m. ET: This article was updated with comment from Delta Airlines.