Delta Passengers Stranded on Tarmac in Logic-Defying 12-Hour Weather Delay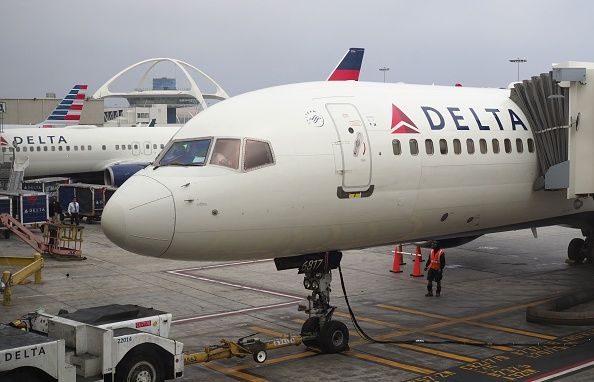 Delta Airlines is facing criticism after one of its planes was stuck on the tarmac for almost 12 hours during an ice storm in Kansas City, leaving passengers stranded as they attempted to fly to Los Angeles. The flight was just one of many across multiple airlines which were canceled or had their route significantly altered due to the wintry weather.
Ann Ngo, who planned on returning home to California when she boarded the Delta flight, spent the next 12 hours snacking on food and waiting for the plane to take off, she told The Kansas City Star, which first reported on the delay. But the plane never left the ground.
Just as passengers thought they were finally about to be airborne, they said a message came over the loudspeaker announcing that the flight had "timed out."
"It was a sh--show," Ngo told the paper, noting that she had been on the plane from about 6:30 a.m. to 6 p.m.
Other customers also vented their frustration, with many taking to social media to skewer Delta for what they said was poor communication with passengers.
"The gross incompetence associated with flight #2195 defies all logic," said passenger Matt Montgomery. He later described it as "The worst air travel day experience in 20+ years of flying."
In a statement to Newsweek, the airline confirmed the flight's cancellation but said its staff had made "every effort" to communicate with passengers. Those who were on the delay were given "a goodwill gesture in the form of miles or travel vouchers," the airline noted.
"Delta apologizes to those customers whose flights were disrupted as a result of Tuesday's weather In Kansas City, Mo," the airline said. "Delta made every effort to communicate updates throughout the day to those delayed customers via public address announcements in the terminal and on board aircraft. Customers impacted by extended delays were given a goodwill gesture in the form of miles or travel vouchers."
Sports journalist Holly Rowe, who was also aboard the stalled plane, tweeted her frustration with the "timed out" explanation. Earlier in the day, she had tweeted her thanks to the crew who worked outside in the frigid temperatures, which reached lows of 18 degrees.
Even those who weren't on the plane grew frustrated with Delta, sending tweets about how the poor service in Kansas City would affect their business across the U.S.
On Thursday, Delta responded to a number of passengers on social media, apologizing for the delay.