Delta Air Lines Flight Lands Safely After Tumult Caused By Woman Attempting to Open Emergency Exit
A Delta Air Lines flight en route from Raleigh, North Carolina, landed safely at LaGuardia Airport in New York City on Friday, despite tumult caused by a passenger who allegedly attempted to open one of the emergency exits as the plane approached its descent.
The pilots were in contact with radio control at LaGuardia during the incident and indicated that the disturbance was caused by a "mentally ill passenger."
Initially, the pilot said the plane would need to make an emergency landing.
"We would like to declare an emergency, the forward service door has been opened," said Delta flight 5935 in an audio recording cataloged by LiveATC.net. "We'll need crash and fire rescue."
The pilot followed up with a second message, clarifying that the situation was under control and less severe than he originally indicated.
"Cancel the fire crash rescue. We just had a mentally disturbed passenger trying to open the forward door," the pilot said in the recording. "Everything is under control now. We're gonna be taxiing to the gate."
Newsweek has reached out to Delta and Republic Airways, the flight's operator, for comment.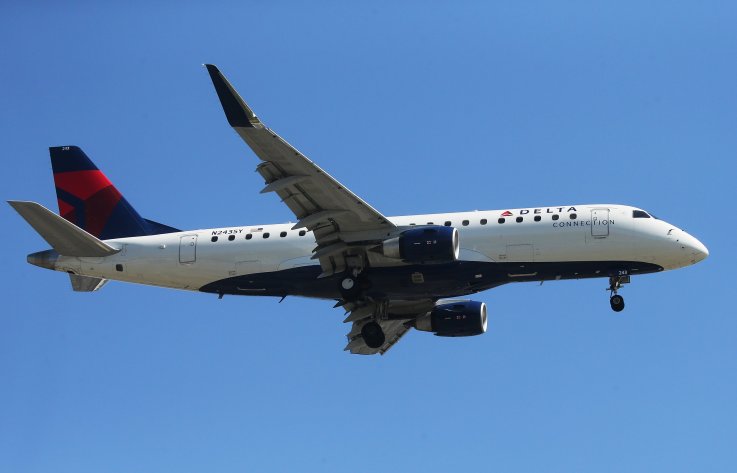 The passenger, a woman whom witnesses said appeared to be in her twenties, was taken to Lenox Hill hospital in Manhattan for evaluation after the plane touched down shortly after 1 p.m. No injuries were reported among flight staff and remaining passengers.
Passengers aboard the flight began discussing the ordeal on Twitter, posting pictures of the cabin and writing about long delays on the tarmac.
CBS New York later reported that the distressed passenger may have been the victim of a previous crime and was being accompanied to New York City by her father.
Stacey Herbert, a passenger on the plane, shared photos on Twitter of emergency responders reacting to the scene.
"I wasn't scared as I knew the door could not be opened but her shrieks were terrifying," Herbert wrote. "And she was sitting behind us, so when she was pulled back to her seat it was awful to see her suicidal distress."
Although generally uncommon, flight disturbances caused by a person attempting to open an emergency hatch have been reported at length. However, by design, the doors cannot open while the plane is pressurized.
"It's physically impossible," Jason Rabinowitz, aviation expert, told Travel + Leisure in 2017. "When at cruising altitude, the pressure difference between the outside of the plane and the inside of the plane, which is pressurized, creates a situation where the door cannot open."
Delta Air Lines Flight Lands Safely After Tumult Caused By Woman Attempting to Open Emergency Exit | U.S.