Delta Air Lines Speaks Out After Shooting At Airport 
Following a firefight near Santiago International Airport in Chile, Delta Air Lines has responded to speculation that their plane had been damaged in the incident.
Speaking to Newsweek, contrary to local media reports, it was concluded that the Delta plane at the airport was fit for travel and had not been damaged.
A video of a report from a Chilean news channel had begun to circulate on social media after the shooting and appeared to show the Delta plane at the airport, also known as the Arturo Merino Benítez International Airport, had sustained damage.
A Chilean political scientist calling himself Pablo Lira R. shared a clip from Tu Día, a show on Chilean TV channel Canal 13, to his Twitter on Wednesday.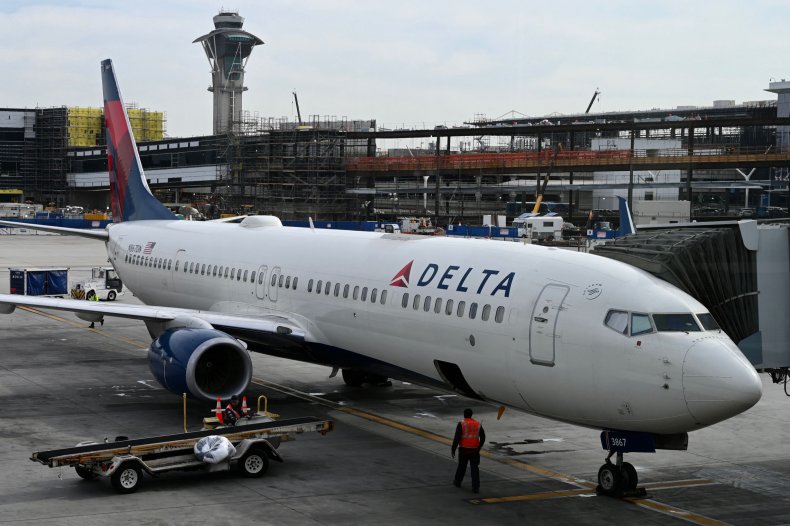 According to a translation, he captioned the clip: "Bursts of fire from military weapons hit the fuselage of an airplane that was on the tarmac at Santiago International Airport...in an attempted robbery of a truck that cost the life of a [Directorate General of Civil Aviation] official."
The video clip appears to show damage to the plane's tail as well as a vehicle engulfed in flames on a road near the airport. Its Spanish caption said two people had been killed in a firefight at the airport.
A Delta spokesperson told Newsweek: "Our hearts go out to the loved ones of those impacted by today's sad events at Arturo Merino Benítez International Airport and Delta will work closely with all aviation stakeholders as these events are investigated. Nothing is more important than the safety of our customers and our people."
They also gave further details regarding the incident and the wellbeing of its staff and equipment.
A Delta Corporate Communications worker told Newsweek: "There were no reported injuries to Delta people or customers. The aircraft was remaining in the market throughout the day per our flight schedule to Atlanta.
"The aircraft was extensively examined following the incident and confirmed to be clear of damage. [Last night's] flight to Atlanta [was] set to operate as scheduled."
A report by Crisis 24, a global security information company, stated a shooting occurred as part of an attempted robbery outside the airport. The authorities are currently searching for multiple individuals who fled from the scene after armed clashes with airport security.
According to the report, two individuals—yet to be identified—died in the attempted robbery; it has been confirmed one of them was a Directorate General of Civil Aviation worker.
Two vehicles caught on fire during the incident and were located along a road near the airport. Police believe these vehicles were used by the robbery suspects.
Due to the altercation, there is an expected increase in security measures and disruption to transport in the local area, per Crisis24.
Journalist and Radio 10 host Sergio Marino from Argentina shared another video from the incident on Twitter.
In the clip, a woman who appears to work at the airport records the gun battle near the Delta plane.
Multiple gunshots can be hard and one vehicle can be seen driving quickly through the area.
Newsweek has contacted Santiago International Airport through its official website.
Update, 03/09/23, 4:54 a.m. ET: This article was updated with comment from a Delta spokesperson.