Delta Bans More Than 500 People for Refusing to Wear Masks on Flights
Delta Air Lines has banned more than 500 people for refusing to comply with the airline's face mask requirement in the COVID-19 pandemic.
The revelation came in a memo sent by Delta CEO Ed Bastian to the airline's employees, which was obtained by Newsweek.
"We've now added a total of nearly 550 people to our no-fly list for refusing to comply with Delta's mask requirement on board," Bastian wrote in the memo sent Thursday. "Fortunately, that number represents a tiny fraction of our overall customers, the vast majority of whom follow our guidelines and appreciate the steps we are taking to keep them safe and healthy."
A spokesperson for Delta told Newsweek that the figure "represents actions going back to the onset of our mask-wearing requirement in April."
"Even with significantly lower demand due to the pandemic and our subsequently reduced schedules, we still fly more than 1 million customers in a week," the spokesperson added.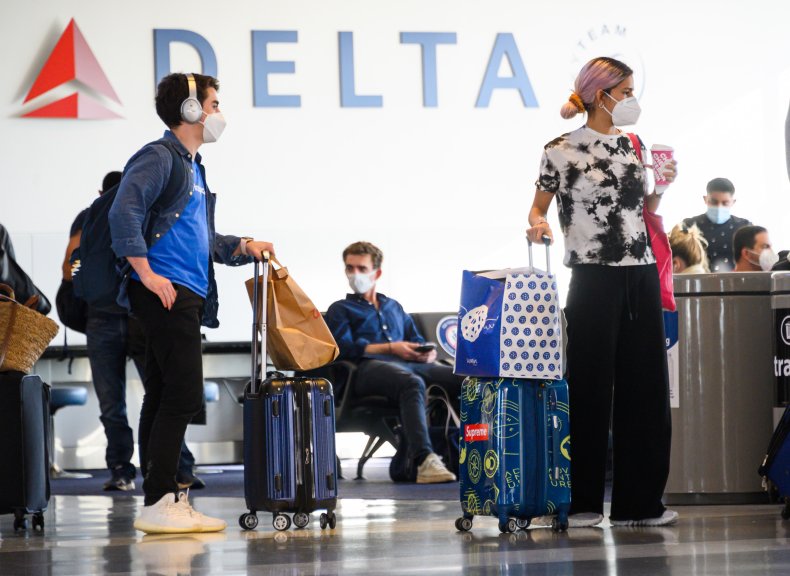 Bastian's memo began by noting the "incredible level of participation" in the 2020 election but added that "while many celebrated the results, our nation remains divided."
"Nothing is more powerful at generating understanding than simple human contact, and it's our mission to forge those connections through the power of travel."
Bastian noted that this week brought "a welcome glimmer of light in the darkness" after U.S. pharmaceutical giant Pfizer and its partner, the German company BioNTech, announced that preliminary data suggests the COVID-19 vaccine they are developing is more than 90 percent effective.
"It's unlikely that our industry will begin a significant recovery without an effective vaccine, so we're watching these developments closely," he wrote.
"Keep in mind that while developing a vaccine is an important step, widespread distribution will take many months, so we continue to expect 2021 will be a year with continued challenges."
Bastian said it was "more important than ever" to stay vigilant and work to combat the spread of the virus as "all signs point to a challenging winter ahead," adding that the U.S. has surpassed 10 million COVID-19 cases and infections are spiking in Europe and other parts of the world.
He urged staff to "continue to conduct a self-assessment every day for symptoms before coming into work and remember mask wearing continues to be essential and required."
Bastian added that with the holiday season approaching, many people would be flying for the first time since the pandemic began. "Their experience on Delta—seeing first hand the incredible work you are doing every day to keep everyone safe and healthy—will be remembered long after the pandemic fades," he said.
The U.S. has 10.4 million confirmed cases of COVID-19 and more than 240,000 deaths, according to Johns Hopkins University. Globally, there have been more than 52 million cases and almost 1.3 million deaths.
The graphic below, provided by Statista, shows COVID-19 hospitalizations in the U.S. have soared to a record high.