Delta Bans Checked Firearms on D.C.-Bound Flights as Over 800 People Placed on Its No-Fly List
Delta Airlines will not allow firearms in checked bags on flights to Washington D.C., ahead of President-elect Joe Biden's inauguration this coming Wednesday, following last week's deadly riot at the Capitol.
"We're all on high alert based on the events over the last couple of weeks up in Washington," Delta CEO Ed Bastian said during a Thursday morning interview on CNBC's Squawk Box.
The policy will be in place this Saturday through January 23 for all passengers, with the exception of law enforcement officers.
"Customers needing to change travel due to this policy or request from officials asking people not to travel to the inauguration, can do so using our flexible change policy," a Delta spokesperson told Newsweek on Thursday. "Nothing is more important than doing our part to keep people safe."
The Delta spokesperson also confirmed that over 800 people have been placed on its no-fly list for not complying with its face mask requirements or other unruly behavior related to the U.S. election results.
The announcement came after Trump supporters on one of Delta's flights from Salt Lake City to Washington D.C harassed Republican Senator Mitt Romney at an airport, after he rejected efforts to stop the certification of Biden's victory last week.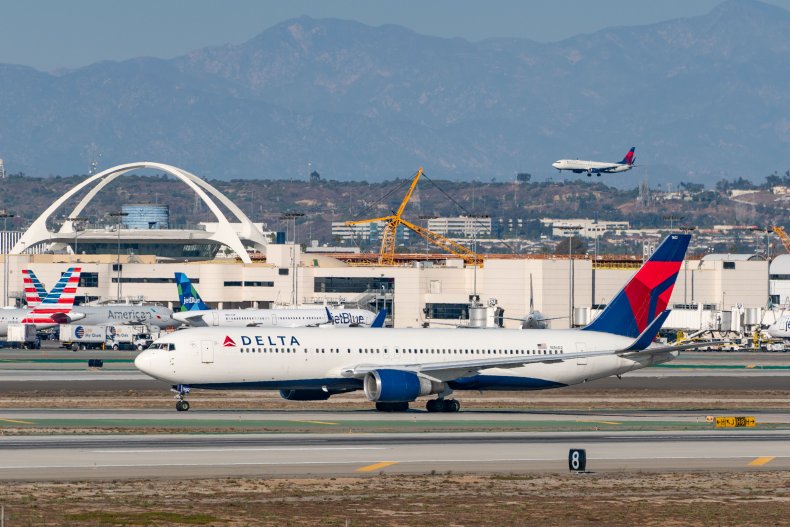 The Federal Aviation Administration (FAA) said in a Wednesday release that it will enact a zero tolerance policy for unruly travelers.
The agency will pursue legal action against any passenger who assaults, threatens, intimidates or interferes with an airline crew member. Passengers who choose to do so can face up to a $35,000 fine.
"Flying is the safest mode of transportation and I signed this order to keep it that way," said FAA Administrator Steve Dickson in the release.
American Airlines has also upped its safety precautions ahead of Biden's Inauguration.
The airline has suspended alcoholic beverage service on flights into and out of the D.C. area starting this Saturday through January 21. American Airlines also relocated crew members away from hotels in the downtown D.C. area.
"We are continuing to work closely with local and federal law enforcement, as well as our airport partners, and will continue to enforce policies that ensure the safety and wellbeing of our customers and team members on the ground and in the air," American Airlines told Newsweek in an emailed statement on Thursday.