Delta CEO Clarifies Vaccine Mandate Message as Southwest Yields to Angry Staff
Delta Airlines CEO Ed Bastian has said that his company isn't opposed to vaccine mandates. Meanwhile, Southwest Airlines has backed off of its plan to place unvaccinated employees on unpaid leave starting in December.
"We're not opposed to vaccine mandates," Bastian said in a Tuesday afternoon interview with Cheddar News. However, he said that the threat of firing employees for not being vaccinated felt like a "sharp object."
"In fact, we were the very first company, back in the spring, to put a vaccine mandate in for any new employee coming into Delta," he added. "We hired 8,000 people this year, all who had to be vaccinated in order to come and work for our company."
The company requires all new hires to be vaccinated. Current Delta employees who choose not to get vaccinated must pay a $200 monthly penalty starting in November, The Atlanta Journal-Constitution reported. They must also wear face masks and take weekly COVID-19 tests.
As of October 19, over 90 percent of the company's employees are vaccinated, he continued.
"We'll get to 95 percent next month, and then, with any additional exemptions, we'll be effectively fully vaccinated without having to go through all of the divisiveness of a mandate," he said.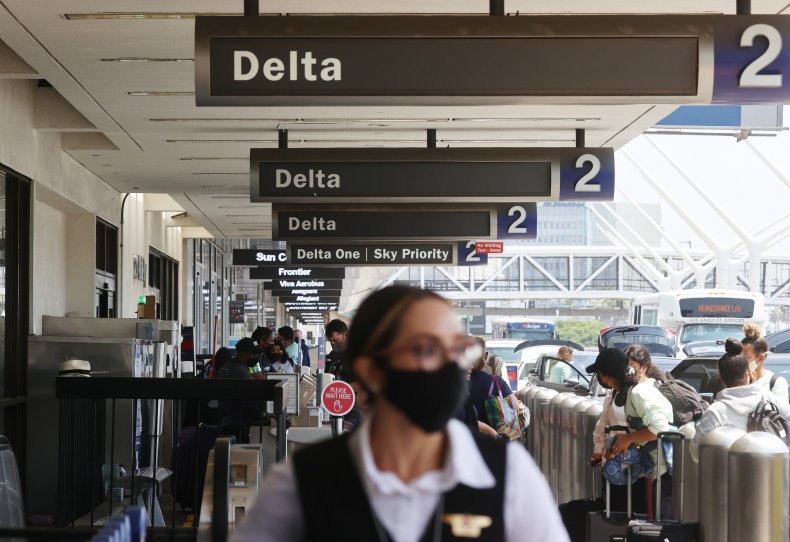 Meanwhile, Southwest Airlines has walked back its previous decision to place unvaccinated employees on unpaid leave in December if they hadn't been vaccinated. Its policy would've applied to employees who had filed for a religious or medical exemption but who hadn't had those exemptions approved by the December deadline.
A note to Southwest employees issued last Friday said that unvaccinated employees would be allowed to continue working as long as they had filed for an exemption by November 24. Those employees will be required to wear a face mask and maintain social distancing measures until their exemption is reviewed.
The note came from Southwest's senior vice president of operations and hospitality, Steve Goldberg, and Julie Weber, vice president and chief people officer.
The company said those with rejected exemptions will be allowed to continue working "as we coordinate with them on meeting the requirements (vaccine or valid accommodation)," CNBC reported.
It's unclear how the company will handle unvaccinated employees who don't want to get vaccinated for non-medical and non-religious personal reasons.
"There is much work to do regarding the vaccine requirement and Company compliance," a Southwest Airlines spokesperson told Newsweek.
"As our CEO Gary Kelly shared, we don't want any Employee to lose their job over a vaccination issue and we have every intention of working with each Employee as best we can to meet the vaccine mandate," the spokesperson added.
Most major U.S. airlines have put mandates into place to comply with federal requirements instated by Democratic President Joe Biden. Biden said that all federal contractors need to vaccinate their employees by December 4.
Earlier this week, Republican Texas Senator Ted Cruz praised Delta for not instating a vaccine mandate, even though they do have one for new hires.
"Bravo to @Delta for having the courage to say no to the federal vaccine mandate," Cruz tweeted. "It's the right thing to do - to respect the right of their employees to make their own personal decisions about their own healthcare."
Newsweek contacted Delta for comment.
Update (10/20/2021, 12:33 a.m.): This article has been updated to include a statement from Southwest Airlines.