Delta Fire Map Update: California Wildfire Explodes to More Than 15,000 Acres in One Day
The Delta Fire rapidly expanded in size on Wednesday, growing to more than 15,000 acres near Lakehead, California.
The human-caused fire ignited on Wednesday afternoon and exploded to 15,294 acres just 24 hours later. The Delta Fire, which was very active overnight "due to poor nighttime relative humidity recovery," is expected to continue growing over the next 24 hours, authorities said.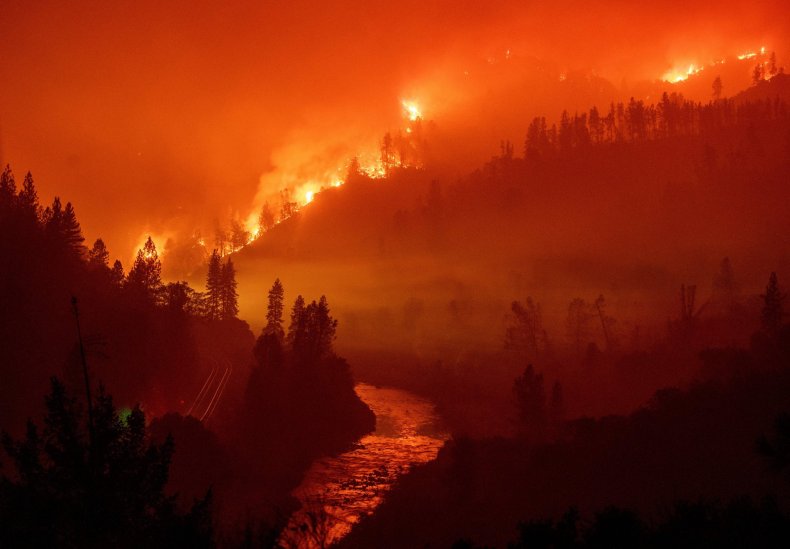 The fire, which is 0 percent contained, initially began as three fires that merged into one, officials said. Officials were observing the fast-moving blaze, which exhibited extreme fire behavior with rapid rates of spread of up to 1 mile per hour.
According to the Delta Fire incident report, the fire front reached 3 miles wide on the northern side, with 300-foot flame lengths.
The rapidly growing fire prompted the Shasta County Sheriff's Office to issue a mandatory evacuation order for residents living along the I-5 corridor from Exit 707 at Vollmers north to Exit 714 at Gibson. The Siskiyou County Sheriff's Office also issued an evacuation warning for all residents living in Dunsmuir.
An evacuation shelter was opened at Mount Shasta Community Center, located at 629 Alder Street in the city of Mount Shasta.
Interstate 5 was shut down Wednesday, and motorists were advised to find an alternative route or avoid the area. The highway was closed northbound at the Fawndale exit approximately 10 miles north of Redding and southbound at Mott Road, about 3.6 miles south of Mount Shasta.
Nearly 20 big rigs were abandoned on the interstate due to the fire. Lieutenant Commander Kyle Foster of the California Highway Patrol's Mount Shasta office told the Los Angeles Times that about 17 semitrailer trucks were abandoned. At least one truck was fully engulfed in flames, but U.S. Forest Service workers were able to get the driver to safety, Foster said.
Foster told the newspaper that other truck drivers were helped by firefighters, law enforcement officers and their fellow drivers.
Approximately 600 firefighters and support personnel are working to contain the fire, the Los Angeles Times reported.
The Delta Fire is burning about 10 miles from the Hirz Fire, which has been burning in the Shasta-Trinity National Forest since August 9. The Hirz Fire has reached 46,150 acres and is 75 percent contained. More than 1,300 fire personnel are working to contain that blaze.