Delta Fire Photos: Interstate-5 Closed Indefinitely As Blaze Still Just 5 Percent Contained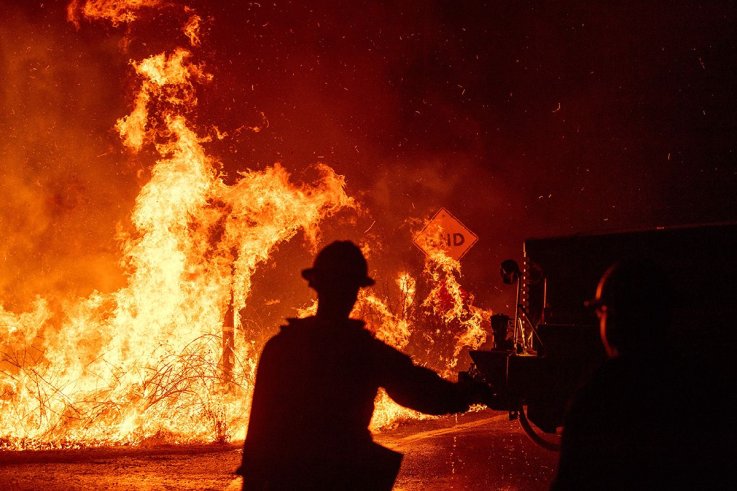 A 45-mile stretch of Interstate-5, one of the country's busiest roads, will remain closed indefinitely as a wildfire continues to rage uncontrollably through explosively dry mountain timber near the California-Oregon border.
The highway has been closed since Wednesday, when the Delta fire forced motorists to flee on foot before flames engulfed their cars and trucks. The closure of the 45-mile stretch of the key north-south route through the state has meant detours of up to 120 miles.
As of Sunday, fire had ripped through more than 40,903 acres of the Shasta-Trinity National Forest. The blaze has raged with the same extreme intensity seen in several devastating wildfires over recent months.
Fueled by drought-ravaged pine forests thick with dead and dying timber, flames spread quickly, torching entire trees and leaping from tree-top to tree-top while hurling showers of embers into more dried-out vegetation.
Firefighters have been able to achieve just 5% containment of the blaze, but crews have made gains clearing away beds of tinder-dry brush beyond the fire's leading edge, reducing the amount of fuel available for flying embers to ignite, and thus slowing the fire's growth.
The Delta fire is near the area devastated by the deadly Carr fire, which incinerated hundreds of dwellings in and around the town of Redding this summer. That fire claimed eight lives and became one of California's most destructive wildfires in history.
The Delta fire is one of around 15 wildfires currently burning across California. So far this year, fires have scorched three times as much ground in California as at the same point in 2017, ranking as one of the most destructive seasons on record.
However, cooler temperatures and higher humidity have arrived, providing a bit of a respite from the scorching weather that had hampered firefighting. Forecasters at the National Weather Service's Weather Prediction Center in College Park Maryland said temperatures are expected to slowly drop from a high of 96 degrees Fahrenheit to 83 degrees by Tuesday.
— Reuters.