Delta Flight Attendant Suspended After Video Surfaces of Sexual Encounter With Passenger in Airplane Bathroom
A Delta flight attendant was suspended from his job after video surfaced of him having a sexual encounter with a passenger in the cabin bathroom during a flight.
After the alleged encounter, a video of the incident circulated among Delta employees and on social media, much to the surprise of the employee who was in the video. Delta told Newsweek that the employee told the company he didn't consent to being filmed engaging in the activity or to have the video posted online.
Now that the video was posted without his permission, he explained to the company that he had full plans to assert is legal rights with regards to invasion of privacy and right to publicity. He also contacted Twitter to have the video removed, and the social media company acquiesced to his request, Delta said.
Although the employee wasn't working at the time the encounter allegedly occurred, Delta told Newsweek that the video violated the company's expectations for their employees.
"This video does not reflect the standards of professionalism expected of our employees while representing the Delta brand or traveling as passengers on Delta aircraft," the company said. "We have suspended the employee and are conducting a full investigation."
The flight attendant, whose name has not been released, was off-duty when he was traveling on the same flight as gay porn star Austin Wolf. However, the flight attendant was reportedly wearing his Delta uniform when the two entered a bathroom and engaged in sexual activity in the plane's bathroom, according to the Daily Mail.
"I just want to be left alone please," the unnamed employee told the Daily Mail. "I'm just trying to get my life back on track."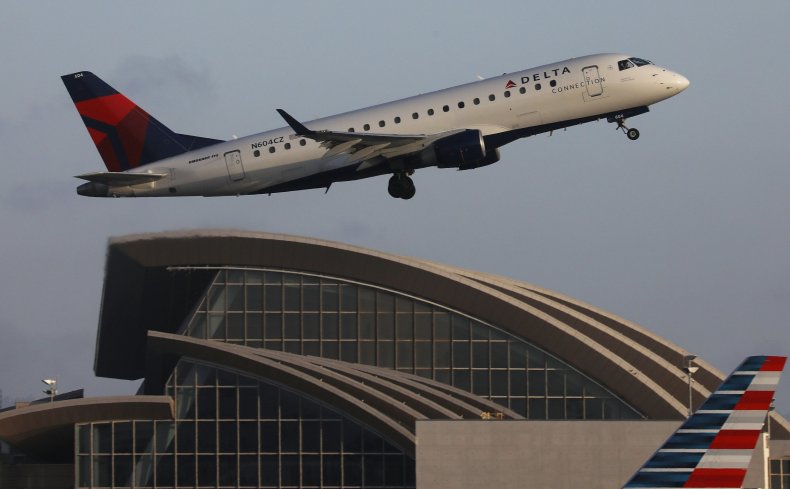 Newsweek reached out to Wolf but did not receive a response.
Laws regarding sharing sexually explicit material of someone without their consent vary on a state-by-state basis, and Delta didn't tell Newsweek which flight the alleged act occurred on. In some states, sharing a private image of someone else is a misdemeanor while in others it's a felony. Punishments range state-by-state as well and depending on where the case is tried, the consequence could be a fine or years in prison.
If a person is caught engaging in sexual behavior on a plane, he or she can possibly face up to 20 years in prison. In March, a flight attendant caught a couple engaged in sexual behavior in the bathroom of a Virgin Atlantic flight from London to Cancun, Mexico, according to Fox News.
The pilot radioed to law enforcement, and when the plane landed at its destination officers met the woman at the gate. Virgin Atlantic banned her from future flights for repeatedly refusing to comply with crew requests.