Delta Flight Turned Around Twice Due to Mysterious Noise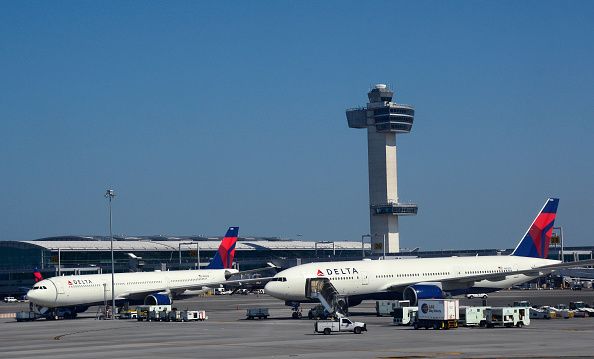 A Delta Air Lines flight from Atlanta to London turned around twice Tuesday night after pilots heard a mysterious noise coming from the plane, the airline said.
Delta Flight 284 departed from Hartsfield-Jackson International Airport in Atlanta around 7:30 p.m. Tuesday, made it just over the border of North Carolina and then diverted back to Atlanta, landing at around 9:30 p.m., according to WSB-TV.
The noise coming from the plane was not specified, but pilots decided to turn around "out of an abundance of caution," Delta said. Its cause has not been determined.
Passengers were moved to another flight, which took off around 12:15 a.m. Wednesday. But that flight was also turned around and returned to Atlanta at 1:30 a.m., according to tracking data from FlightAware.
It was not immediately clear why the plane was diverted a second time. Delta did not immediately respond to a request for comment from Newsweek.
Brutal winter weather is expected to affect flights this week, and Delta issued a travel advisory for flights departing from more than a dozen airports across the U.S. (Atlanta was not listed as a potentially impacted city.) Delta is issuing waivers for travelers who wish to cancel their flights due to inclement weather, even if the flight isn't canceled.
The Southeastern region of the country is expected to be slammed with a cold weather "bomb cyclone" that will span the entirety of the East Coast starting Thursday. Smaller Georgia airports like those in Augusta and Savannah are included in Delta's advisory, which was posted around the same time as the twice-diverted flight out of Atlanta.
Delta turned around another plane on Saturday after a bird flew into the cockpit. The stowaway bird disrupted Flight 1943, which was traveling from Detroit to Atlanta. After the flight was delayed to remove the bird, it was discovered again just a few minutes after takeoff.
A Delta spokesman told The Washington Post that the flight returned to Detroit to avoid "a potential distraction," leading some passengers to exit the plane to find another flight.