A Delta Air Lines flight from Seattle to Shanghai was forced to turn around midair last week after the Shanghai airport implemented new lengthy cleaning requirements related to COVID-19.
Delta said in an email statement on Monday that the new cleaning procedures at Shanghai Pudong International Airport "require significantly extended ground time and are not operationally viable for Delta."
As a result, some passengers on the nearly 13-hour flight were left with expired U.S. visas and COVID-19 test results, Chinese media reported.
China requires travelers to have a negative PCR and antibody test within 48 hours of the flight. Passengers must have two doses of the COVID-19 vaccine at least two weeks before traveling and show proof upon arrival, CNN reported.
The Chinese consulate in San Francisco said in a statement on Sunday that several flights leaving from the U.S. to China had been canceled or delayed recently and one flight was turned back more than halfway but did not specifically name Delta.
The consulate "had made a stern representation to the airline," according to the statement.
It is unclear what the new COVID-19 cleaning mandates are or what caused the sudden change for Shanghai Pudong International Airport, but China has announced new COVID-19 travel restrictions in some regions after an outbreak of cases ahead of the Winter Olympics in Beijing in a few weeks.
China put the city of Xi'an into lockdown five days ago after an increase in COVID-19 infections. Xi'an, a city with 13 million residents, reported 150 new cases on Monday and more than 300 cases over the weekend. Since December 9, there have been 650 reported cases, Al Jazeera reported.
Al Jazeera reported that authorities said nearly 30,000 people have been placed in hotels for quarantine and that mass testing has been implemented. Additionally, nonessential vehicles are not allowed to drive on the road unless they're with the disease control work, according to a recent announcement.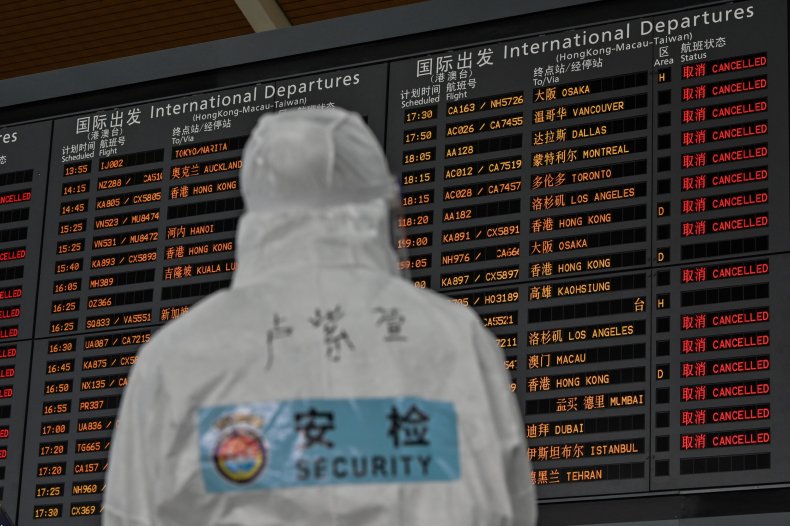 Other airlines have reported facing similar issues with the airport. Two Taiwan-based airlines, China Airlines and EVA Air, have cut down on the number of flights heading to Shanghai Pudong International Airport in recent days, citing new disinfection procedures that will take longer to complete, according to Taiwan's semi-official Central News Agency.
EVA is suspending flights from two cities to Shanghai until February 3. China Airlines is suspending flights from one city to Shanghai until the end of January, and reducing the number of flights on another route.
The Associated Press contributed to this report