Delta Staff Tied Passenger With Multiple Sclerosis to Her Wheelchair, Family Claims
Updated | A Delta Airlines passenger with multiple sclerosis says airline employees tied her to her wheelchair with a "dirty blanket," leaving bruises on her arm, because they did not have appropriate equipment on her flight.
Diagnosed with MS five years ago, Maria Saliagas told WFTV she and her husband have made an annual trip to Europe ever since to maintain their tradition of traveling together.
Saliagas said she and her husband fly regularly with Delta and are usually provided with a wheelchair that has straps to help her sit up straight.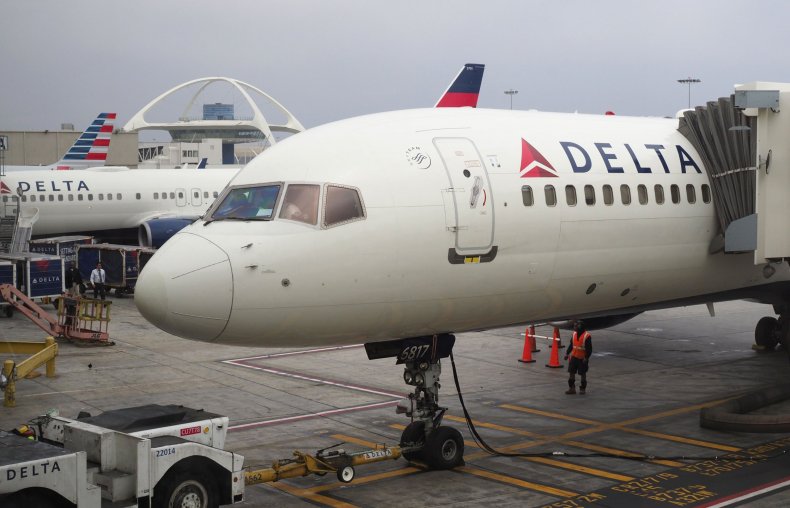 This time, on an April 1 family trip from Atlanta to Amsterdam, airline employees told Saliagas that they did not have a wheelchair available for her.
Instead, employees "took a dirty blanket and tied her forcefully with it," Saliagas's son, Nathan Saliagas, told the broadcaster.
"She has bruise marks on part of her arm because it was so tight and she started crying," Nathan said.
A Delta Airlines spokesperson told Newsweek that while the company was "disappointed" that Saliagas did not have a "satisfying travel experience" its "findings" on the incident did "not align" with hers.
"We are disappointed that our customers didn't have a satisfying travel experience and will ensure that their return flight exceeds expectations," the spokesperson said.
"While Delta always looks for ways to improve the overall customer experience, our findings do not align with details shared by the customer's family," they added.
Delta said Saliagas had been offered an airport-contracted wheelchair at the gate of her flight. However, once on the plane, the passenger alerted the wheelchair assistant that she felt like she was "slipping."
Airline staff then agreed to a blanket, which the airline said was taken from a sealed plastic wrap, to secure her to the wheelchair.
Read More: Delta Passenger Fined $500 For Taking Apple From Airplane Into U.S.
The Saliagas family has stuck by their story, however, and said that when they complained to Delta, the airline offered them 20,000 free SkyMiles as compensation, but they said that was not enough.
They demanded that Delta also implement a policy change ensuring employees have protocols in place for working with passengers with disabilities.
The family is expected to return to Atlanta on April 30. It is unclear whether they still plan to fly with Delta.
This article has been updated with a statement from Delta Airlines.