Delta Says It Supports Military Following Claims It Banned Singing National Anthem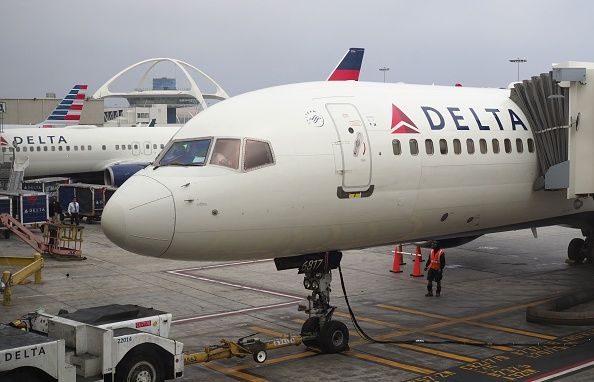 Delta Airlines has issued a statement proclaiming its "longstanding support of the military" after a passenger claimed she was banned from singing the national anthem on a flight to honor a fallen soldier.
Pamela Gaudry told The Associated Press passengers on board a Delta flight were told to "stay quietly in our seats" as a casket carrying a fallen soldier was taken off the plane. As the airline announced it was carrying the casket of a soldier, Gaudry decided to suggest to fellow passengers that they stand and sing the national anthem in a gesture she says was intended to honor the soldier.
However, although Gaudry said other passengers thought her idea was a good one, she claims she was told it was against Delta policy to sing the national anthem, she told the AP.
After going along with the flight attendant's request and leaving the aircraft, Gaudry made a video detailing what had happened on October 14. "The chief flight attendant came back to my seat and she kneeled down and she said, 'It is against company policy to do what you're doing,'" she explained in the video she made and shared online, which was subsequently shared more than 700,000 times and viewed more than 1.9 million times.
"And I said, 'The national anthem? And there's a soldier on board?' And she said, 'Yes, you cannot sing the national anthem. It is against company policy,'" Gaudry added.
Sharing the video, Gaudry wrote: "A complete lack of courage on my part...As God [is] my witness, I promise that it will not happen again. God bless this great country. We need it desperately."
The airline has denied it has any policy regarding the national anthem, also insisting it is committed to respecting the members of the military, The Hill reported. The company said in a statement that its employees "take great pride in Delta's longstanding support of the military."
"The respectful ceremony of the Delta Honor Guard is one symbol of Delta's pledge to the men and women of the armed forces, and it represents our broad commitment to our veterans and active-duty service members. Delta does not have a policy regarding the national anthem. We have reached out to the customer and are looking into this situation," it added.