Delta Variant Identified Among 125-Person COVID Outbreak at Church Camp
The Delta variant has been identified among people who were linked to a huge COVID outbreak at a church camp, according to Texas health officials.
Galveston County Health District (GCHD) officials confirmed the highly spreadable Delta variant had been identified in three test samples linked to a huge church camp coronavirus outbreak on June 27.
More than 125 COVID cases were identified after campers from grades 6 through 12 associated with the Clear Creek Community Church of League City (CCCC) returned from a retreat in Giddings.
More than 450 people attended the camp and, according to the church, hundreds of others were likely exposed to the virus when people returned home.
Health officials with the GCHD added it had identified 57 cases in the community, six of which were so-called "breakthrough cases."
Breakthrough cases occur when someone has been infected with COVID more than two weeks after receiving a second jab.
Of the 57 cases, 10 were found in youths younger than 12 years old.
In a service update, the church leaders indicated all services had been canceled for July 4 and 7 "due to a significant number of people testing positive for COVID-19 after returning from camp."
In this Statista graphic, the countries with the highest share of Delta cases can be seen.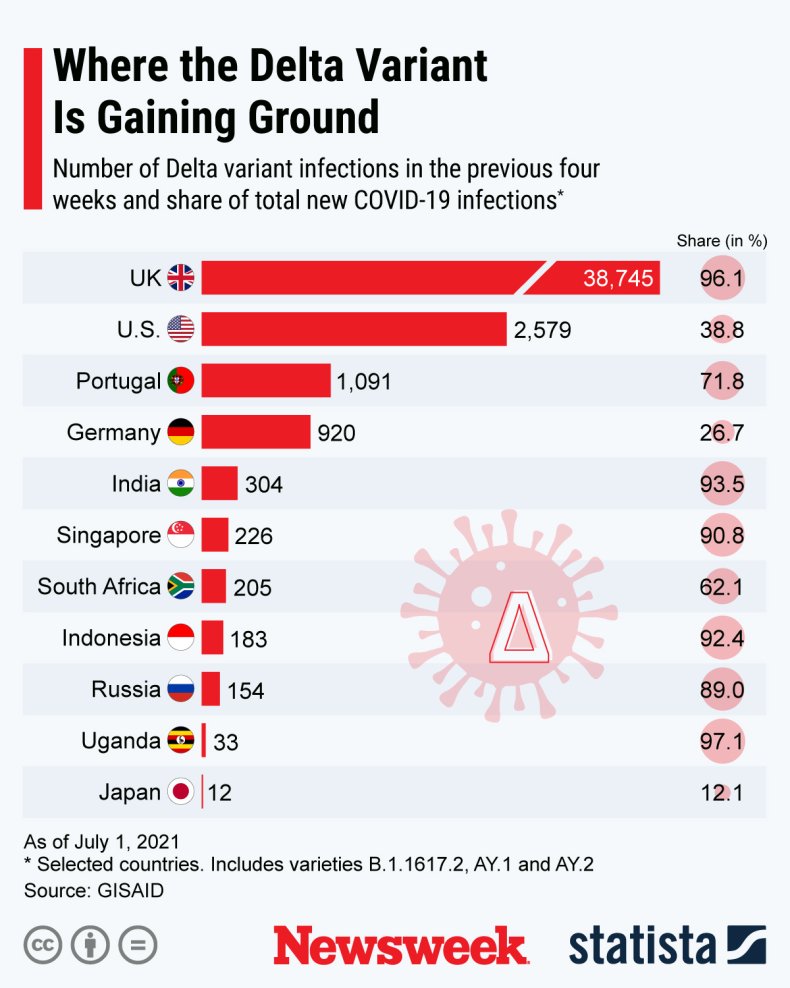 The statement later continued: "Additionally, hundreds more were exposed to COVID-19 at camp. And hundreds of others were likely exposed when infected people returned home from camp."
CCCC added it anticipated that services would resume on Sunday, July 11.
Dr. Philip Keiser, a local health authority in Galveston County, said: "The Delta variant is highly contagious, more so than other strains. And people who are unvaccinated are at most risk."
He added: "I cannot stress enough—there is no reason to not get vaccinated if you're old enough. There are plenty of vaccines available.
"In this outbreak at least as of now, it appears most of the people who have tested positive are old enough to be vaccinated. These vaccines are safe, effective and they offer the best protection against COVID-19 to you, your family and your community."
Newsweek has contacted the CCCC and GCHD for comment.