Delta Variant Makes Up 80 Percent of Cases in the Midwest
The Delta variant of the coronavirus makes up approximately 80 percent of the cases in the parts of the Midwest and upper mountain states, according to the Centers for Disease Control and Prevention.
"Although we expected the Delta variant to become the dominant strain in the United States, this rapid rise is troubling," CDC Director Dr. Rochelle Walensky said during a Thursday press briefing.
"We know that the Delta variant has increased transmissibility and it is currently surging in pockets of the country with low vaccination rates," she added. "We also know that our authorized vaccines prevent severe disease, hospitalization and death from the Delta variant and results."
Health officials are urging unvaccinated Americans to get their shots as the Delta variant continues to surge across the country. The strain now makes up more than half of all COVID-19 cases in the U.S., up from 26 percent seen on June 19.
Studies show that all three vaccines approved in the U.S.—Pfizer, Moderna and Johnson & Johnson, are effective at protecting against the Delta variant.
Dr. Anthony Fauci, the nation's leading infectious disease expert, said that while the world is understandably worried about the variant, "The only conclusion, one can reasonably come to from looking [at] what I've told you over the last few minutes is, please get vaccinated. It will protect you against the surging of the Delta variant."
Preliminary data from several states over the last few months have suggested that 99.5 percent of COVID-19 deaths in the U.S. have been in unvaccinated individuals.
"Those deaths were preventable with a simple, safe shot," Walensky said. "Please know if you are not vaccinated, you remain susceptible, especially from the transmissible Delta variant and are particularly at risk for severe illness."
She urged those who have not received vaccines to continue wearing masks to protect themselves against the virus.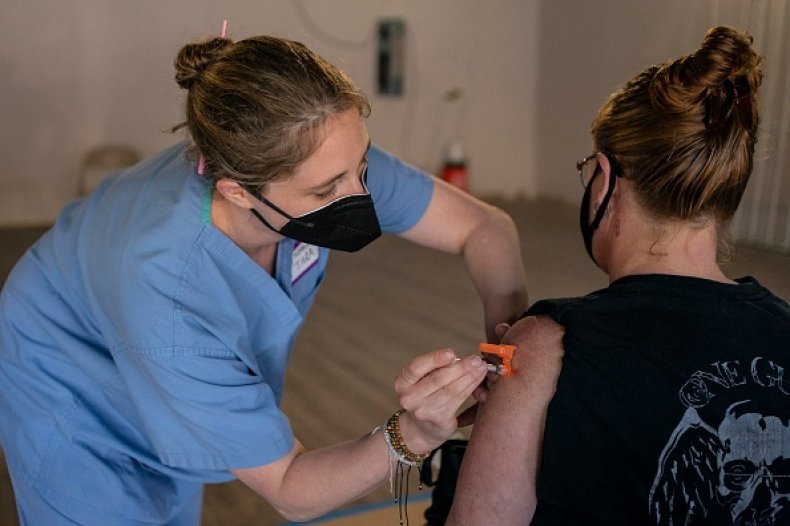 Members of the White House COVID-19 Response Team said that the federal government is ramping up vaccination efforts in Alabama, Arizona, Florida, Georgia and Texas and teams have been sent to Missouri, Nevada, Illinois and Arkansas to help support state-specific or county-specific coronavirus needs.
Dr. Marcella Nunez-Smith, who is on the task force, said the government is continuing to work on equity and vaccinating communities of color, which have been hit the hardest by the pandemic.
Over the last two weeks, 12 percent of individuals receiving their first shot of a COVID-19 vaccine have identified as Black, which is roughly the equivalent to the group's representation in the U.S. population. Latinos, who make up 17 percent of the population, have also accounted for 34 percent of those getting their first shots.
In the same two-week span, 58 percent of doses administered at pharmacies and over 50 percent of vaccines administered at federally-run vaccination sites have been to people of color.