Dem Candidate Calls 'Trump Shop' at Early Voting Location 'Voter Intimidation'
On Tuesday, a Democratic political candidate in Tennessee filed a complaint with a county election commission after discovering that an alleged future polling location was draped in signs and flags declaring itself as a "Trump Shop" which sells materials promoting Republican Presidential candidate Donald Trump.
If the signs and flags remain up while voting is underway for the November 3 national elections, it would violate state laws on electioneering too close to a polling place. Hale himself has said the presence of the signs on Election Day would constitute an act of "voter intimidation."
Democratic Tennessee U.S. congressional candidate Christopher Hale alerted the Bradley County Election Commission after the county's Democratic Party sent him an image of a local building that will reportedly serve as a polling location for the November 3 national elections.
But while the building currently houses a "Trump Shop" and its exterior is draped in signs promoting the president's re-election, Tennessee state law clearly states that such decor would violate laws forbidding campaigning near voting sites.
In a tweet, Hale wrote, "We won't the let Tennessee election authorities get away with this flagrant act of voter intimidation and suppression. We'll fight back, and Lord knows, we'll win—especially on November 3."
Newsweek subscription offers >
The Tennessee state statute on electioneering states that all campaign signs must be at least 100 feet away from the entrances of buildings used for voting.
"The display of campaign posters, signs or other campaign materials, distribution of campaign materials, and solicitation of votes for or against any person, political party, or position on a question [closer than 100 feet] are prohibited," the law states.
Tennessee law also forbids voters from wearing any apparel advocating for a candidate, issue or party in a polling place on Election Day.
Newsweek contacted the Bradley County Election Commission for comment.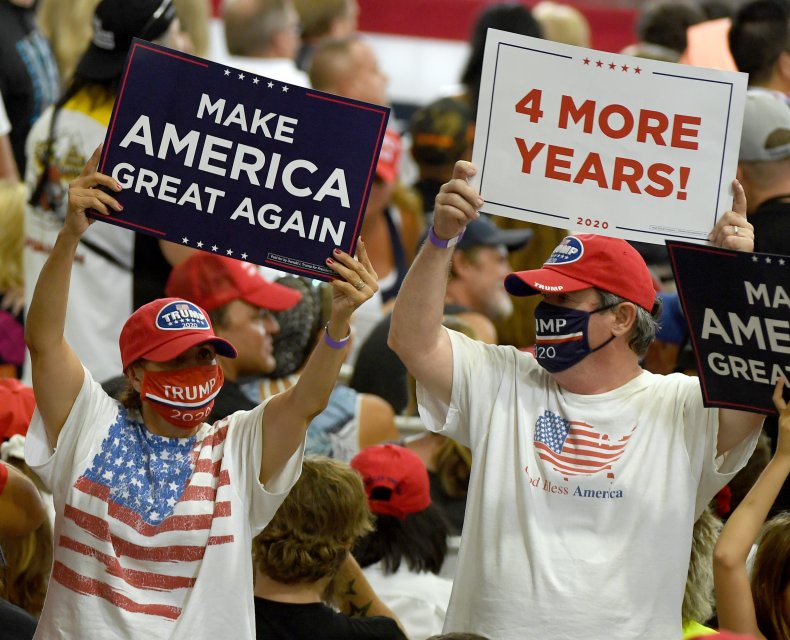 On Election Day, Hale will face off against Republican incumbent Scott DesJarlais, who defeated his Democratic competitor in the 2018 election by a margin of 63 to 33 percent. DesJarlais assumed his seat in the U.S. House on January 5, 2011.
Hale has tried to paint DesJarlais as an unworthy incumbent, but he has so far won four reelections. Tennessee is a red state that voted for Trump by 64 percent in 2016.
DesJarlais is a member of the "Freedom Caucus," a group of conservative Republicans in the U.S. House whose founding is member, Mick Mulvaney, a former House Representative from South Carolina who now serves as U.S. Special Envoy for Northern Ireland after a brief tenure as the White House Chief of Staff.
Upon Trump's election in 2016, Mulvaney said, "Trump wants to turn Washington upside down—that was his first message and his winning message. [The Freedom Caucus wants] the exact same thing. To the extent that he's got to convince Republicans to change Washington, we're there to help him... and I think that makes us Donald Trump's best allies in the House."
Dem Candidate Calls 'Trump Shop' at Early Voting Location 'Voter Intimidation' | U.S.