Dem Congresswoman Says Party Will Be 'Torn Apart' if It Pushes Progressive Platforms: 'Don't Say Socialism Ever Again'
Rep. Abigail Spanberger, a Democrat, reportedly told colleagues the party would face consequences for supporting progressive platforms during an emotional phone call on Thursday. Election results so far indicate that Spanberger, who campaigned against Republican challenger Nick Freitas this year to represent Virginia's 7th district for another term, has successfully defended her congressional seat, according to the latest Associated Press update. The congresswoman formally declared victory earlier this week, although the AP had not officially called her race late Thursday afternoon.
Journalists privy to the Democratic caucus' afternoon call relayed Spanberger's warnings to less moderate members of the party, encouraging them to minimize advocacy for more liberal ideas and policies.
"Don't say socialism ever again," she said, according to Erica Werner, a congressional reporter at The Washington Post. "If we run this race again, we will get f***ing torn apart again in 2022," Spanberger reportedly added. House Speaker Nancy Pelosi reportedly pushed back against the Virginia congresswoman's suggestion, noting that Democrats likely won the U.S. House and, possibly, the presidency this year.
Democrats are projected to hold their House majority after Tuesday's general election, although the party is estimated to occupy fewer seats come January following a handful of losses. However, the party's standing in the Senate remains uncertain, and the outcomes of Georgia's upcoming runoff elections could potentially determine whether it secures control. The party needs to earn a net gain of three or four Senate seats, depending on the outcome of the presidential election, in order to obtain the majority.
During Thursday's phone call with House Democrats, Spanberger implied that representatives' progressive rhetoric negatively influenced some of the year's congressional races, including her own.
"We lost races we shouldn't have lost," the congresswoman said, according to Werner's reporting. Continuing, Spanberger reportedly claimed her connection to police reform policies in Virginia "almost cost me my race."
Over the summer, the representative co-sponsored the Justice in Policing Act, a reform bill introduced as millions rallied against police violence and racism across the country. She was later subject to Republican political advertisements that attacked her policies and claimed she "has ties to radical Virginia Democrats" and "groups trying to defund the police."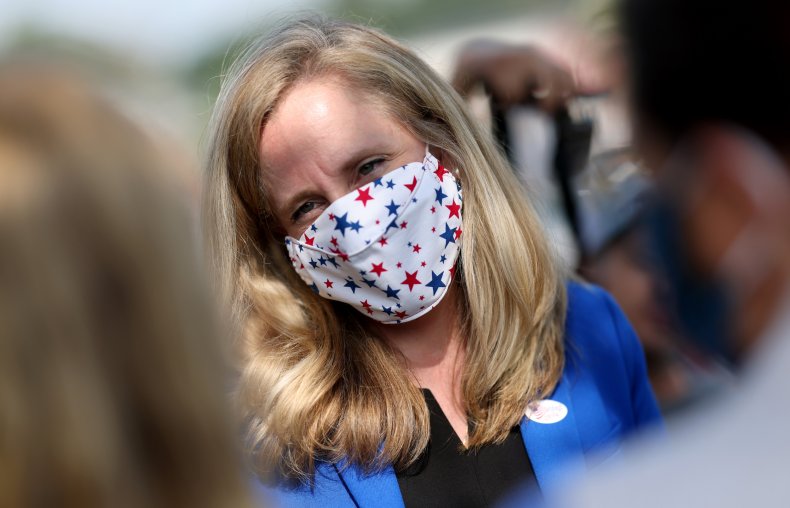 The AP's most recent data noted that 100 percent of votes cast in Virginia's 7th district were accounted for heading into Thursday evening, its breakdown showed a very close race between Spanberger and her Republican opponent, with the incumbent Democrat leading by about 1.2 percentage points.
Newsweek reached out to Spanberger's office for further comment but did not receive a reply in time for publication.