Dem Congresswoman on Trump Finances: We're 'Not Beyond' Using Sergeant at Arms to Obtain Information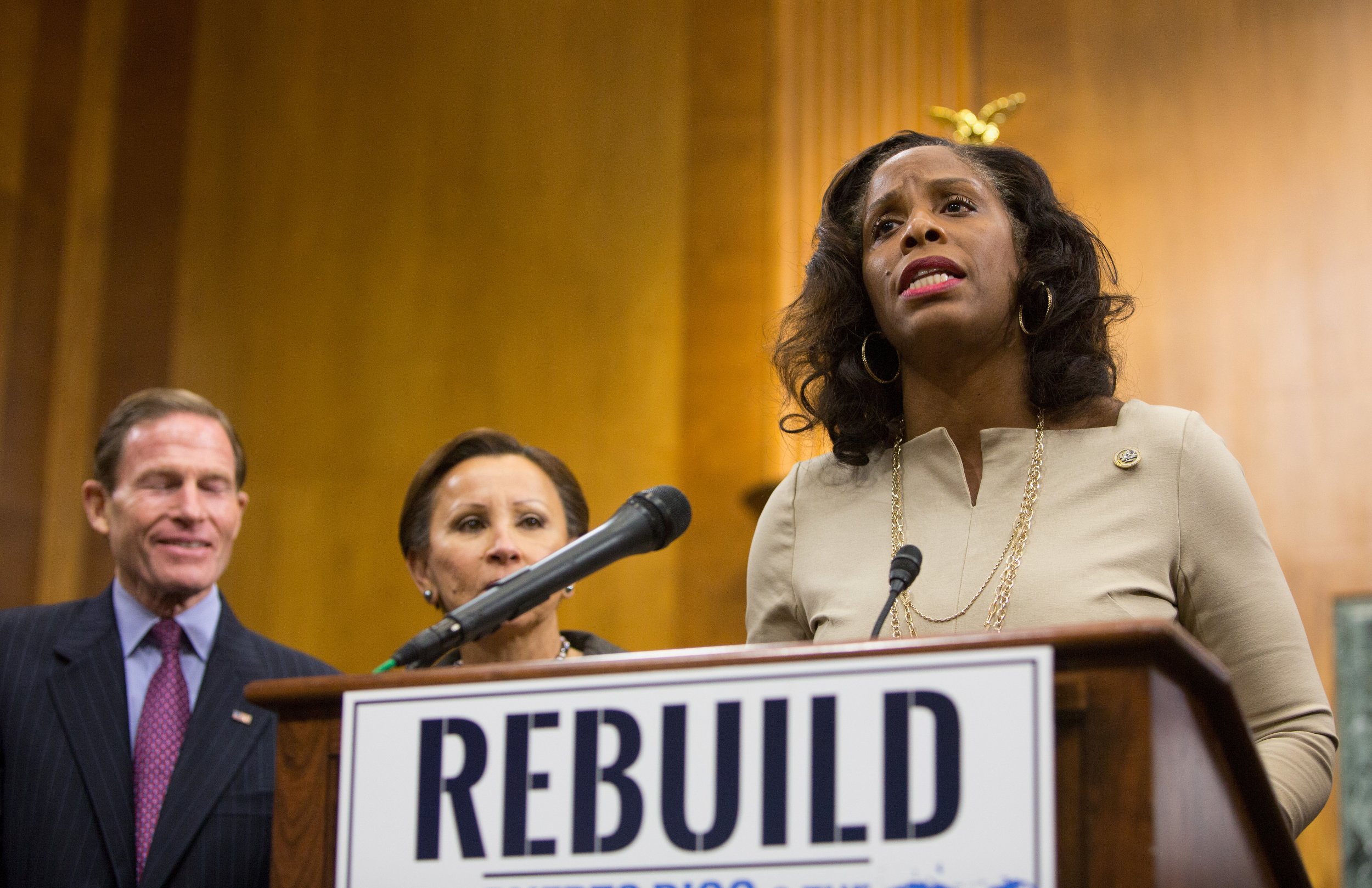 Rep. Stacey Plaskett (D-Virgin Islands), who's a member on the House Oversight and Reform Committee, on Wednesday said the Democrat-led committee is "not beyond" using the Sergeant at Arms to obtain information about their investigations into President Donald Trump's personal and business finances.
"The Oversight Committee has requested from President Trump's accountant, Mazars, information about the President inflating/deflating his income, assets etc. Mazars refused to give us the information and through our methodical work and not jumping the process. The court two weeks ago came out with a ruling that states that Oversights requests were proper and followed the constitutional mandate given to us," the Democratic lawmaker wrote on a Reddit New Democratic Coalition AMA.
"We are not beyond holding in contempt, sanctioning or even using the Sergeant at Arms to bring someone in," she added.
The Sergeant at Arms, currently Paul Irving, is an officer of the House with protocol, law enforcement and administrative responsibilities.
Plaskett's comments were in response to a Reddit user's question regarding Trump and his inner circle's alleged disregard for the rule of law. The Democratic lawmaker took part in the AMA as co-chair of the New Democratic Coalition's Infrastructure Task Force.
Earlier this month, a federal judge ordered Trump's accounting firm, Mazars USA LLP, to turn over eight years of the president's business financial records before he took office to the House Oversight and Reform Committee. The ruling, delivered by U.S. District Judge Amit Mehta, comes after the president's lawyers filed a lawsuit in April seeking to bar Mazars from complying with a congressional subpoena demanding those documents.
Mehta sided with Democrats by concluding that while there are "limits on Congress' investigative authority… those limits do not substantially constrain Congress" as long as they investigate a matter which "legislation could be had."
"Courts have grappled for more than a century with the question of the scope of Congress's investigative power," Mehta said in the decision. "The binding principle that emerges from these judicial decisions is that courts must presume Congress is acting in furtherance of its constitutional responsibility to legislate and must defer to congressional judgments about what Congress needs to carry out that purpose."
"Applying those principles here compels the conclusion that President Trump cannot block the subpoena to Mazars," he concluded.
A spokesperson for Mazars USA LLP told Newsweek that they "will respect the legal process and fully comply with its legal obligations."
"We believe strongly in the ethical and professional rules and regulations that govern our industry, our work and our client interactions," the spokesperson added. "As a matter of firm policy and professional rules we do not comment on the work we conduct for our clients."