Dem Files Petition To Disbar Rep. Matt Gaetz Over Support of Trump's Election Lawsuits
Florida attorney and former congressional candidate Pam Keith filed a petition in December seeking to disbar Florida Representative Matt Gaetz.
Gaetz is an outspoken supporter of President Donald Trump, who has baselessly claimed that the 2020 election was rife with voter fraud. President Joe Biden won both the popular vote and the Electoral College, an outcome Trump has yet to formally acknowledge. Gaetz indicated on Saturday that he would challenge the results of the Electoral College during the expected congressional count of electoral votes in January. Gaetz was also one of 126 House Republicans that signed an amicus brief in support of a lawsuit filed by the state of Texas against 4 other states seeking to overturn the results of the 2020 presidential election.
Prior to Gaetz's political career, he earned a Doctor of Jurisprudence degree from the College of William & Mary Law School in 2007. After graduating, he worked for a law firm in Fort Walton Beach, Florida, according to Mother Jones.
In her petition, Keith pointed to Gaetz's support of the failed Texas lawsuit as reason enough for his disbarment. Keith wrote that Gaetz "willingly participated in an act of sedition, and an illegal and immoral effort to disenfranchise millions of American voters."
"Mr. Gaetz brought shame and disrepute on the legal profession and on the state of Florida, and is no longer worthy of the privilege of being called on 'officer of the court,'" Keith added.
When contacted for comment, Gaetz's office directed Newsweek to a tweet posted by Gaetz regarding Keith's election loss in November. "Pam - I've never lost an election," Gaetz wrote. "Honest Questions: How many times have you run? How many wins? (The voters just aren't that into you...)."
In December, a lawsuit brought by Texas Attorney Ken Paxton alleged that voter fraud in the battleground states of Michigan, Pennsylvania, Wisconsin and Georgia—all of which were carried by Biden—was just cause to rescind the slate of electors and replace them with electors that would cast their votes for Trump. Since it was a case of states suing other states, Paxton filed the litigation directly with the U.S. Supreme Court in hopes they would assume original jurisdiction over the case, allowing the litigation to bypass judgment in lower courts.
Trump supported Paxton's lawsuit as did a number of Republicans in the House of Representatives, including Gaetz. However, the Supreme Court declined to hear the lawsuit, saying that Texas had no grounds to sue.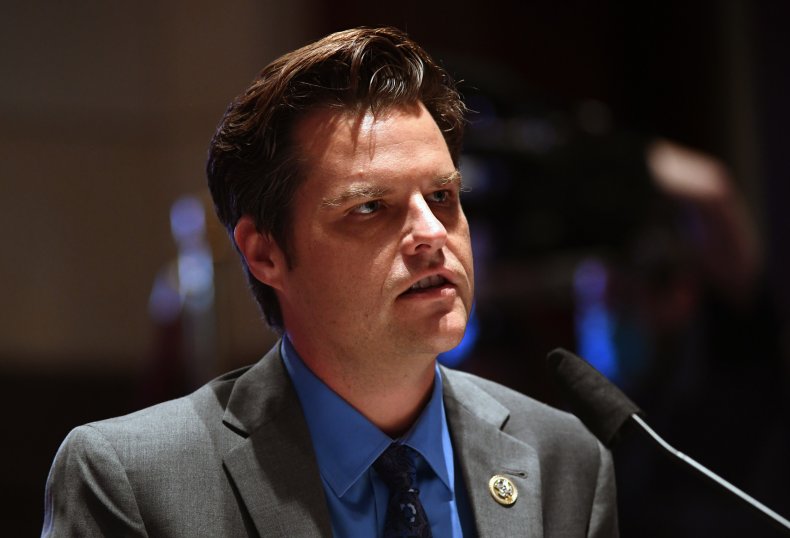 In her petition, Keith said that Gaetz violated his oath of office by supporting the lawsuit and "choosing to participate in a seditious act."
Complaints about Gaetz's conduct have been raised before. In August 2019, Gaetz was investigated by the Florida Bar Association because of a tweet Gaetz sent to Trump's former personal lawyer Michael Cohen before his testimony against Trump before the U.S. House Oversight Committee. In a now-deleted tweet to Cohen, Gaetz asked if Cohen's wife would "remain faithful when you're in prison. She's about to learn a lot."
The Florida Bar Association's grievance committee decided that Gaetz's tweet did not violate any professional conduct rules, but stated that Gaetz's "original tweet was unprofessional, reckless, insensitive, and demonstrated poor judgment."
At the time, Gaetz told reporters that his tweet to Cohen was not an example of witness tampering.
"It's witness testing," Gaetz said. "We have an obligation in the Congress to test the truthfulness of people who come before us."
In February, Gaetz and other House Republicans gained entry to a closed-door deposition during impeachment inquiries into Trump. The deposition was delayed for hours while Gaetz and others ordered pizza.
Gaetz has continued to voice support for Trump, including backing Trump's claims of election manipulation. Gaetz said during a Saturday speech at the Turning Point USA Student Action Summit that he, along with other GOP members, would "object to electors from states that didn't run clean elections."
"This is Donald Trump's party," Gaetz said, "and I am a Donald Trump Republican."
Alabama Representative Mo Brooks has said that he would also contest the electoral votes in Congress. However, in order for a challenge to be brought against the electoral votes, a Representative must be joined by a U.S. Senator in their request.
Updated 12/23/2020 11:05 p.m. EST: This story has been updated with a comment from Gaetz's office.