Democratic California Senator Dianne Feinstein said Thursday she wants to add an amendment to the next coronavirus relief bill denying federal funding to any state without a face mask mandate.
Feinstein's statement came as the U.S. underwent another day of a rise in positive coronavirus case numbers. On Thursday, the U.S. logged 66,698 new cases of the virus. In Feinstein's state of California, 5,098 new cases were reported on Thursday. While some observers have called for a national face mask mandate to curb the spread of the virus, the White House has allowed that decision to rest with state and local governments.
"The situation is getting worse daily," Feinstein wrote. "Several states including California, Alabama and Montana already require masks in public. This should be universal."
"My hope has been that other governors would show the leadership to institute their own mask mandates, but so far that hasn't happened," Feinstein continued. "It's time for Congress to step in. This is a matter of life or death, and partisan politics shouldn't play a role."
Senate Majority Leader Mitch McConnell indicated that another stimulus bill could be discussed in the U.S. Senate before the end of August.
"I think you could anticipate this coming to a head sometime within the next three weeks, beginning next week," McConnell told reporters on Monday.
Newsweek reached out to Senator McConnell's office for comment.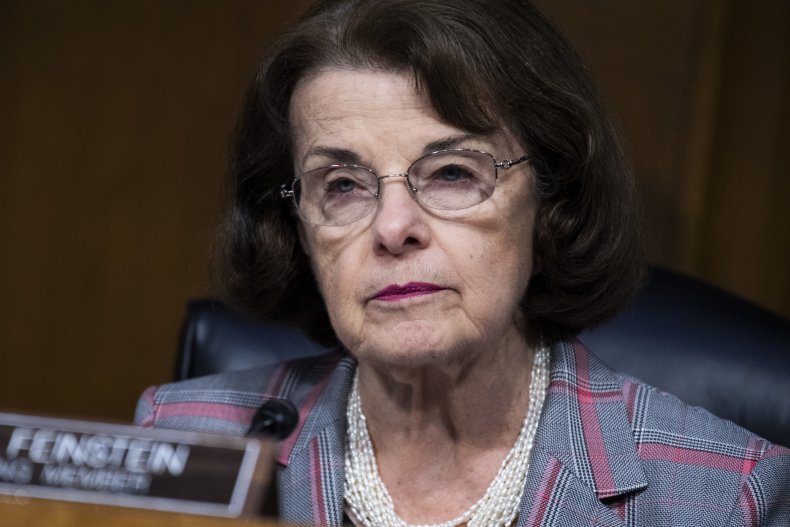 Scientists have said that wearing face masks could help bring down the current resurgence of the virus in the U.S. On Tuesday, Director of the Centers for Disease Control and Prevention Dr. Robert R. Redfield said face masks "are one of the most powerful weapons we have to slow and stop the spread of the virus—particularly when used universally within a community setting."
In a Thursday interview, Dr. Anthony Fauci disagreed with the theory that wearing face masks can interfere with how much oxygen humans can breathe in. Fauci said there is "no indication that masks have any deleterious effects on oxygen exchange or anything at all."
Some individuals see the face mask requirement as an infringement on personal freedoms. In Utah County, Utah, a group of roughly 100 maskless protesters interrupted a county commission meeting where a decision was being made about whether children should wear masks when in-person classes begin in local schools.
Citing non-compliance with local health regulations, County Commission Chairman Tanner Ainge called for the meeting to be rescheduled.
President Donald Trump did not wear a mask in public until Saturday although the CDC has recommended wearing face coverings since April. Trump was seen wearing the mask while visiting patients at the Walter Reed National Medical Center.
"I think when you're in a hospital, especially in that particular setting, where you're talking to a lot of soldiers and people that in some cases just got off the operating tables, I think it's a great thing to wear a mask," Trump said. "I've never been against masks, but I do believe they have a time and a place."