Dem Senator Tells CNN's Chris Cuomo Number of Republicans Who Want to Hear Impeachment Witnesses Has Gone Down
Senator Joe Manchin (D-W.Va.) believes that Republican support for calling witnesses at the Senate impeachment trial of President Donald Trump may be falling.
Manchin voiced his opinion on the Wednesday night edition of CNN's Cuomo Prime Time. Host Chris Cuomo asked the senator if he thought the number of his Republican colleagues who support calling witnesses at the trial had changed over the last two days.
"If anything, I think it might have gone back down... I know that they're putting a tremendous amount of pressure on everybody," said Manchin. "But the bottom line is you've got to live with yourself."
"I've got to go home to West Virginia and be able to explain the vote that I take. And I really don't know how I'm going to make it yet," added Manchin. "But I want to make sure I've seen everything and heard everything and am very impartial."
The senator said that Republican support for allowing witnesses at the trial had initially jumped, after news emerged that former National Security Advisor John Bolton's upcoming memoir allegedly confirms that Trump tried to pressure Zelenskiy.
"I thought two mornings ago... when it came out about Bolton... [support] had jumped up to maybe five, six, seven," said Manchin.
Cuomo then asked the West Virginia Democrat why he thought wrongdoing by Trump was a "close call." Manchin insisted that he believes Trump acted wrongly but was undecided about whether the president's actions mean he should be removed from office.
"Does it rise to the level of impeaching? Should we be removing a president? That's what you have to come to," said Manchin. "Has the law been violated to the point where you have a comfort level that you can say 'I'm removing that president?' I want to make sure I'm crossing every T and dotting every I."
Manchin emphasized that he did not believe the president's claim that he had a "perfect" phone call with Ukraine President Volodymyr Zelenskiy. House Democrats say the call was evidence Trump had attempted to initiate a "quid pro quo" arrangement with Zelenskiy by trading foreign aid for the launching of an investigation of former Vice President Joe Biden.
"I want to make it very clear. The president did not have and could not have had a perfect phone call with Zelenskiy," said Manchin.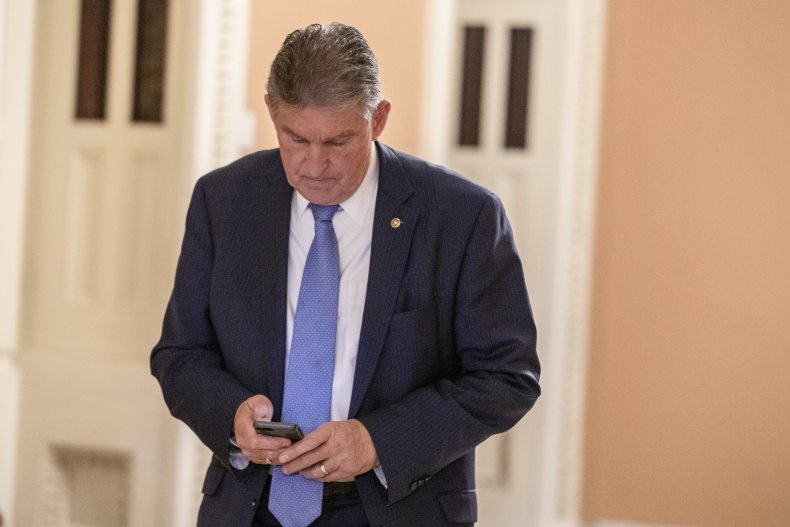 Manchin also clarified earlier comments that indicated he would be open to Republicans calling Joe Biden's son Hunter Biden as a witness at the trial. The Bidens are the subject of a debunked conspiracy theory promoted by Republicans.
"What I meant to say was that I believe it has to be fair," Manchin said. "If the Democrats get one, two, three or four, shouldn't the Republicans get the same amount? But they should be relevant to the charges made against the president."
Manchin also lamented Republicans refusing a rule that would have allowed Supreme Court Chief Justice John Roberts, who is presiding over the trial, to act as a tiebreaker in votes.
Although he believes GOP support for witnesses may have fallen, Manchin said that Republicans would have a difficult time justifying not allowing them during the trial.
"I mean how in the world do you go home and explain, 'They asked me to have a trial, I'm sitting there and I'm going to be judging based on what I hear, and I can't have witnesses and I can't have documents that have been held from me.' It makes it very hard. I don't know how you explain it," said Manchin.
A vote on allowing witnesses at the Senate trial is expected by Friday.