Demand for Dog Meat Increases as Hot Temperatures Hit North Korea
As summer temperatures rise in North Korea, so does the demand for dog meat.
Koreans on both sides of the demilitarized zone traditionally eat dog meat—or "dangogi"—during the hottest times of the year, as it is believed to increase stamina, according to the Associated Press.
"It's been our national food since olden times," Kim Ae Kyong, a waitress at the Pyongyang House of Sweet Meat, the largest dog specialty restaurant in the North Korean capital, told the news agency. "People believe that heat cures heat, so they eat dog meat and spicy dog soup on the hottest days. It's healthier than other kinds of meat."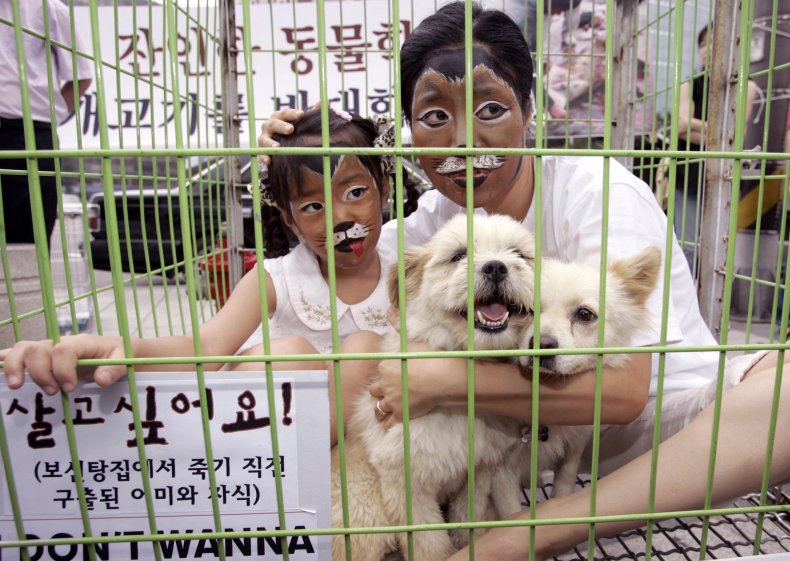 Koreans traditionally recognize "sambok," or the three hottest days of the year, according to a lunar calendar. This year, the days fall on July 17 and 27, and August 16, meaning canines on the peninsula will truly face the "dog days of summer" over the next few weeks. As temperatures in North Korea reach near record highs, hovering around 104 degrees Fahrenheit, demand for dog meat is increasing, according to AP, although no official statistics are available in the country.
Menus at popular restaurants feature a range of canine dishes, including hind legs, ribs and boiled dog skin among many others. While South Koreans traditionally eat dog as well, attitudes toward the delicacy are changing with a new generation.
More and more, dogs are seen as pets and many young people are against eating the animals or are simply indifferent. Some South Koreans have begun calling for the practice to be outlawed and the country's President Moon Jae-in adopted a pet dog from an animal sanctuary, a decision welcomed by animal rights groups.
Nonetheless, some 2 million dogs are slaughtered and consumed each year in South Korea, with the older generation believing the meat increases virility. There are also about 17,000 dog meat farms in the country, according to the Humane Society International.
In June, a court in the South Korean city of Bucheon ruled that killing dogs for meat is illegal, in a decision that animal rights activists considered as paving the way for outlawing consumption as well, The Guardian reported. Local activists told the British newspaper that dog farms operate in a legal gray area, but are sometimes targeted by the government, which cites sanitation concerns.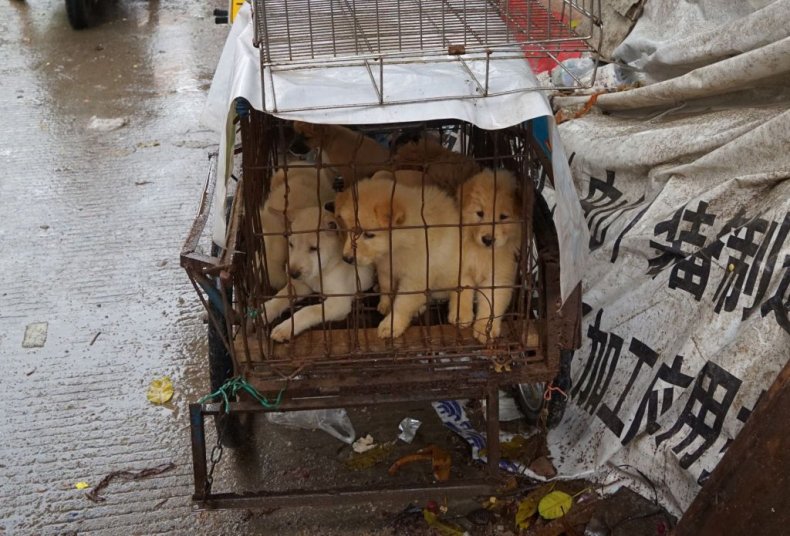 While it may be a slower transition, North Korean attitudes toward dog meat are changing as well, the AP reported. Pet owners can regularly be seen walking their dogs in Pyongyang, showing that canines are becoming more a part of the family, and less a summer delicacy.
Dogs, as well as cats, are consumed regularly in several other Asian countries. Last year, Taiwan officially banned the selling and eating of dogs and cats, becoming the first Asian nation to do so, the BBC reported. The Humane Society International reported, however, that some 30 million canines are killed for meat across Asia annually, with China and Vietnam and Indonesia remaining big consumers along with both Koreas.
U.S. and Chinese rescue groups have worked in tandem to save dogs from being slaughtered for the 10-day annual Lychee and Dog Meat Festival in Yulin, where vendors kill nearly 10,000 dogs for consumption.