Video: DeMarcus Cousins Throws Shoe into the Crowd, Gets Called for a Technical Foul
Shoes have been a hot topic of debate in the basketball universe recently.
Last week, college basketball sensation Zion Williamson suffered a bizarre injury as his Nike sneaker blew up under him, while on Monday night it was DeMarcus Cousins' turn to be involved in a footwear-related incident.
With just over five minutes left in the fourth quarter of the Golden State Warriors game in Charlotte, Cousins came across Hornet forward Jeremy Lamb's shoe on the court. The sneaker was close to the free throw line in the Warriors' half of the court and Cousins picked it up and chucked it out of bounds.
While unusual, his action was understandable. A shoe—or indeed any object—on court is a potentially very dangerous hazard for players who move at such speed. Cousins' gesture, however, earned him a technical foul.
To nobody's surprise, the Warriors big man was absolutely incensed with the call and vehemently protested against it.
The four-time All-Star has only just returned from a torn Achilles tendon and explained that recent injury was on his mind when he decided to throw the shoe into the crowd.
"Next time I'll just step on the shoe and roll my ankle, break it, tear an Achilles," Cousins said after the game, as per Yahoo Sports "Just leave it out there next time. I guess that's what they want. I'll keep that in mind."
Aside from his sneaker-throwing antics, Cousins was instrumental in the Warriors' 121-110 win over the Hornets. The 28-year-old finished with 24 points and 11 rebounds in 31 minutes, shooting nine-for-15 from the court.
It was the first time since his return from injury that Cousins played over 30 minutes and his performance left Steve Kerr and Kevin Durant very impressed.
"He made a couple of moves around the hoop where he showed great agility, but I think this is the best he's looked, " the Warriors' head coach was quoted as saying by The Associated Press.
The two-time and reigning NBA Finals MVP echoed that stance, suggesting Cousins would have a big role to play in the postseason.
"It's huge for him to get his legs up under him and see the ball go in the rim and getting back to making the moves he normally makes," Durant said. "So hopefully he builds on it."
Golden State moved to 43-17 with the win, strengthening its grasp onto the number one seed in the Western Conference and opening a 1.5-game lead over the Denver Nuggets.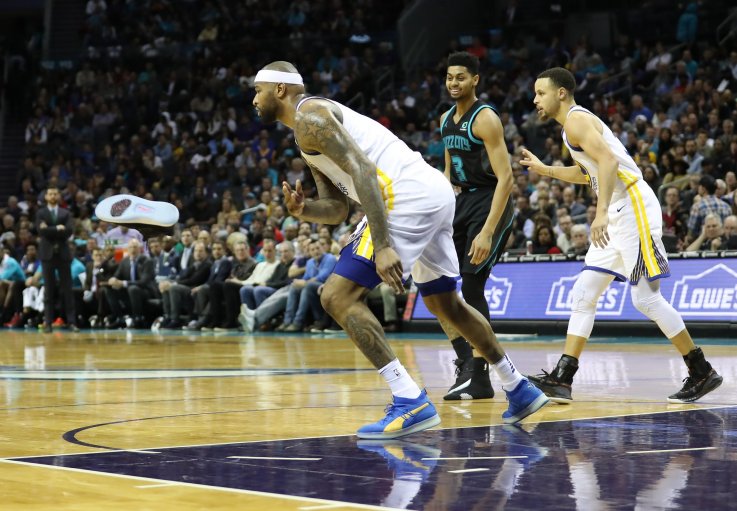 Video: DeMarcus Cousins Throws Shoe into the Crowd, Gets Called for a Technical Foul | Sports