Exercise Does Not Slow Brain Decline in Dementia Patients, Study Suggests
Moderate to high-intensity exercise does not ease the symptoms of dementia, according to a new study.
The U.K.-based researchers concluded that exercise cannot be used as a treatment for cognitive disorders such as dementia, which affects around 50 million people worldwide. Some 5.7 million Americans are living with Alzheimer's, the most common form of the disease.
Previous studies have produced conflicting evidence on whether the popular idea that exercise eases the symptoms of dementia is true. The team investigated the potential benefits of exercise in a trial involving almost 500 adults with mild to moderate dementia, with an average age of 77, living across the U.K. Published in The BMJ, the study had a larger sample size than previous studies, and the team followed up with participants more frequently.
First, the health and fitness levels of the individuals were measured, and researchers either randomly assigned them a supervised exercise and support program or asked them to continue with their usual care.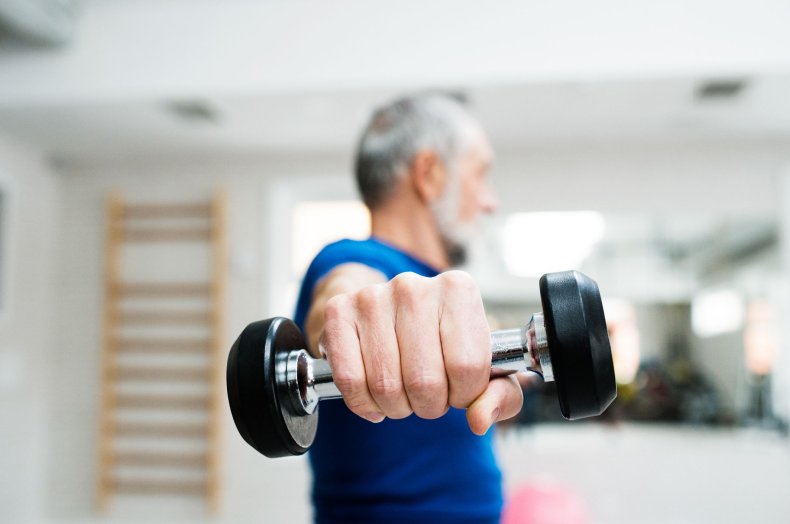 Those given the exercise regime were asked to complete 60- to 90-minute gym sessions—which involved equipment such as static bikes, weight belts and dumbbells—twice a week for four months. They also exercised at home for one hour a week.
After 12 months, the participants were assessed according to the commonly used Alzheimer's disease assessment score (ADAS-Cog), which measures cognitive and rationalizing abilities, as well as outcomes such as their quality of life and number of falls.
The researchers were surprised to find that individuals assigned the exercise program had higher ADAS-cog scores, compared with those who didn't. On average, those who exercised saw their score change from 23.8 to 25.2. And while their fitness improved, outcomes such as the number of falls and quality of life didn't change.
The authors said in a statement, "This trial suggests that people with mild to moderate dementia can engage and comply with moderate to high intensity aerobic and strengthening exercise and improve physical fitness. These benefits do not, however, translate into improvements in cognitive impairment, activities in daily living, behavior, or health related quality of life."
Professor Sarah Lamb, lead author of the study, told The Guardian she was "disappointed" but not surprised by the findings, adding that dementia is a "difficult problem to fix."
"We don't want to alarm members of the public with dementia and their families. We used a very specialized exercise program. We know that gentle exercise is good for you. We don't want people to stop what they are doing," she said.
Although the results may appear concerning, the study's authors said they might be due to two factors: The time spent exercising was too short to have a positive return, or the participants or care-givers were aware of which group they were in.
Martin Rossor, a professor of clinical neurology at University College London, who was not involved in the study, said in a statement: "The evidence that exercise may reduce the risk of developing dementia is convincing. It is not much less clear whether exercise can delay the decline of those with an established dementia. This study would suggest not."
He went on, "The participants included all types of dementia and were mildly or moderately impaired. We know that for Alzheimer's disease the degeneration of brain cells starts many years before symptoms start, and so the likelihood of altering the disease at a late stage is less than with early intervention. So the message remains that exercise is good but to start an exercise regime once the disease is well established may be of limited value."