Demi Lovato 'Related More' to People at AA Than the 'Fake' Attendees at 2016 Met Gala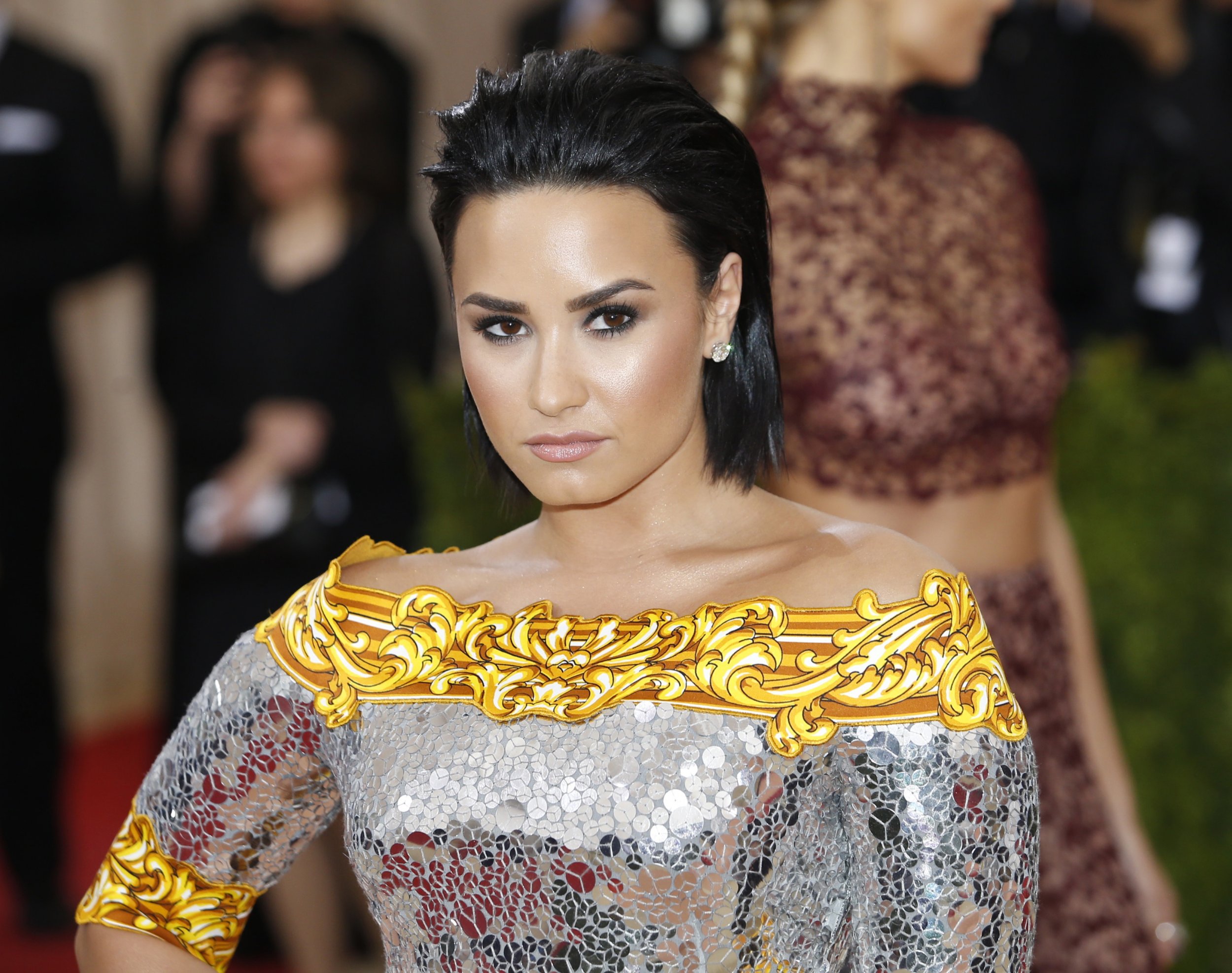 The Met Gala, an annual charity fundraiser held at New York's Metropolitan Museum of Art's Costume Institute, has spawned many memorable red carpet moments—from Rihanna's Comme des Garçons look last year to Beyoncé's sheer Givenchy gown in 2015. Hosted by Conde Nast artistic director magazine Anna Wintour and Vogue magazine, the event is exclusive to top-tier stars, which makes getting an invite to "fashion's biggest night out" no easy feat.
Singer Demi Lovato snagged one—and confessed that attending the event wasn't all it was cracked up to be.
Lovato, 25, attended the Met Gala for the first, and likely last, time in 2016. In an interview with Billboard published on Thursday, the Disney alum said the "cliquey" event triggered her, causing her to bolt to an Alcoholics Anonymous (AA) meeting. "I had a terrible experience. This one celebrity was a complete b—tch and was miserable to be around. It was very cliquey," Lovato said.
While Lovato didn't identify the celebrity by name, it's been speculated that rapper Nicki Minaj could be the one. A photo showed Minaj giving the "Sorry Not Sorry" singer side-eye while they were on the red carpet with designer Jeremy Scott. "This picture pretty much summed up my first and probably last Met," Lovato said via Instagram. But she added that "the shade being thrown in this picture actually gives me life."
The Grammy-nominated songstress has been open about her battle with drug and alcohol addiction in the past, which she elaborated on in last years's YouTube Red documentary Demi Lovato: Simply Complicated. She talked of her own addiction problem as a way to understand her father, Patrick Lavato. "Guess I always searched for what he found in drugs and alcohol because it fulfilled him and he chose that over a family," Lovato said in the film.
When Lovato felt like she might backslide at the Met Gala two years ago, she took responsibility for herself.
"I remember being so uncomfortable that I wanted to drink," Lovato told Billboard. "I changed my clothes, but I still had my diamonds on—millions of dollars of diamonds on—in an AA meeting. And I related more to the homeless people in that meeting who struggled with the same struggles that I deal with than the people at the Met Gala—fake and sucking the fashion industry's dick."
The "Confident" singer has also admitted to struggling with eating and bipolar disorder. But since undergoing treatment in 2011 at Los Angeles' CAST Centers, a facility she now co-owns, Lovato has steered clear of the problems that trigger her addictions, like the "cliquey" side of Hollywood. Still, she does have some supportive friends with big names post-rehab, including stars Nick Jonas, Iggy Azalea and Ariana Grande.