Luis Fonsi Sends Heartfelt Message to Demi Lovato Following Singer's Suspected Overdose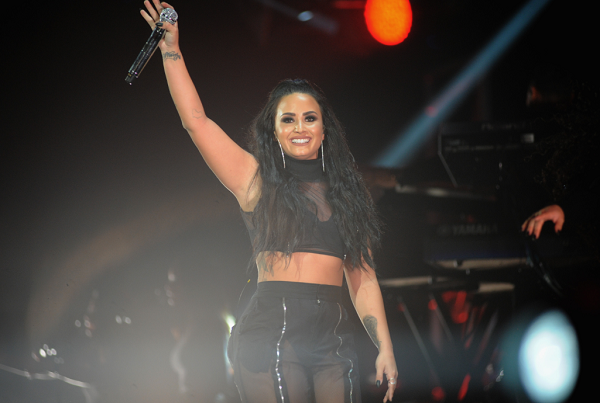 Following news of Demi Lovato's suspected overdose, dozens of celebrities took to social media to share their support and encouragement, including her recent collaborator, Luis Fonsi.
Los Angeles police officers responded to an emergency call from Lovato's home on Tuesday where she was reportedly unconscious. Authorities administered Narcan, a brand of naloxone medication that can reverse the effects of a narcotic overdose. It may have potentially saved Lovato's life.
Fonsi, who joined forces with Lovato for their 2017 track "Echame La Culpa," shared a sweet message about Lovato on Instagram on Wednesday, reminding the 25-year-old that her family, friends and fans were rooting for her recovery. "You're a strong, talented, bright soul and you will overcome this," he wrote alongside a photograph of them on embracing on stage. "The world is on your side.
Fonsi added in Spanish: "I embrace you from a distance and I know that you have strength and courage to overcome this situation. My prayers are with you. I love you, friend."
The Latin superstars' song debuted at No. 3 on Billboard's Hot Latin Songs chart following its debut in 2017, and it was one of the first Spanish-singing songs for Lovato to ever reach the top of the charts.
Although the song originally belonged to Fonsi, the Puerto Rican singer told Billboard in April he felt the song needed a "female perspective [with] a strong female vocalist on it." Lovato only had a few Spanish language songs and admittedly wasn't the strongest Spanish-speaker, but that didn't keep her from being Fonsi's first choice artist to work with.
"She was extremely excited to sing in Spanish, which was really important for me. I didn't want it to feel forced," Fonsi said.
In the same Billboard interview, Lovato credited Fonsi for helping her improve her Spanish. "I knew some Spanish, but I learned a lot more thanks to a tutor and Luis' help," she said.
DJ Khaled, who headlined a portion of Lovato's Tell Me You Love Me Tour and collaborated with the singer for the Wrinkle in Time soundtrack song, "I Believe," also delivered a positive message for Lovato while appearing at The Four Season 2 finale on Tuesday. "I went to one of her sessions and it really touched me. I really got to know her, and I told her, I said, 'Man sometimes people gotta go through storms so they could tell other people not to go through them. But we want you to overcome this storm and never go back to the storm," he told Entertainment Tonight.
"I'm praying for her. I know she's gone be great because God is great. And I want her fans and everybody that knows her [to] bring that positive love energy so it can reach to her because I know how much love can make you feel good. And let's overcome this, keep winning. But right now it's about you getting some rest, taking care of yourself. We love you and I know you gonna be alright," Khaled continued.