Demi Lovato Reveals New Song 'Heaven' Is About a Bible Verse
Demi Lovato has revealed that a song from her new album is inspired by a verse from the Bible.
"Heaven" is a track on the star's newly released album Holy Fvck and the 29-year-old has confirmed it is about Matthew 5:30.
"Matthew 5:30 says, 'If your right hand causes you to sin, cut it off; [for] it's better to lose one part of your body than your entire body to hell.' That was a Bible verse I heard since I was young—too young to know what masturbation was," Lovato said in an interview with the Los Angeles Times.
"And now, I have my own [line of] sex toys. Masturbation can be a form of self-care, it's not something to be ashamed of at all," Lovato—who is using she/her pronouns again—explained.
The verse Matthew 5:30 reads: "Cast it from thee: for it is profitable for thee. That one of thy members should perish, and not. That thy whole body should be cast into hell."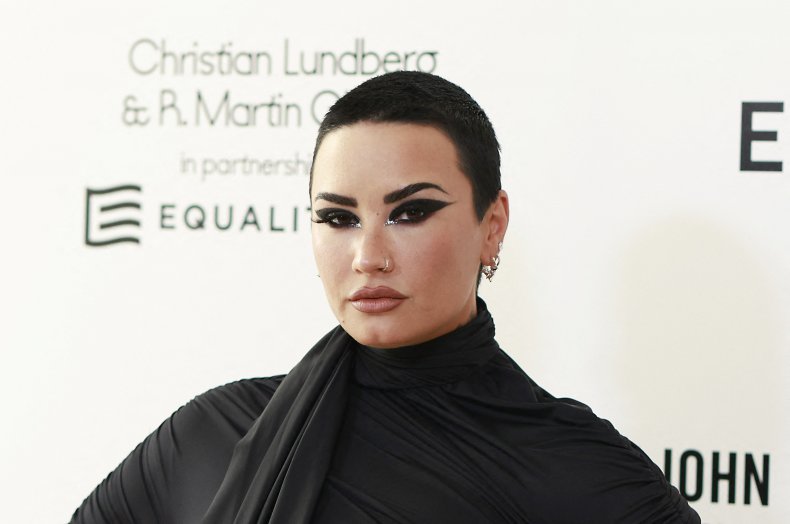 While on "Heaven", Lovato sings: "Crucified for the life I'm living/ Oh my God, hope I'm forgiven/ Going to hell 'cause it feels like heaven/ Speaking in tongues to release my demons/ I can't help it, guess I'm a heathen/ Going to hell 'cause it feels like heaven."
Lovato has spoken about her religious upbringing before and how it impacted her gender expression and sexuality.
"Growing up in Dallas, Texas, in the South, being Christian, there was a lot of norms that were already pushed onto me when it came to sexuality and gender," Lovato told Jane Fonda on the Fire Drill Fridays live stream last year.
"If I looked back at my life, there's been times where I felt more masculine, and then there's been times where I felt more feminine."
Earlier this month the singer released a preview of another song on the album titled "29" which led fans to speculate that she was referencing her ex-boyfriend, Wilmer Valderrama, and the age gap in their relationship.
Lovato, 29, and That 70s Show star Valderrama dated from 2010 to 2016 and the song appears to be a nod to their 12-year age gap.
She sings: "Finally 29 / Funny, just like you were you at the time / Thought it was a teenage dream / just a fantasy / But was it yours or was it mine?"
The song repeats the words: "17, 29"—an apparent nod to the ages the former couple were when they met.
Although Lovato does not mention Valderrama by name in the song, several fans have suggested that the track is indeed about the now 42-year-old.
Holy Fvck was released at midnight on Friday, August 19.