Demi Lovato Says She's 'California Sober,' But What Does That Mean?
Demi Lovato says she is "California sober" after her 2018 drug overdose, she revealed in her new documentary series Dancing With the Devil. While Lovato didn't expand too much on the phrase and what it means in her own life, "Cali sober" is a way that many people explain cutting back on addictive and potentially fatal substances in order to live a healthier lifestyle.
Urban Dictionary defines the phrase, "To abstain oneself from all of the drugs," with the exception "of marijuana and psychedelics," which appears to be the way many California sober people use the term. One of the first, in-depth stories on the California sober lifestyle came from Michelle Lhooq in a 2019 Vice article.
In short, the California sober mindset accepts the use of drugs like marijuana and psychedelics (shrooms and LSD to name a few), while cutting out narcotics, opiates and alcohol. The harder drugs, which can sometimes result in fatal consequences, are completely forbidden in a California sober lifestyle, while substances that are said to promote a sense of mental well-being without a major risk of a fatal overdose can be used by some people.
Lovato's definition varies slightly, though. When asked to confirm that she uses moderate amounts of marijuana and alcohol on CBS Sunday Morning, the singer responded, "Yeah. I think the term that I best identify with is 'California sober.'" Lovato didn't acknowledge using any psychedelics, but they can be common for those who call themselves "California sober."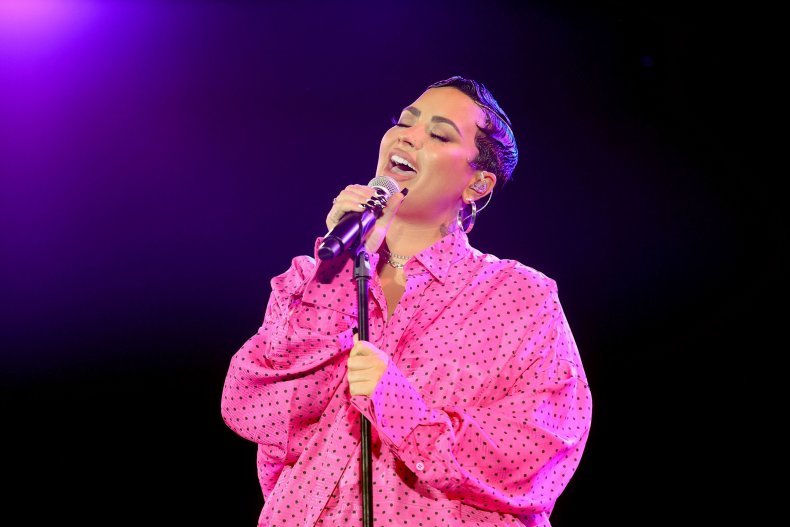 Other parts of the documentary show Lovato talking about the overdose, which caused her to have a heart attack and three strokes. Lovato says doctors told her she was five to 10 minutes from death when she overdosed, and if she hadn't been found, she would have died.
Lovato also revealed that she lives with brain damage after the overdose, some symptoms that have made her unable to drive a car. "I was left with brain damage, and I still deal with the effects of that today. I don't drive a car, because I have blind spots on my vision," she explained at the Television Critics Association panel in February, People reported. "And I also for a long time had a really hard time reading. It was a big deal when I was able to read out of a book, which was like two months later because my vision was so blurry."
While Lovato's own version of California sober may differ from some, it's a common for those who want a healthier alternative to substance abuse, allowing them to still use a few substances that are said to help alleviate pain and can have beneficial effects on mental health.