Everything You Need to Know Demi Lovato's New Gender-Neutral Sex Toy
Demi Lovato is releasing their own sex toy.
The singer has collaborated with sex toy company Bellesa on the new creation.
Lovato revealed the new product on their Instagram account, sharing a picture of the toy.
This is everything you need to know about it.
What Is Demi Lovato's Gender-Neutral Sex Toy?
Lovato, 29, posed with the yellow vibrating wand in a selfie.
Named after them, the toy is called the "Demi Wand."
They wrote in the post caption: "I wanted to create my own sex toy to take the stigma away from pleasure, and to take your sexual relationship to the next level."
Commenting on the post, Bellesa wrote: "Everyone deserves to orgasm."
It's the company's "smallest & quietest wand vibrator" yet, and is designed to be accessible for all body types.
In a press release, the company wrote: "We joined forces to launch the Demi Wand, advocating for sexual wellness and pleasure for people of all genders.
"Demi Lovato is the most influential person to ever launch a signature pleasure product, marking a monumental breakthrough in bridging sex tech with the mainstream."
Available for $79, it comes in a portable charging case and is 100% waterproof.
It has already been tried by product testers and of the 37 reviews on Bellesa's website, 35 give it 5-stars and two give it 4-stars.
One reviewer wrote: "This is undoubtedly my new go-to toy (and honestly should be yours too)."
Another added: "Do not let the size confuse you, this little wand packs a punch."
Earlier this year, Lovato came out as nonbinary and asked people to refer to them using they/them pronouns going forward.
They broke the news in May with the announcement of their new podcast 4D with Demi Lovato.
In a video posted to Instagram they said: "I want to take this moment to share something very personal with you. Over the past year and a half I've been doing some healing and reflective work, and through this work I've had the revelation that I identify as nonbinary.
"With that said, I'll officially be changing my pronouns to 'they/them'. I feel that this best represents the fluidity I feel in my gender expression and allows me to feel most authentic and true to the person I both know I am and still am discovering.
Captioning the post, Lovato wrote: "I'm still learning and coming into myself, and I don't claim to be an expert or a spokesperson.
"Sharing this with you now opens another level of vulnerability for me. I'm doing this for those out there that haven't been able to share who they truly are with their loved ones.
"Please keep living in your truths and know I am sending so much love your way."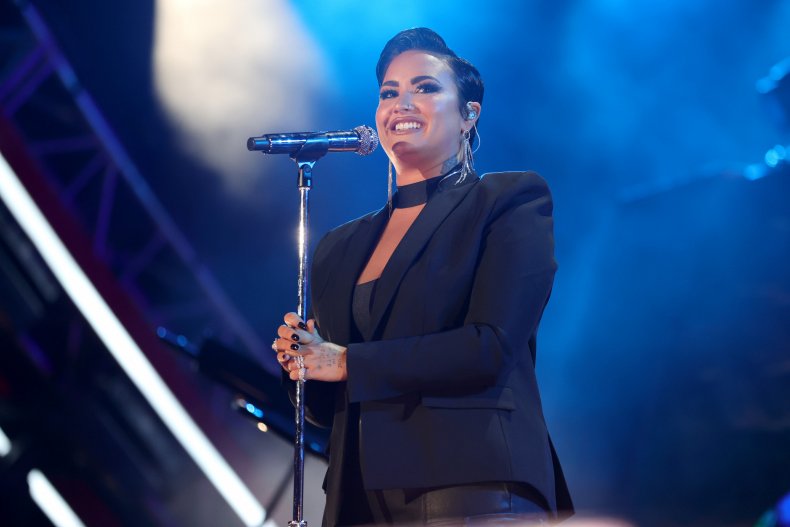 Newsweek may earn a commission from links on this page, but we only recommend products we back. We participate in various affiliate marketing programs, which means we may get paid commissions on editorially chosen products purchased through our links to retailer sites. Prices are correct at the time of writing this article.