What Demi Lovato Says About Donald Trump in New Protest Song 'Commander in Chief'
Demi Lovato has a few harsh words for Donald Trump in a new protest song aimed at the President.
"Commander in Chief" is the former Disney star's protest anthem against the Republican candidate ahead of election day on November 3.
The pop star, 28, does not hold back as the lyrics directly reference Trump.
She sings: "Do you even know the truth/We're in a state of crisis/People are dying/While you line your pockets deep/Commander in Chief/How does it feel/To still be able to breathe?"
Another verse goes: "'Cause there are people worse off that have suffered enough/Haven't they suffered enough?/But you can't get enough of shutting down systems for personal gain/Fighting fires with flayers and praying for rain/Do you get off on pain?/We're not pawns in your game."
Speaking to CNN about the track, which she co-wrote with producer Finneas, Lovato said she is not trying to be divisive but to encourage her fans to be politically active and vote.
"There's been so many times that I've wanted to write the President a letter or sit down with him and ask him these questions," she said. "And then I thought, I don't really actually want to do that and I thought one way that I could do that is writing a song and releasing it for the whole world to hear and then he has to answer those questions to everyone and not just me."
The "Sorry Not Sorry" singer added: "We have to turn up and vote because it's so important that our voices are heard. And, honestly, for me, whether you are a Republican or Democrat, just get out and vote."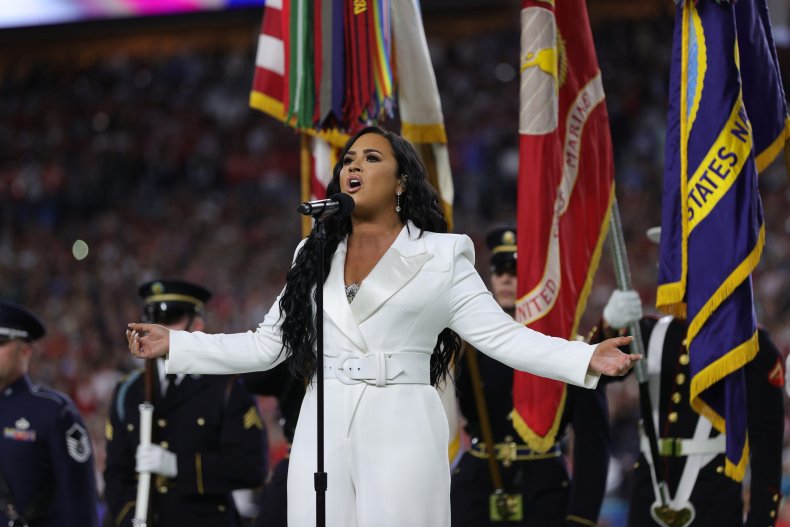 As for being a politically active celebrity with a huge platform, Lovato is of the opinion that "you're damned if you do, you're damned if you don't."
"It's just, like, you have to live what feels authentic to you," she urged. "To me, that's using my platform to speak out about the things that I see that are wrong."
Lovato previously voiced her support for the Biden campaign following Kamala Harris' vice presidential bid.
"'We are in a battle for the soul of this nation. But together it's a battle we can win,'" she tweeted, quoting Harris. "[Love] you @KamalaHarris."
Lovato also encouraged her fans to vote via the medium of politically-themed nail art at the weekend on Instagram.