Demi Lovato's 'Commander in Chief' and More Songs Critical of Trump's America
Demi Lovato took a major stance against President Donald Trump when she belted out her latest ballad "Commander in Chief" at the 2020 Billboard Music Awards. However, she's far from the first artist to use her music to share her political opinions or call on the masses to exercise their right to engage in civil discourse.
Since Trump beat out his Democratic rival Hillary Clinton in the 2016 election, a number of artists have used their platform and artistry to speak out about social injustices and civil disparities that have occurred under Trump's leadership. While some have called him out more directly like Lovato, others have used music to inspire conversations about the state of the country and where we're headed as a people and a nation, noting hot topics like immigration policy, prison reform and inequality. We've rounded up some of the biggest standouts of the last four years below.
"Commander in Chief" by Demi Lovato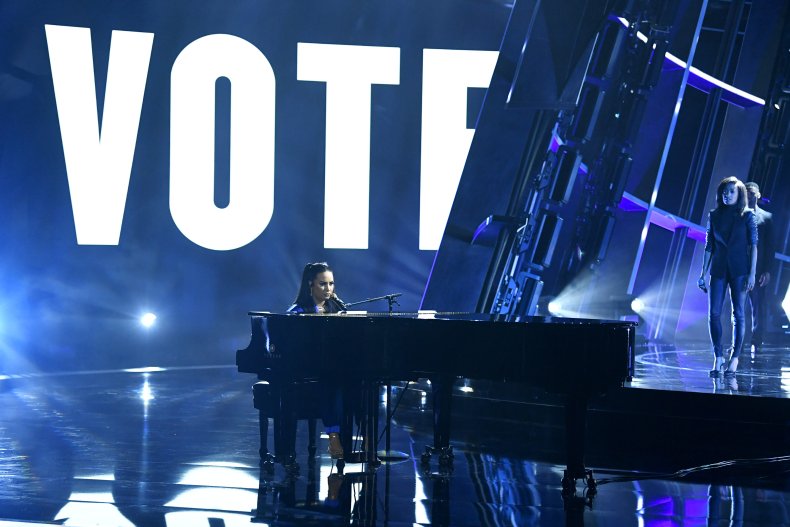 When Lovato first performed the song at the 2020 Billboard Awards on October 14, she sat at the piano while the word "VOTE" appeared in massive letters on a black screen behind her—NBC edited the visual out during the telecast, but Lovato's call for change and urging of people to hit the polls on election day was heard loud and clear in the lyrics of the song. And the message behind her words were capitalized even more in the song's music video, which featured people from all walks of life coming together.
"If I did the things you do / I couldn't sleep, seriously / Do you even know the truth? / We're in a state of crisis, people are dyin' / While you line your pockets deep / Commander in Chief, how does it feel to still / Be able to breathe?" Lovato sings in the song.
"Miss Americana & the Heartbreak Prince" by Taylor Swift
Featured on Swift's 2019 album, Lover, the superstar singer expresses her fears and anxieties over the political and economic climate of today.
"My team is losing, battered and bruising/ I see the high fives between the bad guys/ Leave with my head hung, you are the only one/ Who seems to care/ American stories burning before me/ I'm feeling helpless, the damsels are depressed/ Boys will be boys then, where are the wise men?/ Darling, I'm scared," Swift sings.
Swift's calls for action have gotten significantly louder since Trump took office. After she remained silent during most of the 2016 campaign season, the 30-year-old started being more vocal about her political views in 2018 when she gave her first endorsement to Phil Bredesen for Senate and Jim Cooper for House of Representatives—both of whom are Democrats.
"This Is America" by Childish Gambino
Under his musical performance moniker Childish Gambino, Donald Glover's 2018 hit was a vivid glimpse of the chaos and carnage that has ensued across America over the past few years and how Americans have essentially just gotten used to all of it. The music video was particularly gut-wrenching as images of a man taking a bullet to the back of the head appear on the screen while Glover raps lyrics about how "we just wanna party."
"This is America (Skrrt, skrrt, woo)/ Don't catch you slippin' now (Ayy)/ Look how I'm livin' now/ Police be trippin' now (Woo)/ Yeah, this is America (Woo, ayy)/ Guns in my area (Word, my area)/ I got the strap (Ayy, ayy)/ I gotta carry 'em/ Yeah, yeah, I'ma go into this (Ugh)/ Yeah, yeah, this is guerilla (Woo)/ Yeah, yeah, I'ma go get the bag/ Yeah, yeah, or I'ma get the pad/ Yeah, yeah, I'm so cold like, yeah (Yeah)/ I'm so dope like, yeah (Woo)/ We gon' blow like, yeah (Straight up, uh)," Glover raps.
"Love It If We Made It" by The 1975
Featured on the band's 2018 album A Brief Inquiry Into Online Relationships, "Love It If We Made It" touches on the global societal landscape from the refugee crisis in the Middle East and the way the criminal justice system unfairly targets Black men to the many sexual assault accusations against the president.
"We're f**king in a car, shooting heroin/ Saying controversial things just for the hell of it/ Selling melanin and then suffocate the black men/ Start with misdemeanors and we'll make a business out of them/ And we can find out the information/ Access all the applications/ That are hardening positions based on miscommunication/ Oh, f**k your feelings/ Truth is only hearsay/ We're just left to decay/ Modernity has failed us," the band sings.
"XXX" by Kendrick Lamar, feat. U2
A poignant look at the way life differs between races and individuals, Lamar raps about the disparities caused by systematic racism as he tells the story of a friend who lost his child to street violence.
"Hail Mary, Jesus and Joseph/ The great American flag is wrapped in drag with explosives/ Compulsive disorder, sons and daughters/ Barricaded blocks and borders/ Look what you/ taught us!/ It's murder on my street, your street, back streets/ Wall Street, corporate offices/Banks, employees, and bosses with/ Homicidal thoughts; Donald Trump's in office/ We lost Barack and promised to never doubt him again/ But is America honest, or do we bask in sin?/ Pass the gin, I mix it with American blood/vThen bash him in, you Crippin' or you married to Blood?/ I'll ask again—oops, accident/ It's nasty when you set us up/ Then roll the dice, then bet us up/ You overnight the big rifles, then tell Fox to be scared of us/ Gang members or terrorists, et cetera, et cetera/ America's reflections of me, that's what a mirror does," Lamar raps.
The song was featured on Lamar's 2017 award-winning album Damn.