Demi Lovato's 'I Love Me' Video Shows Star Walking Past Overdose and Her Ex's New Wife
A year and a half after her overdose, Demi Lovato is learning to love herself. Lovato released a new single and music video Friday for her song "I Love Me," an ode to self and the powers each person holds as an individual.
The song's music video shows some obvious references to monumental moments in Lovato's life, including a reference that seems to point to her overdose. In the video, Lovato walks past an ambulance and a woman on a stretcher. As she walks past, she rests her hand on the woman, seemingly to say anyone in that position can learn to love themselves again.
In speaking of her overdose for the first time on the Ellen DeGeneres show Thursday, Lovato made a similar point. "I think it's important that I sit here on this stage and tell you at home or you in the audience or you right here that if you do go through this, you yourself can get through it," she said of her relapse after six years of sobriety. "You can get to the other side and it may be bumpy, but you are a 10 out of 10, like don't forget it. And as long as you take the responsibility you can move past it and learn to love yourself the way you deserve to be loved."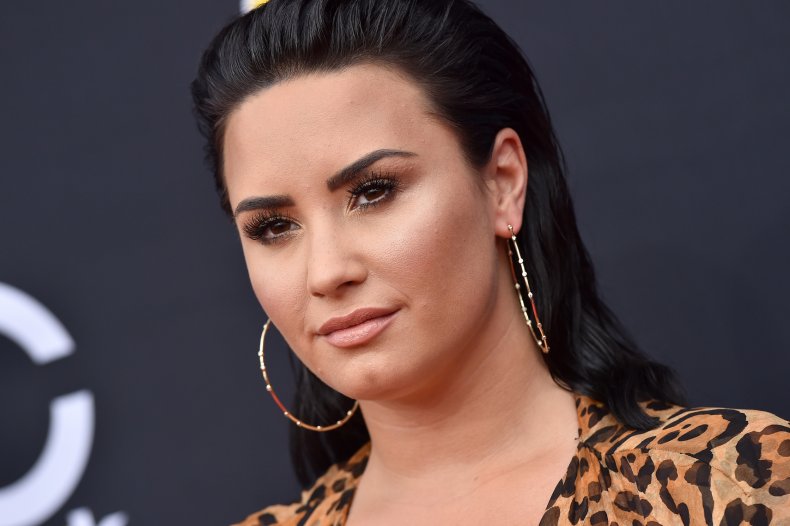 Lovato overdosed in July 2018. Rumors immediately circulated that she had taken heroin, though some of Lovato's friends claimed that wasn't the drug she overdosed she used. The details of Lovato's overdose are still unclear.
The pop star's video may also address her ex-boyfriend, Wilmer Valderrama's, engagement. Valderrama visited Lovato in the hospital a handful of times after her overdose but got engaged to model Amanda Pacheco in January, according to TMZ. While there's no direct reference to Valderrama, Lovato walks past a bride and groom in the video. She stops to pause and look on emotionally as they run by happily.
Much of the video shows a fight between the good and bad parts of Lovato's own mind. Lyrics and message point to an internal struggle to love oneself without the pressure of magazine images, being thin, and not living up to one's own standards. The chorus echos with longing for happiness reading "I wonder when 'I Love Me' is enough?"
"I Love Me" is Lovato's second single since her overdose comeback. She released the emotional ballad "Anyone" in early 2020. A full album is expected from Lovato in the near future, though there are no details on it yet.