Democracy 'Kicked Off' in Nigeria as Buhari Seals Historic Election Win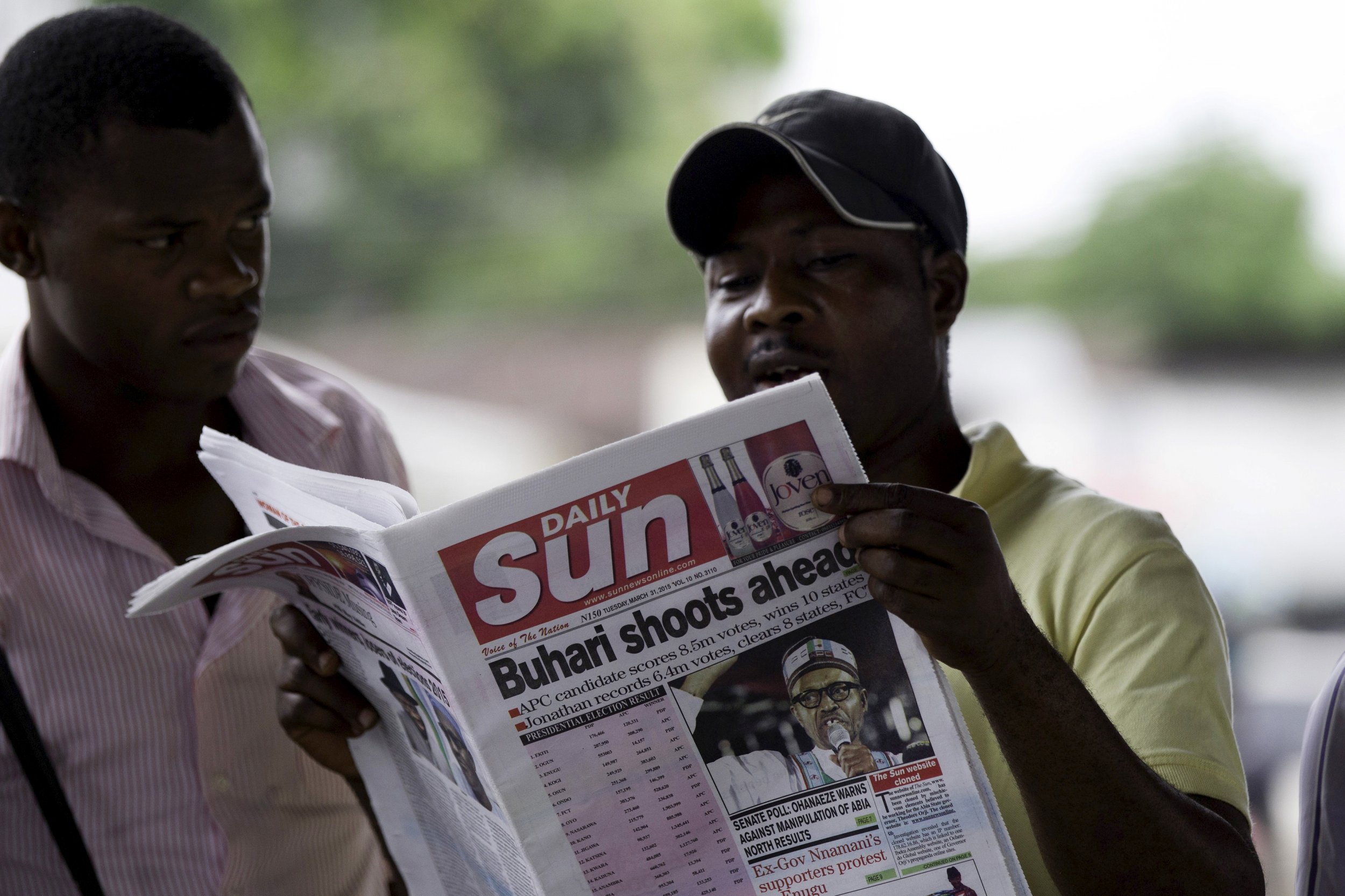 Nigerian opposition leader Muhammadu Buhari has won Nigeria's presidential election, defeating incumbent president Goodluck Jonathan in what is the country's first ever democratic change of power to an opposition party and a historic moment in the African nation's history.
Results tallied by Reuters showed that All Progressives Congress (APC) leader Buhari, 72, had 15.4 million votes to People's Democratic Party (PDP) leader Jonathan's 13.3 million in all of the country's 36 states.
"We have everything. We have won the election," Buhari's spokesman Garba Shehu told Newsweek from Abuja in a phone call as results came in before the official announcement. "The numbers are there. We have it in the bag. I am sure that, even if the electoral commission does not announce it, international observers will announce it."
"Nigerians are sick and tired of the awful situation in the country. Corruption, insecurity, joblessness, all of these things. Nigerians have never had it so bad. They want change," he said.
Another APC spokesman, Lai Mohammed, confirmed to Reuters that Jonathan had called Buhari to congratulate him on winning the election. "At about five minutes to five, president Jonathan called General Muhammadu Buhari, the winner of the elections, to congratulate him," confirmed Mohammed.
"I think he conceded defeat. There had always been this fear that he might not want to concede but he will remain a hero for this move. The tension will go down dramatically," he added. "Anyone who tries to foment trouble on the account that they have lost the election will be doing so purely on his own."
Speaking from Lagos ahead of the official announcement, Tolu Ogunlesi, West Africa editor of The Africa Report, said the largely peaceful election demonstrated that democracy had arrived in Nigeria.
"If the opposition wins this, we can confidently say that democracy has just started," Ogunlesi said. "We have never done that [voted out a leader] at the national level before, this is the first time. On that basis, I think we can safely and confidently say that democracy has finally kicked off."
Despite reports that Jonathan has called Buhari to concede defeat, Shehu had earlier said that he remained wary because it was unknown how the incumbent president and his PDP party would react.
"I am being cautious, we are still in the woods. We are not out yet. The people we are dealing with can spring any surprise," Buhari's spokesman added.
The PDP has won every election in Nigeria since the end of military rule in 1999 and was the favourite heading into the 28 March election after 16 years in power. Ogunlesi pointed out that this had raised fears that a Buhari win will lead to Jonathan holding on to power through force.
In the previous election in 2011, over 800 people were killed in violence across the majority-Muslim northern regions of the country. This election has witness a lower level of violence but at least 15 people were shot on election day, the majority in northeastern regions which remain under a state of emergency because of the insurgency of radical Islamist group Boko Haram.
Buhari - a former military general - has failed on three occasions (2003, 2007 and 2011) in his bid to return as Nigerian president since the country moved from a series of military rulers to a democratic system in 1999. He survived a Boko Haram assassination attempt last July when a suicide bomber aligned to the radical Islamist group targeted his car in the northern city of Kaduna.
The election, originally scheduled for February 14 was delayed until March 28 by the electoral commission on the recommendation of the country's security services. The security authorities claimed that a six-week military operation against Boko Haram in the northeast would leave an inadequate security presence for voters in the rest of the country as it began on the same day as the original polling day.